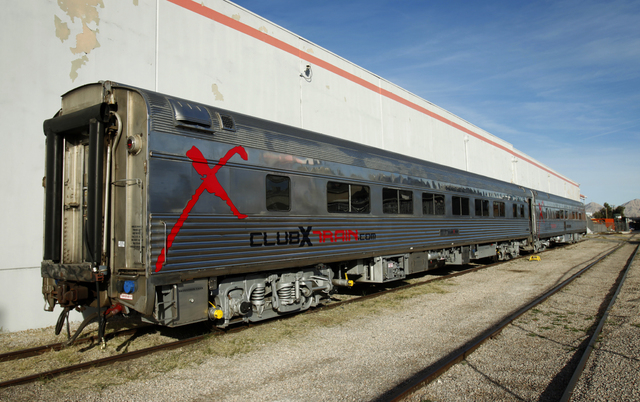 Maybe it's another sign that the economy is back.
We're starting to talk about trains again — in Las Vegas.
When we last looked in on two rail projects that had some promise, the Las Vegas Railway Express was bolting out of town to presumably greener pastures and the XpressWest high-speed rail project was scuffling with Republicans over a federal loan after spending millions of dollars to deliver environmental studies along a 185-mile route between Las Vegas and Victorville, Calif.
First, Las Vegas Railway Express' so-called X Train.
The rub on that proposal has been that it was going to be s-l-o-w trip to the city from Southern California. The company paid contractors to gussy up some train passenger compartments, turning them into lounges on rails. Operating on existing train tracks used by Union Pacific and Burlington Northern, the party train was going to make its way to Las Vegas in six or seven hours on a route dedicated to freight traffic. For people who get a kick out of old-school classic train travel, this was perfect.
But could this slow-mode business model sustain itself?
Call me skeptical, but I'm thinking the novelty of the X Train would wear off rather quickly when friends in a car on Interstate 15 could get to Vegas faster than those on the train.
The X Train plan had other flaws. By the nature of using tracks used primarily by freight trains, passengers would be subject to delays.
The point of arrival in Las Vegas has had a few different game plans, the last of which was on a platform that was going to be built off Craig Road in North Las Vegas.
Picture being on a train for more than six hours, closing in on the destination, going all the way through town past all the hotels and then having to take a cab back to your lodging.
With Southern Nevada prospects dim last year, X Train executives took their concept to Santa Fe, N.M, where the Santa Fe Southern Railway operates an 18-mile tourist train to Lamy, N.M., on tracks that figured prominently in an episode of the last season of "Breaking Bad."
But this past October, the X Train pulled out and management decided to return to Las Vegas.
Now, the X Train folks are back with a renewed plan. The company has slimmed down and an engineering school professor at the University of Nevada, Las Vegas joined its board and tasked his students with creating a better scheduling route to avoid the busy Cajon Pass tracks south of Victorville.
Students used scheduling software to determine a favorable route from Los Angeles to Las Vegas by way of Palmdale, Mojave and Barstow, Calif.
Las Vegas Railway Express CEO Michael Barron went back to the Plaza hotel-casino downtown to reconsider placing the arrivals platform there.
Although no deal has been struck between the Plaza and the railroad according to both the company and Plaza officials, it appears that the concept of a slow train from L.A. may be back in play. Stay tuned.
Meanwhile, the XpressWest high-speed-rail project, thought to be dead when Rep. Paul Ryan, R-Wis., and Sen. Jeff Sessions, R-Ala., announced that a loan the company had sought through the Federal Railroad Administration had been put on indefinite hold, popped up in a Senate bill under review by the Nevada Legislature.
The Senate Transportation committee approved SB 457 making the XpressWest project the favored transportation system in the state's bid to connect Southern Nevada and Southern California by rail.
For decades, the state participated with California in the California-Nevada Super Speed Ground Transportation Commission, an entity that boosted the development of a magnetic-levitation transportation system between Los Angeles and Las Vegas.
The proposed legislation would transform that commission into the Nevada High-Speed Rail Authority.
Everything drafted for maglev technology in the original legislation has been edited and replaced with terminology specifying high-speed rail as envisioned by XpressWest. Even the maglev's 300 mph speed specification was edited to XpressWest's maximum speed of 150 mph.
If enacted, the authority would be open for business July 1.
The new authority would consist of five Nevadans, the majority of whom would live in Southern Nevada. The authority would be empowered with issuing bonds, notes and other debt that could be used to finance a high-speed rail system's construction.
The authority would be charged with selecting a franchisee for the project. That franchisee, which would have to be selected by Oct. 1, would likely be the XpressWest team, which provided most of the testimony in favor of the bill.
In a recent hearing, the Transportation committee moved the bill to the full Senate despite the objections of maglev advocate Neil Cummings, president of the American Magline Group, who told panel members that he hadn't been informed of the Legislature's plan to dump his maglev project in favor traditional steel wheels on rails.
Committee Chairman Scott Hammond told Cummings he could testify against the bill if it's passed by the Senate and forwarded to the Assembly Transportation committee.
There probably wouldn't be much appetite in the Assembly to revisit the maglev versus rail debate. Although maglev is a proven commodity used by the Chinese and the Japanese, has seen construction costs come down over time and is a superior technology to high-speed rail, it's a train that seems stuck at the station.
California is using steel wheels on rails on its in-state system so one future benefit could be for XpressWest trains to operate on California lines.
The deal-buster for XpressWest has always been its Victorville terminus, but the company has made strides to extend its line to Palmdale where it could hook up with the California High Speed Rail system.
If that occurs, the dream of high-speed train travel between L.A. and Las Vegas could become a reality. Much of that will depend on whether the new Nevada authority is formed and if it can do what XpressWest couldn't.