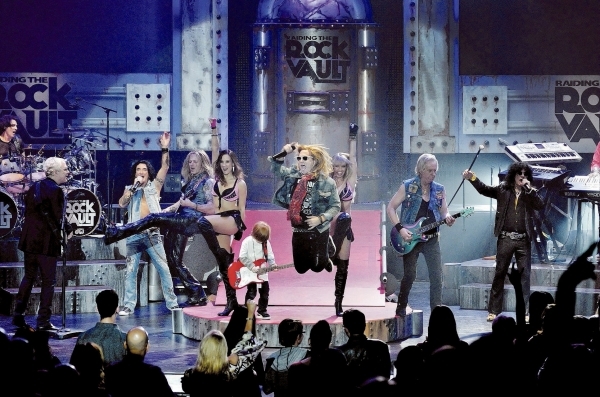 Record producer David Kershenbaum is threatening to shut down two Las Vegas shows that removed him as director for "lewd" and "unlawful" behavior unless they pay him $1 million, Rock Vault Tours claims in court.
Rock Vault Tours' show — "Raiding the Rock Vault," at the Tropicana — was voted the city's best music two years in a row, the company says in its Jan. 15 complaint in federal court. It's a "classic rock" show.
Kershenbaum was a co-director and co-writer of the show when it played at the Las Vegas hotel and casino. He is a veteran record producer, with stints as an executive at A&M Records, Elektra Records and Capitol Records, where he produced records by Joan Baez, Joe Jackson, Supertramp, Tori Amos, Tracy Chapman, Duran Duran and others. He produced 75 gold or platinum albums, according to industry publications.
But Rock Vault says it had to ask him to "disengage from his duties in connection to Raiding the Rock Vault due to several instances where Kershenbaum's lewd, offensive, and even unlawful behavior reflected poorly on Rock Vault and the show."
It says he has no role in the show now playing at the Tropicana, nor in a new show, to be called "Raiding the Country Vault."
But Kershenbaum is "purportedly" a co-owner of copyrights for "Raiding the Rock Vaults." He claims the shows infringe on his copyrights, and sent a cease-and-desist letter through counsel, threatening to sue to stop the shows unless Rock Vault buys out his interest in the copyrights for more than $1 million, according to the complaint.
"In light of Kershenbaum's threat to seek an injunction to enjoin further performances of Raiding the Rock Vault and to prevent Rock Vault from launching its new show, Raiding the Country Vault," Rock Vault seeks a declaration that it co-owns the copyrights and has not and will infringe Kershenbaum's copyright in either show.
Kershenbaum's attorney, Cory Baskin, categorically denied the allegations Jan 19.
"There is absolutely no truth to the allegation in the complaint that Mr. Kershenbaum engaged in any 'lewd, offensive or unlawful behavior [that] reflected poorly on Rock Vault and the show,'" Baskin wrote in an email to Courthouse News. "In truth, Mr. Kershenbaum's involvement in the production was severed after he … refused to sign over his copyright interest in the production to Rock Vault."
Baskin added: "Second, contrary to the mischaracterizations in the lawsuit, Mr. Kershenbaum has not 'demanded' up to $1 million, or he will shut down the touring show via copyright lawsuits. In fact, Mr. Kershenbaum does not dispute that Rock Vault appears to have acquired a co-ownership interest in the copyright to the production and a separate co-ownership interest in the copyright to the production's format after settling a copyright infringement lawsuit brought against it in July 2014 by the show's co-creator, John Payne. Accordingly, there is no actual controversy regarding the Rock Vault's present status as a co-owner of these copyrights and therefore no basis for the declaratory relief sought in Rock Vault's lawsuit."
Baskin said Kershenbaum's demand letter's purpose was to request an accounting, which he believes will show that he is owed more than $100,000 in profits, royalties and other distributions as a result of his 50 percent copyright ownership interest in the show, and also serve as a reminder and warning to Rock Vault that Kershenbaum is legally entitled to a pro rata share of all future profits related to Rock Vault's exploitation of the copyright for the production and the production's format.
Rock Vault is represented by Michael McCue with Lewis Roca Rothgerber Christie.