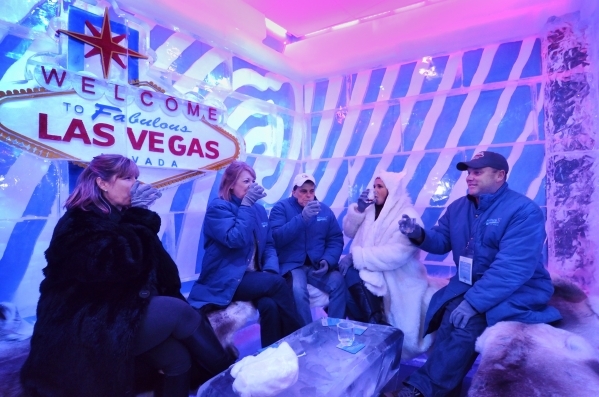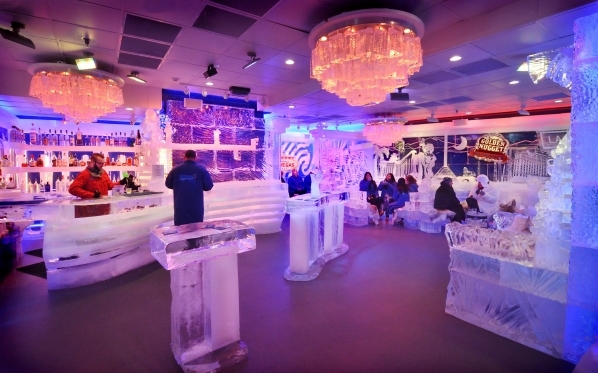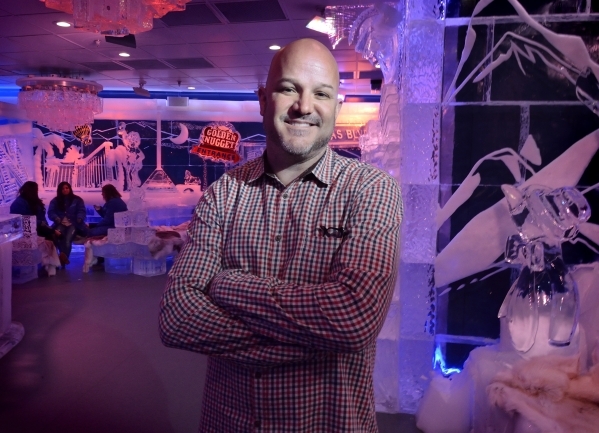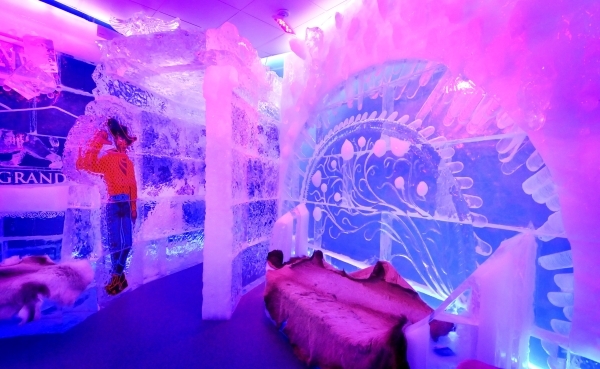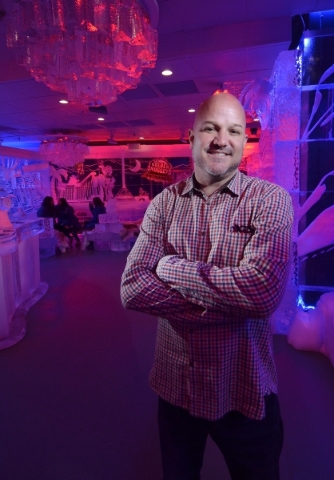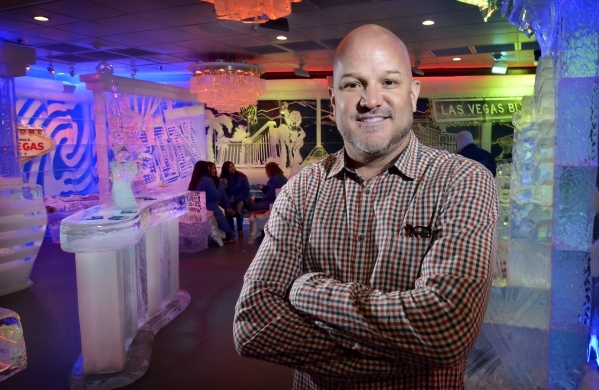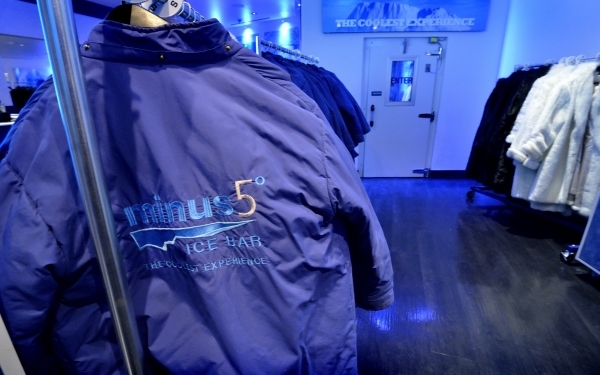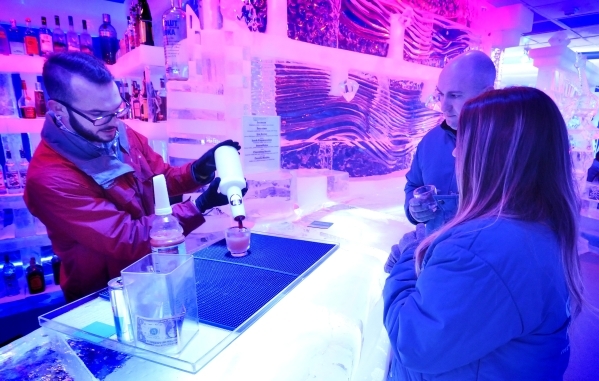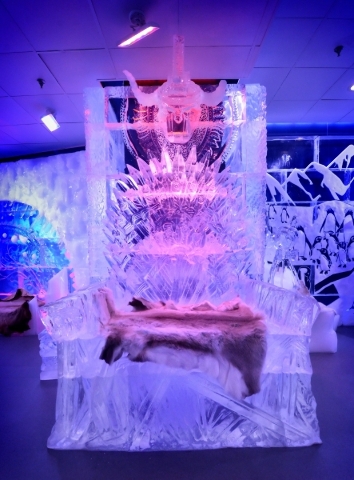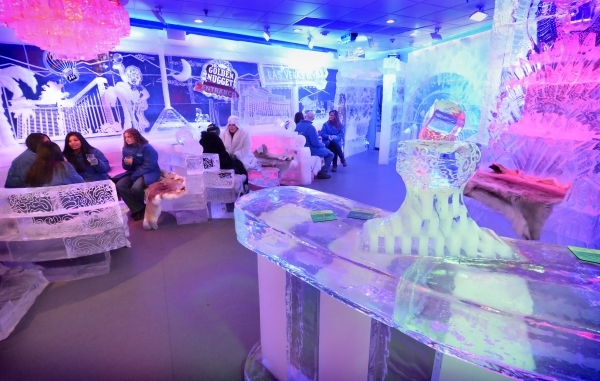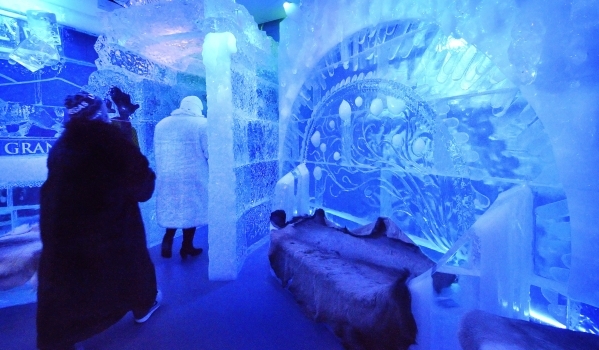 When the Minus5 Ice Bar inside The Shoppes at Mandalay Place closed for renovations in late October, President Noel Bowman said the plan was "to rebuild this place from scratch."
The rebuild is done and Minus5 Ice Bar reopened earlier this month. It's bigger — having added 2,000 square feet — and fresher, with new sculpted-ice designs.
"It's gotten busier and busier and the demand for private events was so strong that we decided to double the size of the ice bar and walk space," Bowman said.
Minus5 Ice Bar supplies patrons with warm jackets, gloves and hats before they enter the 23 degrees Fahrenheit bar made of 110 tons of ice.
"A lot of people don't get it and aren't sure what a bar made of ice is so it takes some convincing on the front end, but once they've drank from an ice glass, we hear it was the highlight of their trip," Bowman said. "Anything goes in Vegas, so with the heat, the area being so open-minded and the love for gimmicky-type things, it's gone really well."
Minus5 Ice Bar, which opened at Mandalay Bay in 2008, is constructed out of 250-pound blocks of ice harvested the Las Vegas Valley, California, Minnesota and Canada, Bowman said.
"They're boxed up and delivered to us in a freezer truck," he said. "We take it right from the truck and put it in our freezer and take them as we need them."
A Philadelphia-based sculptor creates different themes for each Minus5 Ice Bar location. The bars are in Las Vegas at Mandalay Place and Monte Carlo; Orlando, Fla.; New York and the Cayman Islands.
"Each ice bar is different as we try to pay homage to the city we're in," Bowman said. "We have an ice wave in Orlando, a Broadway scene in New York City and a Vegas skyline and gambling theme here in Las Vegas."
Bowman said the ice bars' designs change every four to six months.
"They're constantly evolving," he said. "It's so much fun because if you can dream it, you can build it in ice."
Because dozens of people visit the ice bar daily and because ice is perishable, carving and sharpening the ice takes place every two weeks.
"We have to keep it crisp and sharp," Bowman said. "Once we feel an area has thinned out, we'll knock it down and come up with a different concept."
Bowman said he's looking to bring Minus5 Ice Bar to more cities across the country.
"We're looking at San Francisco, Nashville (Tenn.), New Orleans, Dallas and Hawaii," he said. "The area needs to have a strong convention and tourism presence so there are different people arriving each week."
Private events, Bowman said, will continue to be a huge part of Minus5 Ice Bar's business.
"Companies come in and build things out of ice for their events," he said. "It's a neat place to do events because everyone remembers it.
"We call it the coolest place to close a deal."