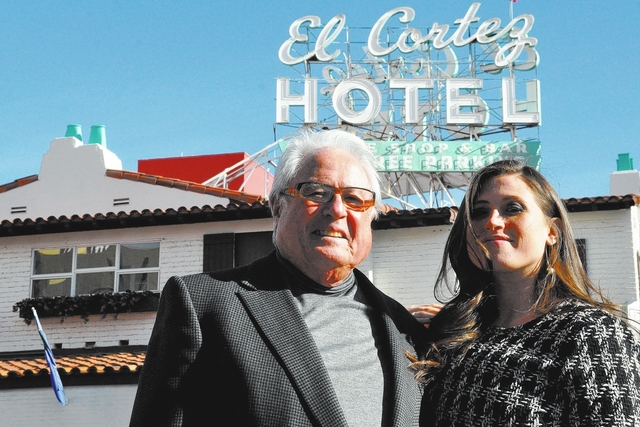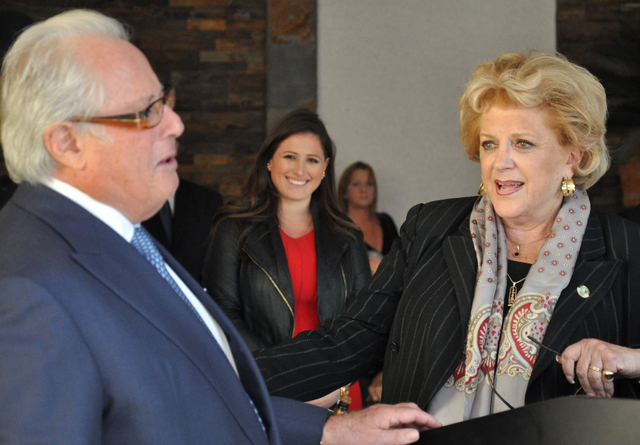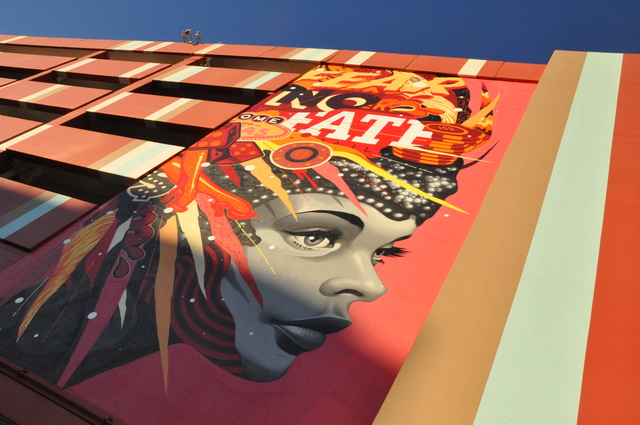 Stepping off the Fremont East sidewalk into the El Cortez in downtown Las Vegas does not provide an illusion of time regression — but rather a crossroads of different eras. A sleek 1941 Cadillac Fleetwood shares space near the reception desk with a The Walking Dead–themed slot machine. A large flat-screen television mounted above the bar offers coverage of a Premiere League soccer match from Birmingham, England.
The venerable building — marking 75 years in 2016 — is fully rooted in the modern world, but one still feels the tangible weight of history within the walls.
"That is one of our unique assets, our architecture is historic," said Executive Manager Alex Epstein, whose father — Kenny Epstein — purchased the El Cortez in 2008.
She admits she initially felt a degree of pressure to prove her management worthiness, given her youth and family ties.
"I think it was more self-imposed," she said. "You're 23 years old and working with people who had been at the El Cortez longer than you have been alive. So it was definitely a situation where I felt the need to come in, not only to prove myself, but to take a look around me and have respect and gain some wisdom from those people who have been there a long time and understand their perspectives.
"At the same time I felt I was able to bring a new, fresh voice in terms of branding — which is what I wound up doing. I felt I had assets that were going to be valuable and figuring out the best use of my talents while still respecting those who have been there much longer."
She said childhood visits to her father's workplace — The Barbary Coast — and summers home from college working in the El Cortez auditing department stoked an interest in the family business, but medicine and art was her focus of study at Columbia University.
"When you are in New York City you experience quite a lot. At the time I thought it would be a very practical decision for me to study medicine, but I think the most fun I had was in my arts programs. I realized medicine was not my passion and decided to end my medical career at that point," Alex Epstein said.
"I had graduated and was trying to figure out myself — my identity — what I was going to do. My dad said, 'Well, you're not going to figure it out sitting around, you might as well start working. You can understand the family business a little bit better while you are figuring yourself out. In a year you can leave and do whatever you want to do.' "
Eight years later, she has become firmly entrenched in the family business. "I feel very fortunate to work with my father and my sister (Katie Epstein, director of guest relations), and our partners are all incredible."
"Kirk Kerkorian (businessman and gaming icon who died in 2015) told me once, 'Never fall in love with anything,' " recalled Kenny Epstein. " 'Everything is for sale. It's just business.' I did not follow his advice. We love the El Cortez. It is a part of us. All my children are equal partners in this place."
He said he appreciates the opportunity to work with his daughters on a day-to-day basis, but acknowledges that it does come with challenges. "Maybe I holler at them and they get sort of upset with me sometimes," he said, "but overall, it has been great."
"It makes the highs higher and the lows lower," reflected Alex Epstein. "You feel everything a little more intensely. Any decision, action or lack of action means a little bit more. It definitely blends the personal and professional worlds. It certainly does not feel corporate in our offices."
Built in 1941 for $265,000, the 59-room hotel-casino's immediate popularity drew the attention of an ownership group consisting of Meyer Lansky, Bugsy Siegel, Gus Greenbaum and Moe Sedway, who purchased the property from J. Kel Houssels in 1945. The infamous organized crime figures controlled the El Cortez only briefly, selling it back to Houssels — at a $166,000 profit — in 1946.
During the ownership of Jackie Gaughan, beginning in 1963, the Pavilion Rooms and 15-floor hotel expansion were completed. Gaughan sold the property to Epstein — a close friend and associate in El Cortez operations since the 1970s — in 2008, but remained a resident of the penthouse suite until his death in 2014, the same year the building was placed on the National Registry of Historic Places.
"It's not just from a nostalgic point of view that we have history," Alex Epstein said. "A lot of our employees have been here for decades and still act like it is the 1960s or 1970s. They treat you like family and I think people like to be treated that way. It is not easy, in this day and age, to walk into a place and be recognized and remembered."
Slots Director Rick Ronca has worked at the El Cortez since 1988 and is a member of the management's CON — a slyly designated acronym for Circle of Knowledge — which holds daily lunch meetings inside Siegel's 1941 café.
"I had moved to Las Vegas from California in a hurry," he recalled. "I was in the process of getting a divorce and I had a 2-year-old and a 9-month-old child that I was trying to get custody of. And I had $500 in my pocket."
Ronca was having difficulty securing a desperately needed job when his brother-in-law, who ran the El Cortez laundry, insisted that he would reach out to Gaughan.
"Don't bother him about this," Ronca remembered saying. "I mean, I'm nothing — he's Jackie Gaughan."
But the phone rang 15 minutes later. "'Hi, this is Jackie Gaughan. Are you still looking for a job with me?' I said, 'Yes sir, I am.'
"He said, 'Go to the El Cortez, to the cage. Fill out an application and have them page Freddie Brown.' That was his code name. So I do what he says and boom, two minutes later he comes down, looks at my application, looks at me and says, 'You're hired.' Ever since that day, everything I have in my life I can thank this place for."
Alex Epstein said one of her favorite pieces of lore associated with the El Cortez is the story of Siegel's bodyguard, Irish Green.
"At the time of Siegel's death, Irish Green happened to have a briefcase of cash that belonged to Siegel," she explained. "But instead of keeping it, he brought it back. The ownership of the El Cortez said 'in exchange for your loyalty, you can live at the El Cortez and we will take care of you for the rest of your life.'"
While delving into the financial records of his new holding, Gaughan noticed a guest who had never paid any money.
"He was told of the arrangement," she said, "and Jackie called Mr. (Benny) Binion and said, 'Do you know anything about this character?' Binion said, 'Yeah, I know him well. I'll split the burden with you. I'll feed him for free, you house him for free. That's what we will do. We will honor the deal.' So Irish Green continued to reside at the El Cortez and lived well into the 1980s — nearly 40 years in all."
Places with age and historical color tend to gain the reputation for hauntings, and El Cortez holds its own in this regard. Alex Epstein laughed when asked if she has heard the ghost stories associated with the El Cortez.
"One of the benefits of working for Jackie is that he would cover the cost of an employee's funeral," she said. "If they had no family to claim the body, it would be cremated and the remains would be given to Jackie. We do have a vast network of underground tunnels and a room in that system houses the remains of those unclaimed employees. Maybe that contributes to the idea that it is haunted.
"We have employees who swear they have seen things down there," she said. "There are certain areas they will not go."
Since she started in 2008, she has been engaged in tying the metaphorical ghosts of the El Cortez to the future and the development of the downtown corridor.
"It was really incredible timing," she recalled. "When I came in, El Cortez and Downtown were ready for some new ideas — not only ready, but needed at that time for us to continue to be relevant.
"I think it was easy for me to come in with a lot of energy and ideas and opinions about new ways to do things, and there were certainly other ideas we took from other board members and others with fresh ideas."
She said the timing was fortunate because the Fremont East Entertainment District had been established the previous year and a creative synergy was already in place. "There was really such a great community of people who were working really hard to make downtown something special," she said. "I really understood that we were on the cusp of something really special about to happen."
She sees the health of the hotel-casino intricately linked to the development of the community that surrounds it. "I think the El Cortez is a cornerstone and facilitator of downtown development. Obviously it has been major a stakeholder for a very long time and an advocate for downtown Las Vegas. My family were major contributors to making the Fremont East Entertainment District happen.
"It is a great example of what can happen when business owners and land owners get together and rally for change. Everything we do — on a personal or professional level — we are all really passionate about these downtown projects and ways to improve downtown Las Vegas culturally and in all kinds of ways.
"That is where my art history background and my personal passion are able to intersect with my professional goals and aspirations of making downtown a better place. I want us to be able to engage with our community on a deeper level, to really add value to our surrounding."
One recent change in the surroundings is the collection of murals which have sprung up on the exterior walls throughout downtown, predominantly on El Cortez- owned property.
"We want to provide assets that we have," she said, "whether it is rooms to host these artists or a piece of real estate as a canvas, we have pride in participating in that. Our job is not only to promote the El Cortez but also the environment around us. People are really paying attention, and to be at the center of it all is something really exciting for us."
Among those paying attention are high-profile musical artists like Imagine Dragons and The Killers, who have appeared on or near the property and singer-songwriter Ellie Goulding, whose 2015 music video "On My Mind" makes extensive use of El Cortez as a backdrop.
"We are seeing a lot more international traffic and people from the East Coast," Alex Epstein said. "A lot of people who have heard about Downtown Las Vegas and want to spend time down here. We are also seeing a huge influx of millennial, younger professional customers. People spending more time downtown. But most of our customers are still local. Twenty years ago it was 75 percent and we are still around that number."
Tim Wojciechowski, director of slot promotions, has been at the El Cortez for more than 30 years and has seen employees engage with customers in ways that transcend the borders of a gaming hall, often visiting ailing guests in the hospital or helping host grieving family members visiting town for funerals of longtime patrons. "It's the relationships we have with people and we really try to help them when we can," he said. "This is not all about gambling."
"The El Cortez is a very special place," Alex Epstein said. "Our team is really amazing and that loyalty between the employees and customers. That is pretty rare, I think, 75 years in, for people to still feel special when they come here."