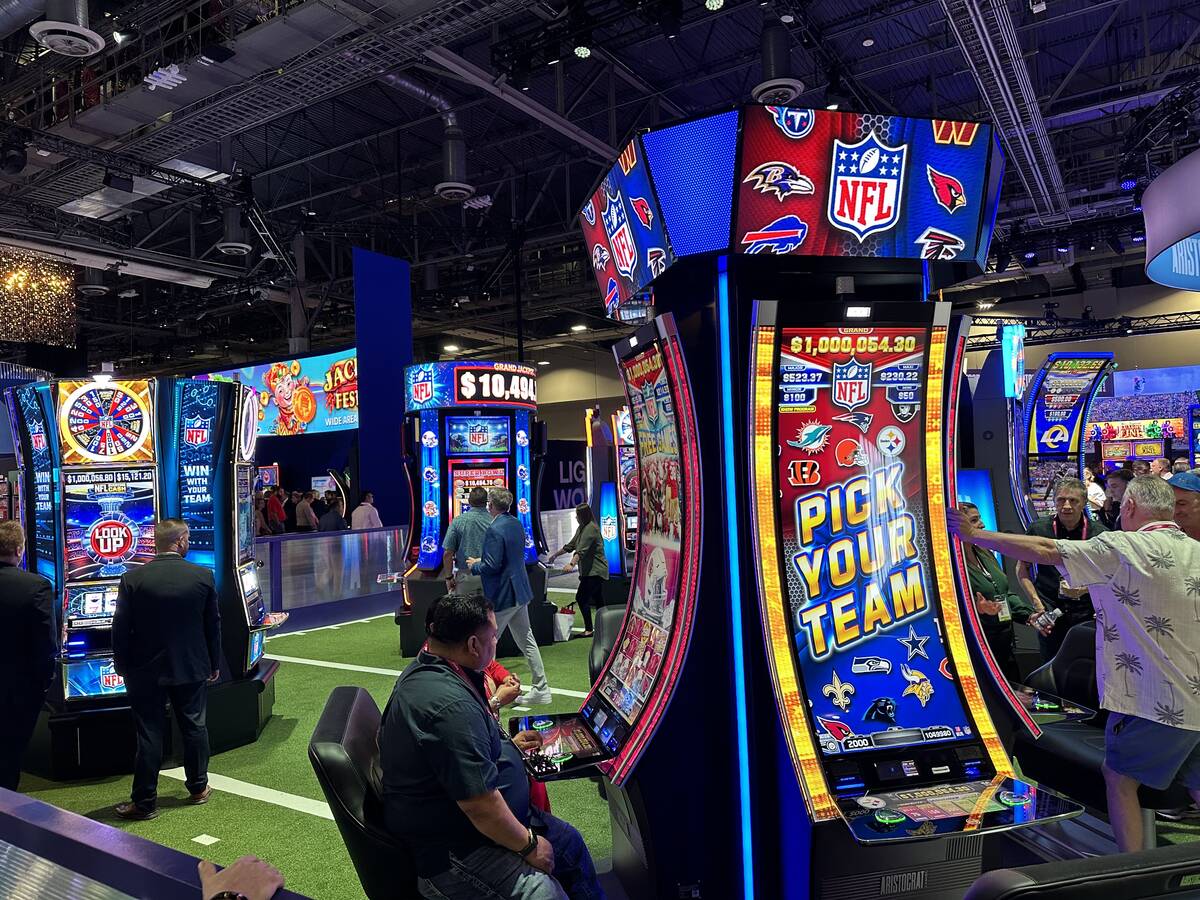 The spotlight of the gaming world was on Las Vegas as the American Gaming Association wrapped up its Global Gaming Expo Oct. 10 with one of its highest attendance figures by attracting more than 25,000. The trade show and educational conference gave Las Vegas and global game makers and technology companies a chance to show their latest slots, table games and products.
The four-day G2E at The Venetian Expo Center kicked off an historic run for Las Vegas that will be hard to be topped in the future that includes the Las Vegas Grand Prix Formula One race the week before Thanksgiving, CES, the Consumer Electronics Show in January, and culminates in the Super Bowl at Allegiant Stadium in February.
And there's plenty of other conferences in between and beyond that continue to rebound in attendance following the COVID-19 pandemic and cement Las Vegas as the No. 1 destination for conventions, including the World of Concrete that returns Jan. 23 to Jan. 25 and could attract 50,000 people.
The SEMA automarket show runs Oct. 31 to Nov. 3 and should attract 135,000 at a minimum. CES continues to grow its attendance since the pandemic in hopes of returning to the 170,000-plus it had in January 2020. It had 118,000 at its 2023 show. The International Builders Show, which attracted more than 45,000 people earlier this year, returns Feb. 27-28.
That's just some of the major conventions, and doesn't include sporting events on tap, that all combined the Las Vegas Convention and Visitors Authority estimates could generate $10 billion of economic impact at a minimum and as much as $15 billion through February. That includes $1.3 billion for F1 and $700 million for the Super Bowl, alone.
Hoops fans will see the Naismith Hall of Fame series of four games — two men and two women — on Nov. 6. The Pac 12 football championship is scheduled for Dec. 1 at Allegiant Stadium and given the Pac 12 is one of the top conferences in the country with its quarterback play this year, fans could see a repeat of the top 10 matchup between Oregon and Washington game Saturday that Washington won 36-33. The Las Vegas Bowl college football game will be held Dec. 23 this year at Allegiant. featuring a Pac 12 team and one from the Big 10. A new event in town for the NBA will be its first-ever in-season tournament Dec. 7-9 at T-Mobile Arena that will feature four teams fighting for the trophy. Rodeo fans will be treated to the return of the Wrangler National Finals Rodeo Dec. 7-16 at the Thomas & Mack Center.
The New Year's Eve celebration will likely bring plenty of people to Las Vegas this year falling on a weekend. Some 400,000 people were on the Strip a year ago.
All of that is with the backdrop of the Culinary Union holding informational pickets on the Strip after authorizing a strike if a contract is not reached for the 38,000 non-gaming employees at Caesars Entertainment, Wynn Resort and MGM Resorts International properties. No one is expecting the first citywide strike since 1984 and that a deal will ultimately be reached.
Everyone remains confident in Las Vegas despite ongoing and never-ending comments from economists and analysts that the U.S. could go into a recession at some point as interest rates remain elevated and consumers continue to deal with the impact of inflation beginning in 2021.
While MGM and Caesars are facing lawsuits over their recent cyberattacks that netted some customers' personal information, the hack appears to be behind operators for now. MGM said it recently had one of their best booking weeks in a long time.
"People are still coming and showing up and their appetite for this environment has never been stronger," MGM CEO Bill Hornbuckle told G2E attendees in talking about the coming months in Las Vegas.
That was echoed by others in the conference who spoke on panels.
Howard Wang, managing director at Ares Management, highlighted Las Vegas' strength as a sports and convention destination.
Recently, the Las Vegas Raiders played on "Monday Night Football" at Allegiant and attracted Green Bay Packer fans. The Vegas Golden Knights raised their Stanley Cup Championship banner to kick off their season at T-Mobile Arena. The Los Angeles Lakers were in town to play an exhibition game at T-Mobile Arena. And, Las Vegas Aces played its first two games of the WNBA Finals before winning the title in New York, and bringing home their second championship.
At G2E, Wang also cited how Las Vegas is well =-positioned compared to Orlando and other cities to attract conventions.
"With the additional new amenities, you can sell to this organize; that you can go to Orlando and a theme park or go to Vegas and see a game, watch U2 at the Sphere," Wang said. "I live in Los Angeles and am biased because I come here all of the time, but it's an easy sell and the rates are competitive if not cheaper than some of these other cities like Chicago or New York. There's still plenty of growth on that side. The projects on the non-gaming side are going to help that."
Even if an economic slowdown does occur.
Raf Mercado, vice president within the investment banking division at Goldman Sachs, said Las Vegas' non-gaming amenities help it weather that.
"There's the F1 race coming up in November and Super Bowl happening in February," Mercardo said. You have the Sphere opening and convention centers being built and more casinos and food and beverage outlets being built on the north end of the Strip (with the Fontainebleau Las Vegas opening in December)," Mercardo said.
"There's talk of a Major League Baseball team and of a Major League Soccer team and the NBA could come to Vegas in the future. Vegas as a town is being transformed more away from gaming and I think that's a good thing, and the
industry as a whole will benefit from that."
Las Vegas got another positive review Monday when Barry Jonas, an analyst with Truist Securities, wrote a note to investors that operators are confident in Las Vegas growth.
"Caesars remains confident in the Vegas event calendar with no concerns about demand pull-forward from the F1 race," Jonas said. "Management noted that F1 construction has been ongoing since last spring, with most of the road paving improvements expected to last six to eight years before requiring further major work. Management also believes an agreement with the Vegas Culinary Union could be finalized in October, and we think both groups are highly motivated to get a deal done before F1. Following the strong event calendar into the Super Bowl, management expects group business and international recovery to drive growth in 2024, along with property enhancements."