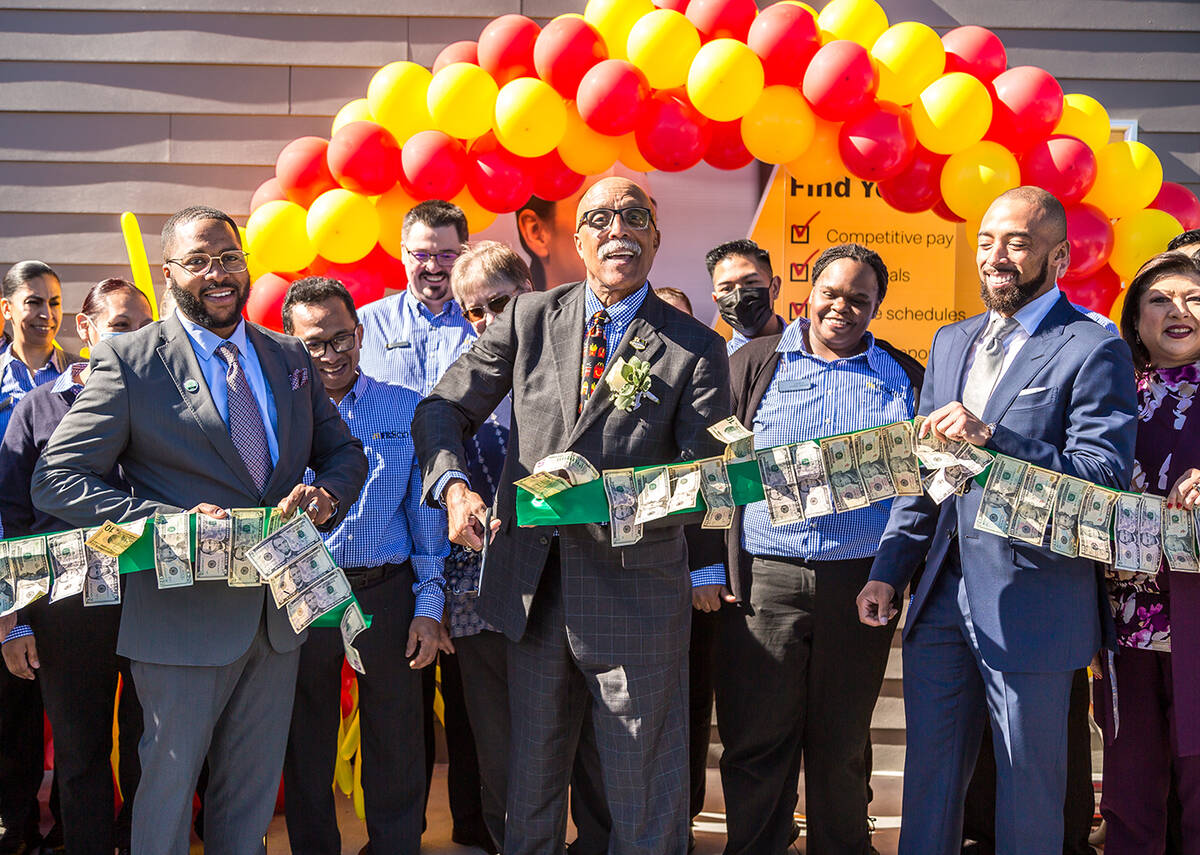 Ron Smith developed a very successful business, owning and operating several McDonald's franchises. Under Smith's FRSCO Corp., his company is now considered the valley's second-largest owner/operator group. As one of the first Black owners/operators in the Las Vegas Valley, Smith paved the way for more Black owners/operators to follow, including his son, Chris. The Smiths are the only father-son duo running multiple McDonald's franchises in the Vegas area. The FRSCO restaurants have created more than 800 jobs in the Las Vegas Valley, and its Southern Nevada restaurants generate upwards of $70 million in annual sales, the company reported.
Ron Smith has served as chapter president of the Black McDonald's Operators Association and served two terms as national vice president of strategy for the National Black McDonald's Operators Association.
"As a child, I always wanted to be in business. I tried a number of things, and when I became a franchisee of Mcdonald's, I put my whole heart and soul into the business," said Ron Smith. "My family was there, and Chris grew up in the business."
"I have always had an entrepreneurial spirit, especially because of my parents. I first entered a completely different career path, but in 2011, I started to look at some growth opportunities in Las Vegas. McDonald's is one of the best businesses in the world, and I decided to become part of my family's business with McDonald's," Chris Smith said. "We interact with people, whether with McDonald's or the franchise industry or other businesses, to help create success."
One of the success stories is Eva Martin, an owner/operator of three McDonald's for over 32 years.
"We have been friends through the business for the past 20 years. When I was ready to retire, they purchased the restaurants that remain very successful," she said.
The father-and-son team officially opened their 17th location at 6850 S Ft. Apache Road on Feb. 9 with a ribbon-cutting ceremony. The celebration included the Faiss Middle School Advanced Choir, Bella Voce, under the direction of Emmanuel Mojica, singing the national anthem, followed by a special rendition of "J'entends Le Moulin."
The Senior District Representative Jarron Gray Urban Chamber of Commerce recognized the Smiths with a presentation. Senior District Representative Gerri Schroder from the office of Congresswoman Susie Lee (D-Nevada) also presented a certificate. William C. Wong from the Asian Chamber of Commerce and a retired McDonald's franchise owner (47 years at McDonald's, including 10 years as owner/operator) also attended to show his support. The Smiths presented a check for $25,000 to Alyson McCarthy, chief executive officer of Ronald McDonald House Charities Greater Las Vegas.
"When my daughter was a teenager, it was almost impossible for her to find employment. No one wanted to give her a chance because she had no experience," said Lita Stein, business development executive from the Las Vegas Metro Chamber of Commerce. "McDonald's has always been and will always be that shining star willing to give someone the experience they need to go on to become successful."
During the opening ceremony, she acknowledged the accomplishments of FRSCO.
The Smiths have dedicated hundreds of hours of time and hundreds of thousands of dollars in donations to various nonprofits, including Ronald McDonald House Charities of Greater Las Vegas. Since June 2012, FRSCO has donated more than $350,000 to RMHC. The Smith's restaurants also host McTeacher's Nights, and in 2022, they partnered with 19 schools and donated over $12,000, the company reported.
FRSCO also participates in the McDonald's Archways to Opportunity program, which offers its employees tuition reimbursement and has assisted approximately 100 people with more than $375,000 since 2019.
"They always supported my education and development since I was 16 years old when I started working for them," Robert Hansen said. He worked his way up to general manager and then entered the Archways to Opportunity program to obtain his degree in informational technology from the College of Southern Nevada. He has returned to work at FRSCO as an operations technology manager.
The legacy of FRSCO continues to grow as it assists and develops a diverse group of future owners and operators and adds jobs to the valley.