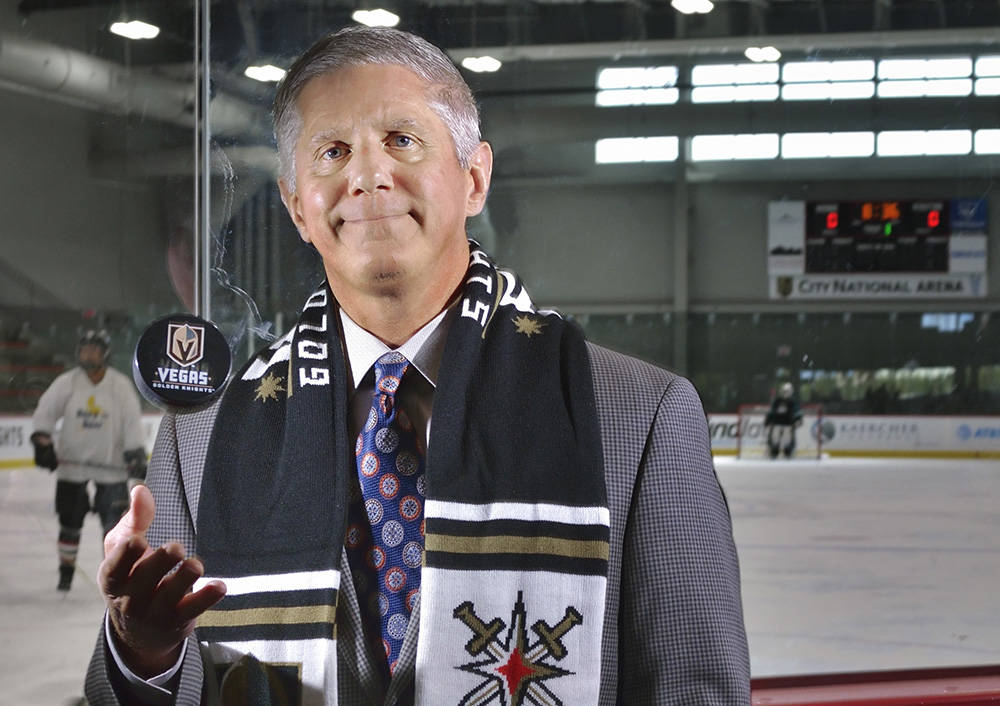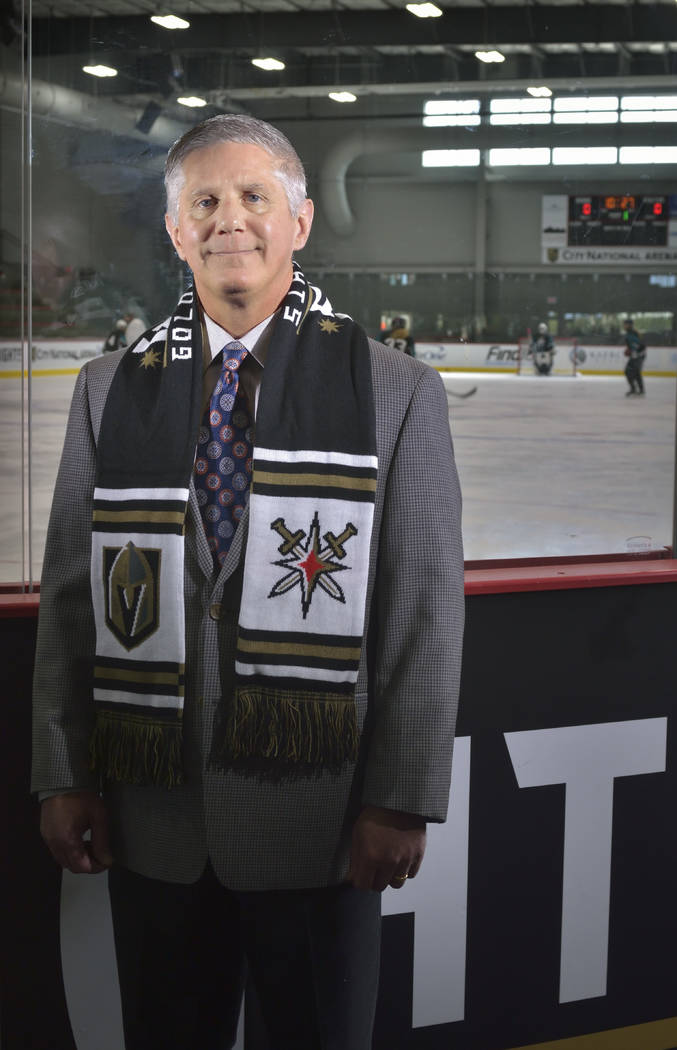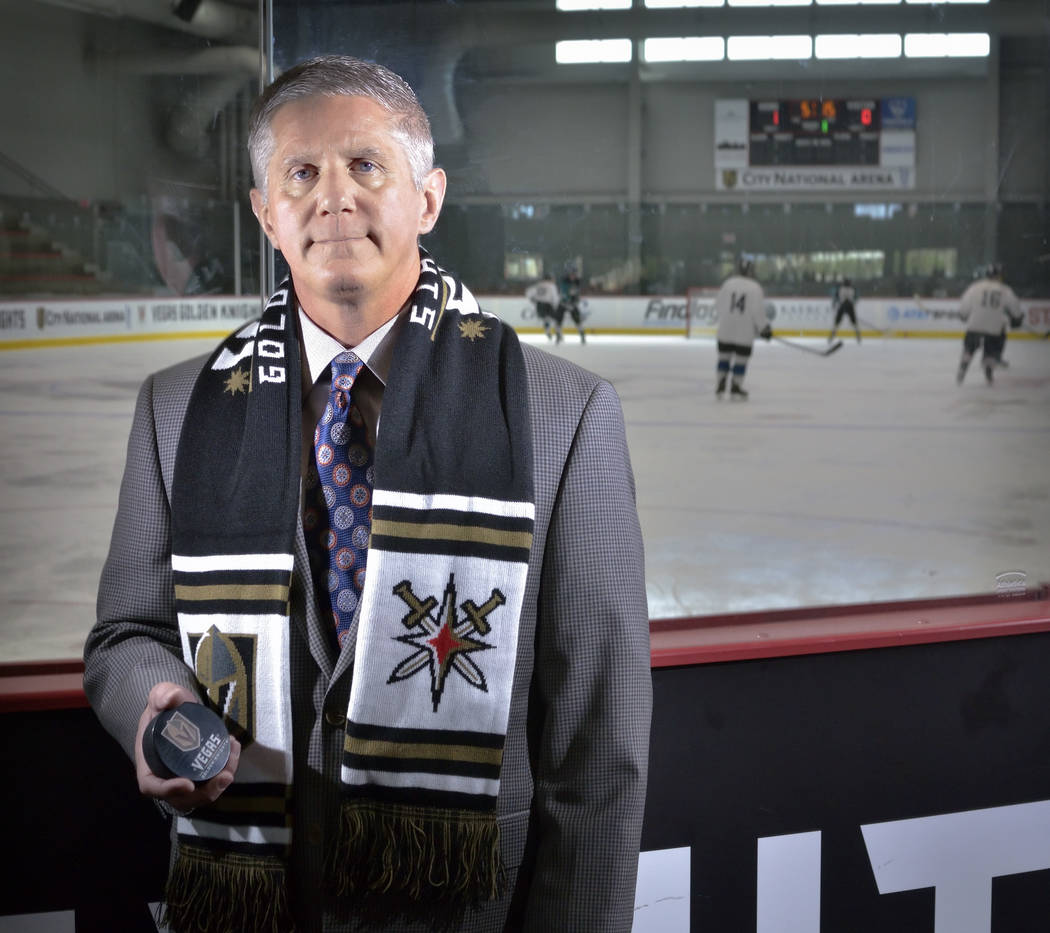 Kerry Bubolz knows what a championship feels like and how it brings together a city. He hopes Las Vegas feels that same sensation soon enough.
Southern Nevada's first major professional sports franchise debuts in Las Vegas Tuesday (Sept. 26) when the NHL's expansion franchise, the Vegas Golden Knights, and Los Angeles Kings take the ice at T-Mobile Arena.
Bubolz, who spent 13 years with the NBA's Cleveland Cavaliers and Quicken Loans Arena organization — most recently as president of business operations — joined the Golden Knights last November as the franchise's president who oversees all of its business ventures.
It was a job Bubolz wanted. He likes basketball but he's passionate about hockey.
"The people in Cleveland knew I would only leave for one opportunity, and that was to run an NHL franchise," Bubolz said. "Hockey has always been my favorite sport. I loved the business of the NBA, but it wasn't my favorite sport. I think I can be better in this environment because I have such an appreciation and love of the game of hockey. I love the culture and think it's the greatest game in the world. When the opportunity came, I jumped on it."
Bubolz said what attracts him to the game is how it's a combination of many sports. It's like soccer on ice and features the hand-eye coordination of baseball and physicality of the NFL while players are on thin blades going 30 mph with someone "trying to take their head off."
The 51-year-old Bubolz, a graduate of Oklahoma State University, has an extensive sports background. He served as president and alternate governor for all franchise property teams owned by the Cavaliers operating company, including the Cleveland Monsters of the American Hockey League (AHL), the Canton Charge of the NBA Development League and the Cleveland Gladiators of the Arena Football League.
Prior to his tenure in Cleveland, Bubolz spent time as the vice president of sales for the Carolina Hurricanes of the NHL and Southwest Sports Group, which includes the Dallas Stars of the NHL and Texas Rangers of Major League Baseball. Before that, he held a variety of roles during a six-year run with the International Hockey League's Cleveland Lumberjacks, including as team president, chief operating officer and senior vice president of business operations.
With the Golden Knights, Bubolz is responsible for every aspect of the operation that's not hockey related. That includes ticket and suite sales, corporate sponsorships, broadcasting and marketing and communications.
The team has sold out of its allotment of 12,500 full-season tickets in the 17,500-seat arena, and Bubolz said more than 14,000 seats have been sold for every game. City National Bank, which has the Knights new $30 million Summerlin practice arena named after it, and MGM Resorts International are two major sponsors. The team has secured radio and television rights deals that will have its games broadcast throughout Nevada, Utah, Montana, Idaho, Wyoming and parts of California and Arizona.
"All of our big rocks are in place in terms of the business itself with our media partnerships and what was needed for sponsorships and ticketing perspective to achieve our revenue goals and expectations," Bubolz said. "A lot of what we're doing now is the little stuff. These are pre-season games, much like the guys on the ice. We're in a building that we're not that familiar with because we've never executed an event there. We're going to learn the building and all the technology and how to use it."
Some 90 percent of the ticket sales are to Nevada residents, said Bubolz in debunking the perception that the business would be built out of the 43 million visitors that come to Las Vegas every year, even though there will be visitors from Detroit, Chicago, Boston and other NHL markets.
The job is made easier because there's a lot of "extremely knowledgeable hockey fans in this market," Bubolz said.
"They may come from Boston or Chicago or Philadelphia, and that's OK," Bubolz said. "They know the game. It's a lot easier to teach them to be a fan of your team than teach them a brand new game they know nothing about. We have a strong foundation because of the transplants from other markets across the country. That's a lot deeper than I ever imagined."
That's part of the newly gained perspective about Las Vegas that Bubolz said he's gained by going from a tourist who visited twice a year and knew the Strip and not the community as a whole. Bubolz relocated to Las Vegas with his wife, Melissa, and daughters, Madison and Emma.
"It wasn't until I came out to an interview last September that I had a chance to know there's a real community that is vibrant and thriving and full of people (who) care about Las Vegas and its success and growth," Bubolz said. "People have been so receptive, and I love this can-do attitude of this market."
The Golden Knights will help tell the story about Las Vegas with five of its games televised nationally and teams in other markets beaming back the 41 regular season and three pre-season games from T-Mobile Arena. Executives of Fortune 500 companies looking to locate national or regional headquarters base it on cost of living, quality of life, state income tax and a business-friendly environment. Professional sports also can help lure them, he said.
"Las Vegas has a lineup to attract other businesses that is almost unmatched anywhere around the country," Bubolz said. "That is an exciting next step that is not talked about enough in terms of having two professional sports teams in us and the Raiders (of the NFL scheduled to relocate to Las Vegas in 2020). We have an unbelievable story to tell to get other companies as they think about how they migrate or grow their business on a national or global basis."
The addition of the Raiders and the NFL brand to the market will bring even more visibility to Las Vegas that it doesn't have now, Bubolz said. That means more businesses opportunities for the Golden Knights because national sponsors that support the NFL will now look at Las Vegas.
"Because it's only the 40th largest market in the country, they will look at us differently because of the NFL," Bubolz said. "We see it as an opportunity to build on the sports part of the entertainment reputation Las Vegas already has. With professional sports, Vegas can be the sports and entertainment capital of the world."
While a hockey franchise is part of sports and entertainment industry, the fundamentals that apply to running it are the same as any other business, Bubolz said. He said his job is about balancing time with the core goals and executing on them.
"Our business is made up of all the same disciplines you would have at a bank or casino or just about any other business in the market," Bubolz said. "We have accounting people, marketing people, sales people, lawyers and social media people. Our business just happens to be sports and entertainment. It's different because it's in the public eye and covered by the media and that we want people to feel connected to the brand. There's so many eyeballs on it and that's the great thing about professional sports."
Hockey, Bubolz said, has taught him a lesson on how to go about business. You can't get caught up in the grind and forget to pick your head up and see what's in front of you as a player on the ice might do, he said.
There about 65 full-time staff that are part of the business operation side of the team. Overall, there are more than 170 employees that includes the players, coaches and scouts across the country and internationally with more than $100 million in payroll. About 1,000 people will work on game days as ticket takers, ushers, parking security and concessions at the 44 games.
All of that has an economic impact on Southern Nevada from employees spending their money at restaurants and other businesses to fans doing the same on game days. Bubolz said.
A team can, however, — and Bubolz said he saw in Cleveland when the Cavaliers won an NBA title in 2016 over the Golden State Warriors — bring a community together. Fans of all ages, races and socioeconomic status come together to follow and celebrate a team, he said. People are connected with each other through professional sports, he said.
"Las Vegas is going to have a new set of eyes on it Oct. 10 (the regular season home opener)," Bubolz said. "It's the entire hockey community in North America and around the world. We're going to represent the community well, and we're excited about it."