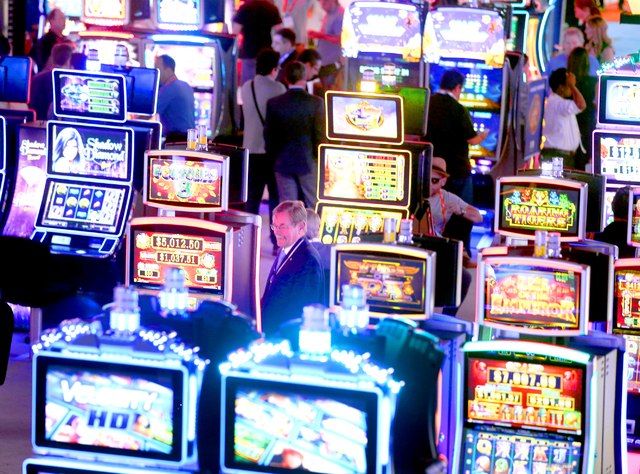 The message was clear from Wall Street analysts appearing at the Global Gaming Expo last week in Las Vegas — the national and international economy is doing well and the future of gaming and tourism in Southern Nevada remains bright.
What's going to happen in the short term, however, in the wake of a mass shooting on the Strip that left 58 dead and more than 500 wounded, remains uncertain for now with mixed views on its potential impact.
William Newby, president of TFA Capital Partners, boutique investment bank that focuses on raising capital for the gaming and leisure sector, said it won't show itself with business travelers since large conventions are locked into contracts. The question will be answered at the end of 2017, he told the Las Vegas Business Press.
"Watch what happens later this year as you approach New Year's Eve," said Newby at the Sands Expo where he appeared on a panel of Wall Street experts to discuss the future of gaming. "As you close off the Strip, you have 2 million people running up and down the street. If people are worried about a hangover effect from (the night of the mass shooting) and that madness, that's what you're going to look for. That's where the consumer can make the decision."
Carol Roth, an investment banker, author and television host, said the shooting was terrible tragedy that was "on the top of the mind for all of us," at the Global Gaming Expo. She and other Wall Street panelists marveled at how people continue to carry on in the aftermath and show "our strength" as a nation.
"We're a resilient people and get through it," Newby said. "We rationalize and fight back. If you walked around the Strip (last week), there were an awful lot of people having fun like nothing ever happened. I don't believe people necessarily believe that, but it's very strange."
Jon Najarian, a CNBC contributor and co-founder of the Najarian Family Office, which serves high-net worth investors, said the reaction of the stock market shows what Wall Street thinks of the tragedy and its view of Las Vegas going forward.
The day after the shooting, Najarian said, he expected the market to decline last week by 200 to 500 points and casino stocks to drop by 5 to 10 percent. The stock market didn't sell off and MGM Resorts International stock was impacted with a decline of nearly 5 percent before rebounding slightly by the end of last week. Najarian said he bought MGM stock on its decline.
"I thought it would have gone down 5 to 10 percent, but it only went down 5 percent," Najarian said. "They've been buying Las Vegas Sands all week and even buying Caesars so to me it's not going to be a long-term negative. As bad as it is, I don't think it's something that's going to stop these stocks. There's some underlying strength. They're projecting growth."
Edward King, managing director and head of the global gaming group in the investment bank division of Morgan Stanley, said people should look at the reaction of the stock market as a method "crowdsourcing" of what to anticipate for Las Vegas in the aftermath of the shooting.
"Our guess is no better than anybody else's, but the market didn't react," King said. "Decision makers are saying we're going to go forward here with activity as normal."
UNLV economics professor Stephen Miller, director of the Center for Business and Economics, said in the aftermath of the shooting there were reports of some hotel cancellations, but added there won't be an impact on visitation over the medium term and long term. The region's population is growing at more than 2 percent and the housing market remains active and that bodes well over time.
"Orlando has gone through this (with their mass shooting) and the Philippines had a similar incident," Miller said. "The evidence suggests shooting incidents have not had significant longer-term effects on visitors. Six months or 12 months from now it won't have a residual effect. It could be changes in terms of security and how they do open-air concerts. They will be rethinking all of that and try to improve security."
Brent Pirosch, director of gaming consulting for CBRE in Las Vegas, said the incident could keep away some leisure travelers and smaller conventions in the short term.
"The fourth quarter is likely to be negatively impacted," Pirosch said. "If people decide to stay away for any amount of time, that could be a drag on the numbers (for gaming revenue and visitor volume."
On the future development front along the Strip, progress is being made and Pirosch said Las Vegas is poised for continued growth in visitation and gaming.
In late August, investor Carl Icahn sold the unfinished Fontainebleau along the north end of the Strip for $600 million to Witkoff and New Valley LLC. Construction continues on the $4 billion Resorts World Las Vegas on the former Stardust site.
On Oct 6, the day after G2E ended, Caesars announced it has finished a merger between its subsidiaries that will allow it to make $2 billion in investments, most of it in Las Vegas, including room renovations. It plans to build a convention facility and is eyeing expansion in front of Caesars Palace and east of its Bally's and Paris Las Vegas.
"They should come out a much stronger company," Pirosch said. "They will be well set in 2018 for some market growth."
The Wall Street analysts at G2E were bullish on the economy and how that will help Las Vegas. They were excited about the slot machines to come out of the trade show that will help lure millennials to casinos because they're interactive and allow them to compete against each other like it's a Dave & Busters.
"We're doing well," Najarian said. "The recovery is continuing and that bodes well for an awful lot of discretionary spending."
Newby said inflation remains low and consumer confidence "is reasonably strong." People are saving more and looking to spend more, he said.
Najarian was even bullish on millennials because even though they have student debt, they're taking Uber instead of buying cars and paying auto insurance. That frees up money for them to spend money at casinos, he said.
In interviews with slot machine manufacturers prior to G2E, they said Las Vegas is in a good place going forward.
Phil O'Shaughnessy, senior director of marketing and communications with IGT, cited the arrival of a NHL expansion franchise in the Vegas Golden Knights, which has its regular season home opener on Tuesday. The Oakland Raiders are currently scheduled to relocate to Las Vegas in 2020 when a $1.9 billion stadium is completed.
"There's all kinds of reason to come to Las Vegas," O'Shaughnessy said. "It's incumbent to make sure our entertainment stands out among all the other forms of entertainment."
Derik Mooberry, group chief executive of the gaming division at slot maker Scientific Games, said in his travels around the world and talking with operators, they're "bullish on the state of the gaming industry and where things are headed."
Customers are seeing growth as witnessed by regional gaming reports that show year-over-year revenue increases on casino floors, Mooberry said. The Las Vegas market continues to see good numbers as well, he added.
"In Vegas, you see a slight diversification that probably isn't present in other markets around the world," Mooberry said. "In the Vegas market, we have tremendous investments in the resort experience where there's entertainment and shows and hotels and nightclubs. Although gaming is a smaller percentage of a bigger pie, it's still a very key element to the overall success of these resorts on the Las Vegas Strip."
Steve Walther, senior director of marketing and product management at slot maker Konami Gaming, said even though the mix of what people spend is changing, people are still spending more on gaming in Las Vegas, even though the percentage has dropped.
"The market is still growing," Walther said. "The spend mix coming to Vegas is going less and less to gaming because there are other options and amenities. But if you look at the data, the gaming spend has had a slight growth to it. It would be one thing if the real dollar value of spending (on gaming) was going down. In the gaming floor, we're going in the right direction."
Slot revenue along the Strip was $258.4 million in August, up 6.6 percent over August 2016. It's up 3.2 percent for the year.
The overall gaming revenue for Clark County in August was $841.5 million, a 16.1 percent gain over $724.7 million in August 2016. That was bolstered by a 21 percent gain along the Strip. Downtown revenue rose by 13.4 percent. The Floyd Mayweather Conor McGregor fight at T-Mobile Arena boosted August's numbers over what analysts said was a weak August 2016.
VIP and mass market table games volume was up in August at 15 percent and 9.6 percent, respectively, as well as slot volume at 3.5 percent, suggesting that "action at the arena carried over nicely to the rest of the casino floor," Pirosch said.
For the year, gaming revenue is up 4.3 percent from $6.40 billion through August 2016 to $6.68 billion through August of this year. That's led by downtown gaming revenue up 14.6 percent to $417 million through August. Strip revenue stood at $4.3 billion through August, up 3.5 percent from $4.16 million for nine months in 2016.
The locals gaming market was up 6.2 percent this August versus August 2016, Pirosch said.
The Las Vegas Convention and Visitors Authority reported there were 3.56 million visitors in August, a 2 percent decline from 3.63 million in August 2016. For the first eight months of the year, visitor volume has declined more than 250,000 or 0.9 percent from 28.8 million in 2016 to 28.5.
Analysts such as Pirosch said that's because casinos such as Caesars and MGM are remodeling rooms. The room inventory in August was 148,532, a 0.5 percent decline from 149,273 in August 2016.
Caesars has started a $60 million room remodel at the Flamingo and $35.1 million remodel at Harrah's.
"The renovations in the rooms has been needed," Pirosch said. "Capital has been tied up for a long time in the market, and now that it's being released a little you will have a much nicer room product. Rates will go up most likely and improvement in rates have a good flow through to the bottom line."
That decline in the hotel room pool has had a bigger impact on tourists rather than conventioneers. Convention visitation rose by about 13,000 in August to 567,951, a 2.5 percent increase. For the year, convention visitors has risen 6.2 percent from 4.42 million people to 4.69 million.
"Because convention-related travelers (numbers) are up significantly, that has translated in the number of investments made in convention facilities," said Brian Gordon, principal at research firm Applied Analysis. "We have seen major announcements by MGM Grand, Aria and Monte Carlo, and you have others looking to add incremental meeting space, not to mention the (expansion and remodeling) at the Las Vegas Convention Center. The push toward convention-related travelers has helped boost the mid-week hotel occupancy and room rates, and those travelers tend to carry a premium relative to your typical leisure travelers."
The decline in visitors overall is reflected in auto travel from California with daily auto traffic at the state border down 1 percent daily for the year to 45,459. The number of people arriving at McCarran International Airport is up 2.6 percent for the year at 32.3 million through the end of August, up from 31.5 million a year ago.
Room revenue on the Strip in August rose 2.8 percent from $110 to $113. For the year it's up 4.6 percent on the Strip from $122 to $127.
As for the Fontainebleau, new development projects on the Strip tend to cost at least $1 million per key to be competitive, Pirosch said. Initial development costs for Wynn and Encore exceeded $1 million per key, while The Cosmopolitan of Las Vegas was nearly $1.3 million per key. CityCenter was more than $1.4 million per key. Estimated development costs for Malaysia-based Genting's Resorts World, which could be open in 2021, also exceed the $1 million per key number, he said.
Depending on the final buildout for Fontainebleau, however, the per key development cost, including the $600 million acquisition price, could be less than half what the others paid, Pirosch said.
"This would help significantly reduce their development risk and still allow for a highly competitive product," Pirosch said. "We do not yet know the full extent of their plans, but the Fontainebleau marks a unique opportunity on the Strip."
Gordon said hotel occupancy rates hovering around 90 percent in the past year has prompted developers to consider adding more rooms to the marketplace in the future.
"You have the Resorts World activity and the recent acquisition of the Fontainebleau," Gordon said. "There may be others that are considering diving into the hotel-casino business in Las Vegas."
For the latest stats for Las Vegas click here.