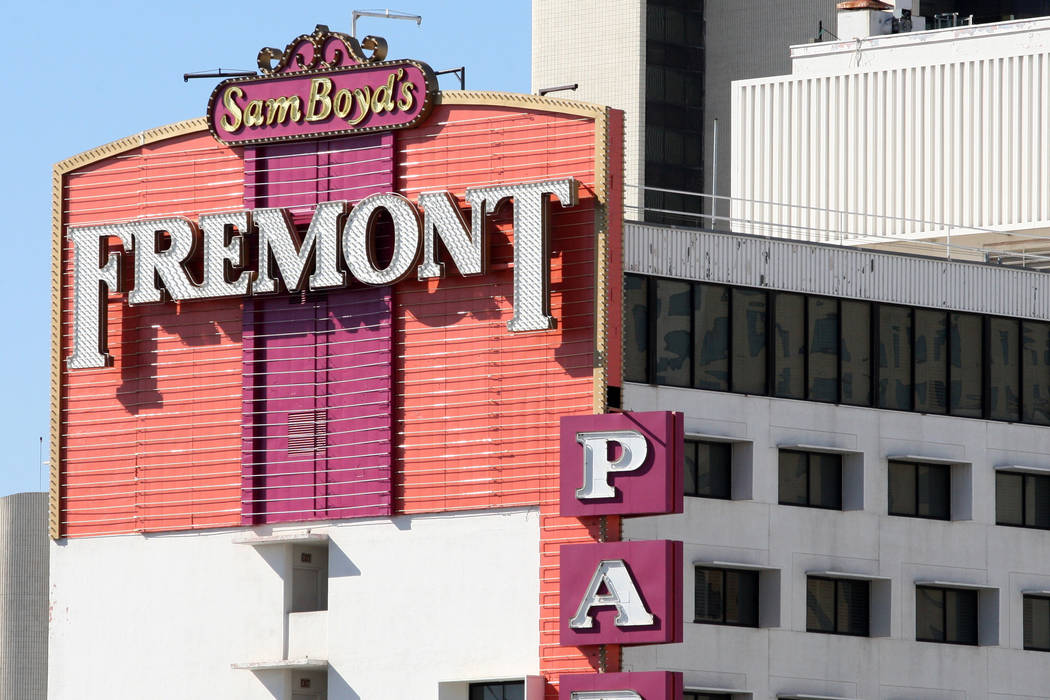 It couldn't be better for Las Vegas when it comes to looking at the latest gaming numbers, outside of baccarat that is, and factoring in visitors coming to Southern Nevada through McCarran International Airport.
That's the good news, and analysts said that's a great sign for the Las Vegas economy going forward through the end of the year.
Here's the bad news that's lingering.
With the recent drop in the stock market prompted by an ongoing trade war with China, that could carry over to the U.S. economy. In addition, the decline in baccarat win and volume is a reflection of a bigger global picture that affects Asian visitation, analysts said after June gaming numbers were released last week.
Morgan Stanely on Monday predicted a global recession in nine months if the U.S. raised tariffs on all imports from China to 25 percent for four to six months. President Donald Trump said he will add 10 percent levies on Sept. 1 for Chinese imports, and China has promised to retaliate further after announcing its ending U.S. agricultural imports.
Despite those concerns, there's been plenty of good news, however, when it comes to local gaming and tourism to Southern Nevada.
The latest numbers from the Las Vegas Convention and Visitors Authority show there were 3.6 million visitors in June, a 1.2 percent gain over June 2018. There's 21.1 million visitors for the first six months, a gain of 0.6 percent over the first six months of 2018, even though average daily traffic is down 0.7 percent from Interstate 15 in California.
Convention attendance at 3.54 million is up 1.1 percent for the year. With more rooms renovated and put back online (inventory is up 1.3 percent to 149,627), hotel occupancy was at 89.3 percent is up 0.5 percent for the year. Weekend occupancy is up 0.2 percent to 94.6 percent. Casinos are profiting from that with revenue per available room up 4.3 percent for the year to $120.76.
Traffic through McCarran International Airport is setting records. It had its busiest month ever in June with 25.3 million passengers, a 3.1 gain over the first six months of 2018. It's on pace to pass last year's record.
The June gaming numbers released last week by the Nevada Gaming Control Board show that Clark County's gross gaming revenue decreased by 0.1 percent during the first half of 2019, according to Michael Lawton, a Control Board senior research analyst. It's down 1.4 percent on the Strip.
No one is calling it a sign that anything's wrong with U.S. tourism.
Clark County's slot win, is up 2.9 percent in 2019, which Lawton said is a result of a 2 percent increase to slot volume during the first half of the year. That's 19 consecutive quarters of slot win, which Lawtson said is the longest streak over the last 10 years. Slot volume has increased for 13 consecutive quarters.
"This consistent growth pattern corresponds to positive trends being seen both nationally and in Las Vegas which include increasing median home prices, which are highly correlated to gaming revenues, unemployment decreasing along with rising average weekly wages," Lawton told the Las Vegas Business Press.
The reason for the overall decrease in gaming revenue has more to do with what's happening abroad than what's happening locally with the economy, analysts said. Clark County's game, table and counter game win has decreased by 4.6 percent through the first six months of the year, which is primarily due to lower volumes which are down 4.1 percent for the second quarter, Lawton said.
Baccarat is the contributing factor to these results, which is down 16.4 percent through the first six months on volumes that are down 11.7 percent as well, Lawton said.
"Unfortunately, baccarat results have been mixed over the last 10 quarters and the outlook remains choppy at best due to the economic outlook in China being cloudy," Lawton said. "We have heard, anecdotally, that some of Asia's wealthiest customers are concerned about the trade war. As a result, this could have a negative impact on the baccarat business for the Las Vegas Strip in the future."
Brent Pirosch, director of gaming consulting for CBRE in Las Vegas, said baccarat revenues "are drifting toward where they used to be before the baccarat boom coming out of the recession." While the Las Vegas casinos have been "a little less lucky this year, it is also partly driven by increased competition for VIP play on the international stage," he said
Baccarat represents 17.6 percent of the total gaming revenue on the Strip, Pirosch said. At its peak in 2013 it was 25.8 percent of total gaming revenue, and before 2010 it was typically in the mid-teens as a percent of the total, he said.
Pirosch said people should look at gaming numbers, excluding baccarat, if they want a truer picture of what's happening in Las Vegas. He said he expects gaming numbers when baccarat is excluded to be up 2 percent to 4 percent for the year.
"I think things are going fairly well," Pirosch said. "The Strip is down a little bit because of the change in baccarat play, and that only goes to a handful of properties. "The mass market is doing just fine up 2.3 percent this year on the Strip. It's just regular folks and not high-end VIP play.
That's a better number for what's going on in town. That is folks coming from the Midwest and people from California. Vegas still represents an exciting and compelling travel destination."
The local's market is "doing pretty well" being up 1.8 percent this year, Pirosch said. He credits a strong economy with growing construction jobs for that growth.
Downtown gaming revenue is up 5 percent for the year, Pirosch said. "It's on fire. A lot of the owners have been reinvesting in their properties. There's some new rooms at the Plaza this last week. You have the Circa (Resort & Casino) opening up in 2020. Downtown is a really good value proposition compared to the Strip with about half the rates. As room rates get more expensive, downtown becomes a great alternative for those looking for a different kind of experience."
The average daily room rate is $146 on the Strip and $72 in downtown, a gain of 3.4 percent and 2.3 percent, respectively, over the first six months of the year, according to the LVCVA.