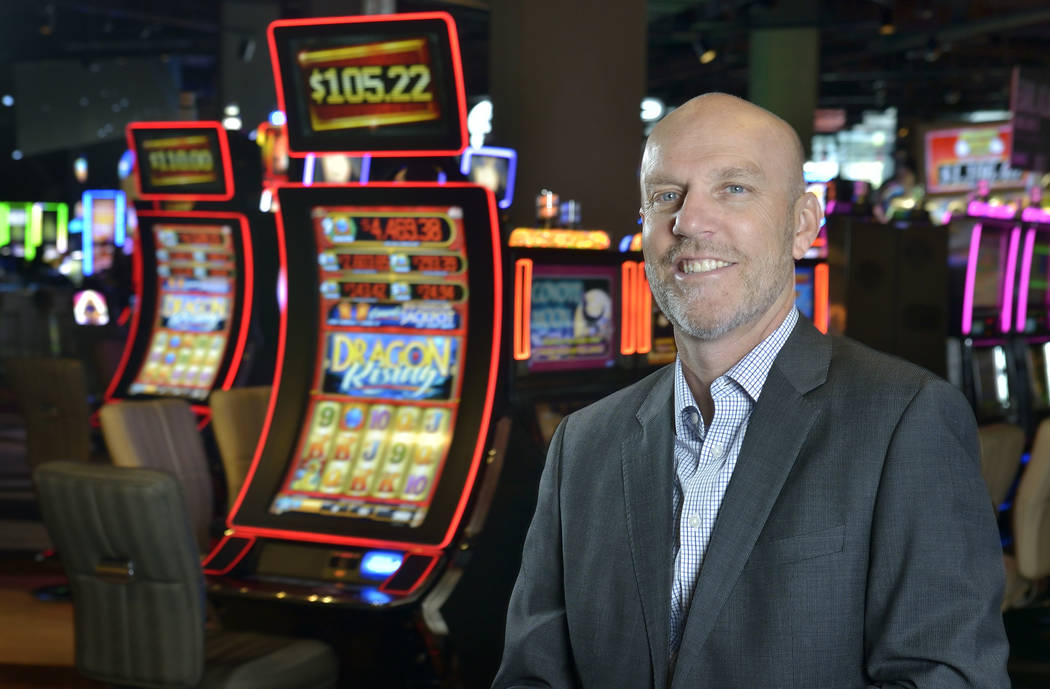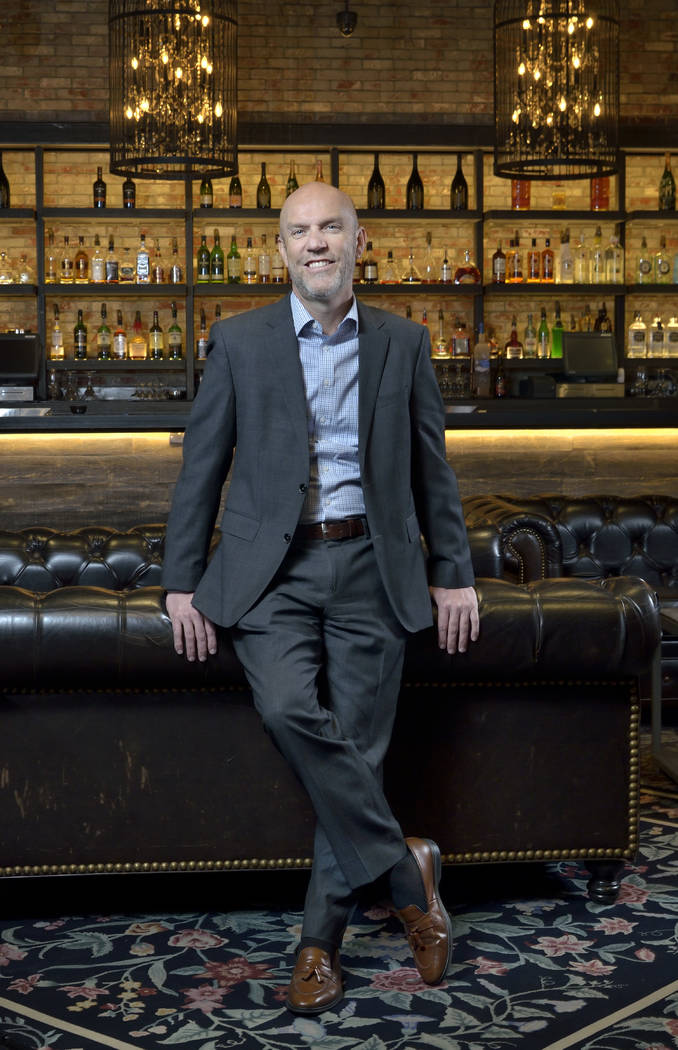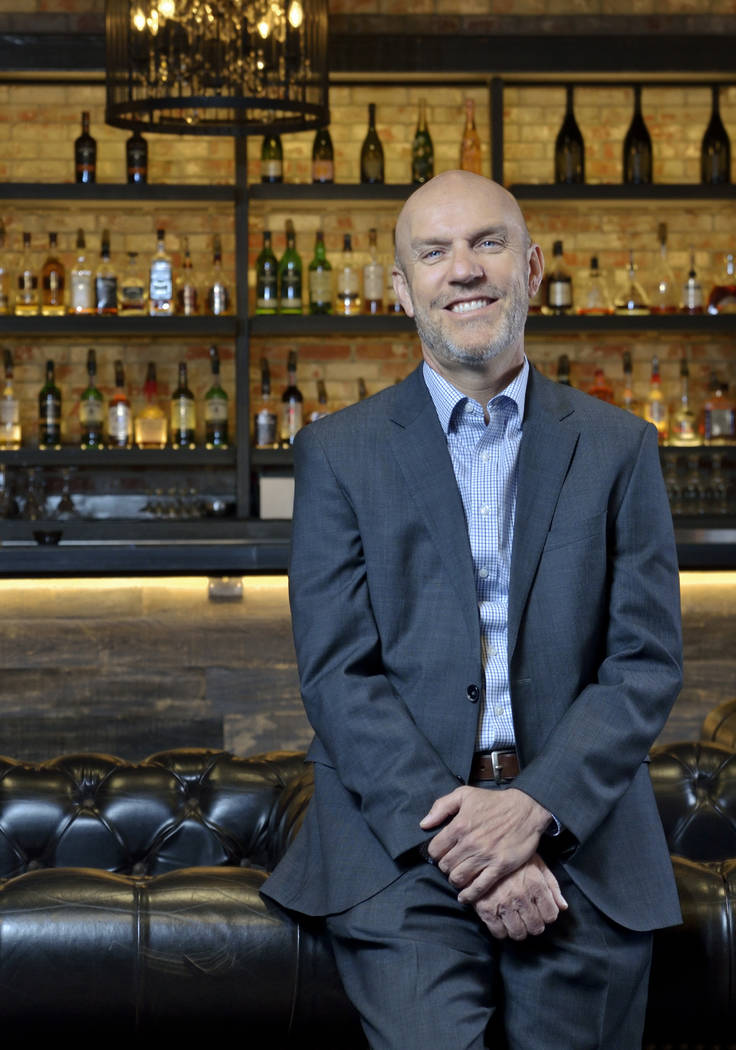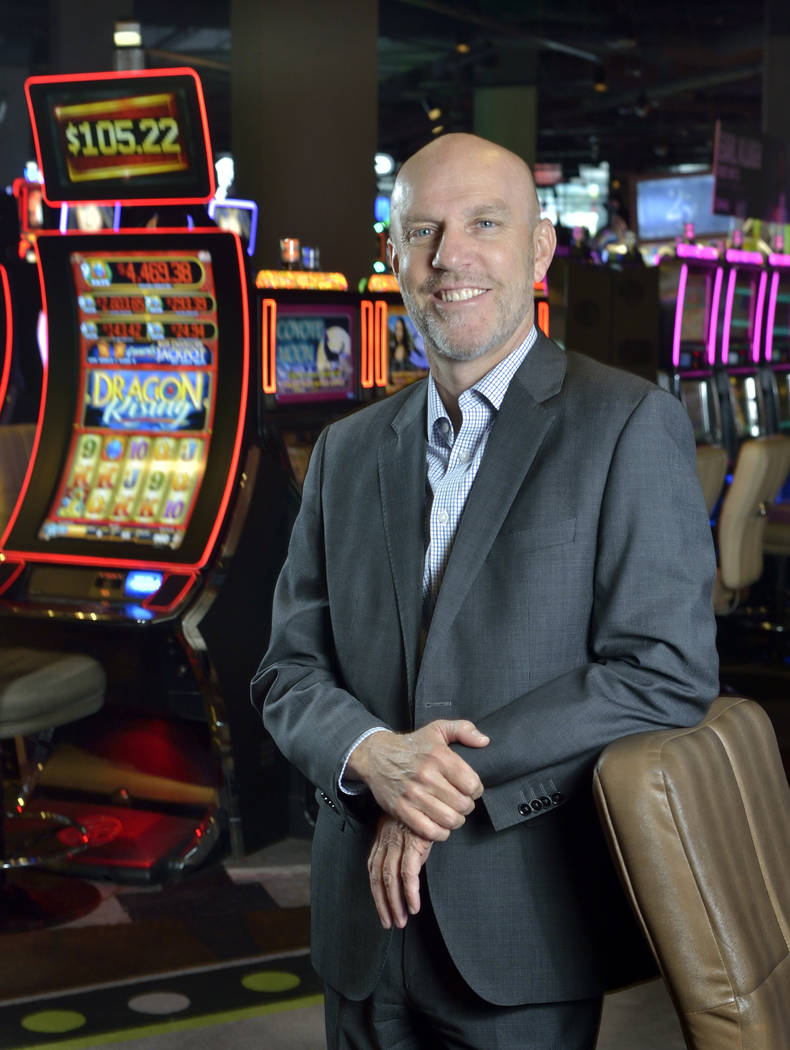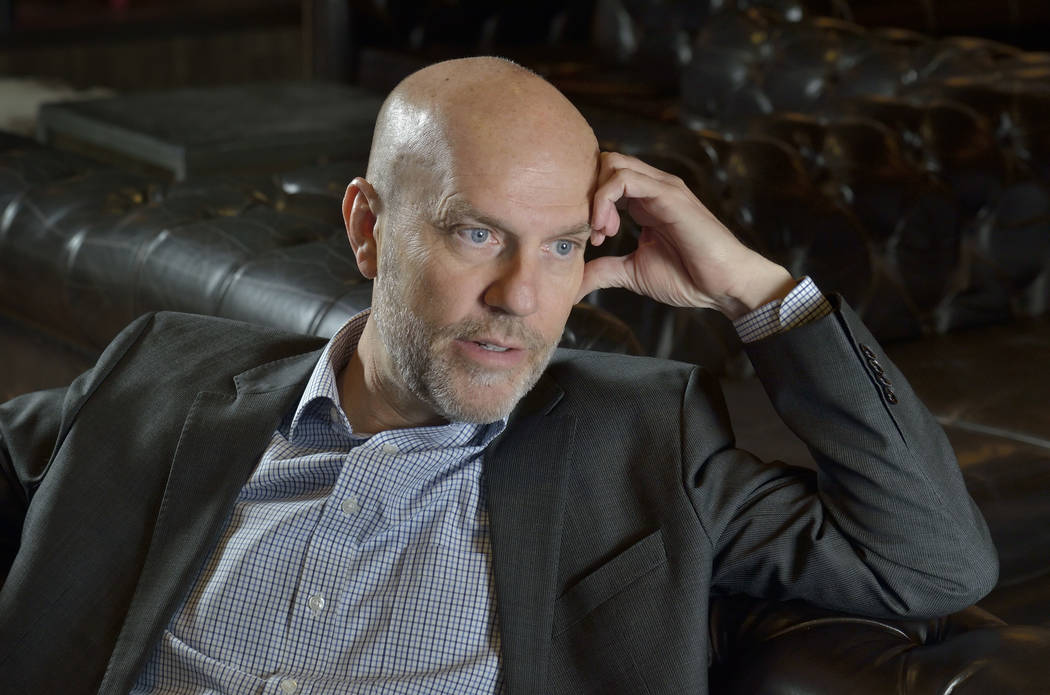 Sitting on a leather sofa in the Sayers Club, a stylish live music bar at the SLS Las Vegas, Paul Hobson knows he will be judged by the numbers. That's fine with the former finance major who's more personable than the stereotype of a bean counter.
Hobson, who never expected a career in the casino industry when he graduated from Arizona State in 1989, now finds himself in charge of a struggling property on the Strip.
The former Sahara Hotel, which celebrated the Strip's glorious past of the Rat Pack, closed in 2011 in the aftermath of the Great Recession. It has struggled since it was refurbished and reopened in August 2014 as the SLS Las Vegas. Hobson, the new general manager under new ownership moved down the street to change that performance and sees a bright future over the next five years as the North Strip expands.
On March 22, Alex Meruelo, who owns the Grand Sierra Resort in Reno, closed on the acquisition of the SLS from Stockbridge Capital Group. He vowed to spend up to $100 million to revitalize the property with a fresher look that would ultimately make the casino, which was once on the verge of bankruptcy, to be profitable.
The 51-year-old Hobson, who broke into the industry in 1990 with Caesars Tahoe, was named to the post on April 5. He moved to the SLS after serving seven years as general manager at the Stratosphere. A graduate of Arizona State University with a degree in finance, Hobson knows his mission — to turn the property around — and with Meruelo's assets and track record, it's just a matter of time, he said.
"No one has struck the right approach with the asset," Hobson said. "And with Alex Meruelo coming on, he was able to do with (the former Reno Hilton) in taking a struggling property that is now the premier property in that market. His energy and enthusiasm got me excited to be part of something here that could make an impression in this market and do some stuff that hasn't been done."
Hobson said he's had a chance to follow the SLS since he worked in the same neighborhood and discovered what a "neat property" and how the "space is rich and well-designed." The sale was announced in May 2017 and has taken 10 months to close, and Hobson said the first step is to "stabilize things" because the property has been in flux as they were putting the deal together.
"Now, we have the ability to get in front of the team and say we are part of a new group, a new family, give some stability and start laying the foundation — working with the pieces and discovering that right approach that will lead us forward," Hobson said.
"I'm very fired up about the change to be part of this with everybody that works there. There has been a period of time we have been waiting for this deal to close, and there's a sense of anticipation from everybody that works here. There are a lot of day-one employees that have worked at this and struck with it, and are thirsty for what comes next."
What makes the case strong that the property will turn around is the Meruelo Group owns three Southern California radio stations and two Spanish-language television stations, Hobson said. It has a concert venue in Reno.
"What is compelling is Mr. Meruelo and the Meruelo Group has some entertainment assets and media assets in a primary feeder market for us in Southern California," Hobson said. "There are dots to be connected that will help with the messaging for the property and position the property and give us some reach. That will be the neat thing to work with them and figure that out. There are some cards to be played there that would reach people that hadn't been reached with information."
The refurbished property with 2 million square feet was done at a cost of $415 million. The SLS has more than 1,300 guestrooms in two towers with 325-square-foot rooms and suites of 3,300 feet. A third tower with 289 rooms is branded as the W. The rooms are managed by Marriott.
The SLS has 80,000 square feet of meeting space, a 60,000 square-foot casino with 600 slot and video poker machines and 50 table games.
The resort is also home to The Foundry, a live entertainment venue that holds 1,800. The SLS has recognized restaurants such as Bazaar Meat by Jose Andres and Katsuya, a sushi restaurant, and Cleo, a Mediterranean restaurant.
SLS is for people looking for a four-star hotel experience on the Strip, and that covers a whole range of people, Hobson said. He said the best comparison of the SLS is hotels that are not part of large corporations and named Treasure Island and the Golden Nugget as two examples.
"It's not overwhelming in terms of size and scale of the property, but it has the opportunity to be something unique and different among the behemoths," Hobson said. "We appeal to everybody that might be coming to Las Vegas."
Over the longer term, the excitement for the SLS is palpable, given Resorts World Las Vegas and The Drew, the former Fontainebleau, are scheduled to open in 2020 on the North Strip. Hobson said that long-term outlook is "super important" and people will see what happens when there's a critical mass of properties and people are lured the area and circulating between properties.
"In five years, I think we're going to be the middle of a vibrant part of Las Vegas," Hobson said. "We talk about the Strip coming this way, but the Las Vegas proper is coming this way, too. We are right in the middle of that dynamic, and that's a pretty neat piece of real estate to be on. We think that's important but we're not waiting on that to make the improvement. We need to attract the guests that this property is going to appeal to."
Brent Pirosch, director of gaming consulting with CBRE, said not only will the SLS benefit from expansion on the North Strip but from the expansion of the Las Vegas Convention Center. It's even walkable from the SLS that many people aren't aware has frontage on Paradise Road, he said.
While the future is bright, Hobson is focusing on the present. A spokesperson for the hotel said the average daily rate number for a stay at SLS is $90 midweek and $150 for the weekend. About $100 is the average rate.
"I think there is room for us to grow as we get better about messaging the hotel and selling it and working with Marriott, who is the biggest hotel company in the world, to use their leverage," Hobson said. "We are offering competing value."
There has been speculation that SLS will ultimately rebranded to its roots as the Sahara. Officials said there are "no immediate plans for a name change at this time" and it will continue to operate under SLS for at least one year.
The Sahara opened in 1952, and the SLS still tries to channel that, Hobson said.
"There is a legacy of what the Sahara is to Las Vegas, and I'm not well-versed on that, but it is a property that was known for entertainment and entertainers and celebrity appearances that is a lot of what we see in Las Vegas, still. I expect that to be simulated with the property going forward."
As for renovations, Hobson said the rooms are in good shape but wants to give the hotel corridors a different feel.
"Initially, we want to warm the place up a little," Hobson said. "It has a nice feel. It is kind of an edgy feel in the public area, and we would like to introduce some warmer textures and colors to it. If you look now, we have an open ceiling painted black, and it's a little dark. Putting a ceiling in with some decorative elements and light colors would make things more inviting. We're going to move in that range fairly quickly as soon as the designs get approved."
The SLS has 1,300 full-time employees and another 500 employees who are part time.
Hobson recalled when he started in the business in 1990 at Caesars Tahoe as manager of financial planning in which he coordinated budgeting, capital planning and casino customer evaluation.
He said it wasn't a career he ever envisioned.
He had been in casinos before but they were a mystery of how they worked. He was working in Seattle for a savings and loan as a real estate appraiser at a time the economy was souring. A college friend who moved to Reno told him about the job at Caesars Tahoe, and he made some phone calls and ultimately got it.
"I just knew it was an industry that had something to do with cash and what you do with the cash, and it appealed to me on that level," Hobson said. "It was a fun industry to get into when a time it was so niche."
After more than four years in Tahoe, he transferred to Caesars Palace on the Strip where he worked as manager of financial planning and analysis. He evaluated the effectiveness of marketing initiatives and developed models for return on investment on capital projects.
Two years later, he left Caesars and served as senior vice president of operations at Primm Valley Casino Resorts where he stayed for 10 years. He oversaw three hotel casinos and associated businesses that included golf courses, thrill rides and gas stations.
A decade ago, after Herbst Gaming acquired Primm, he moved to Laughlin where he became general manager of the Aquarius for American Casino & Entertainment Properties. Two years after that, he transferred to the Stratosphere where he served as general manager for seven years. American Casino was purchased by Golden Entertainment in October.
As a general manager of the SLS, Hobson said he was responsible for "generally everything." That means marketing of the property and developing and implementing strategies. Then there's the operating aspect of dealing with everything from employee benefits to who's getting booked at the Foundry over the holidays.
"There is a lot of plate spinning here, and I'm lucky there is a lot of support," Hobson said.
As for how does a finance guy into numbers make the transition to being a general manager, Hobson said the work of analyzing operations helped him understand the business. His first management was operation of a lottery store in Primm.
"It started with a desire to do it and declaring I would like to be closer to the business and be in that role," Hobson said. "I was working with people that allowed me to do that, and so it was a slow progression over time. I was in a duel role where I was in administration for the casino and working closely with the person running slots and table games. I got more responsibility for operating elements outside of what would be administrative."