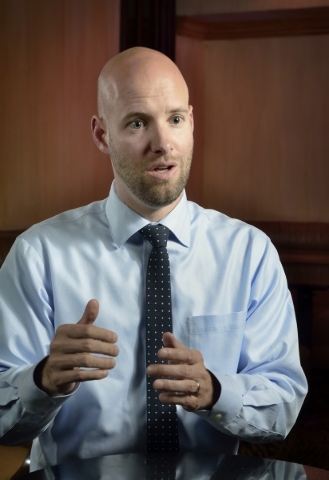 The economic environment of Las Vegas has shifted dramatically in the post-recession era. The city's dependence on casino gaming has been pushed to the side by an ever-increasing profit on non-gaming spending; the rebound of the convention industry has been powerful; the impact of foreign tourists, aided by favorable exchange rates, has reached levels that were impossible to imagine just a decade ago.
The task of finding the road to even better days ahead belongs to Jonas R. Peterson, the new president and chief economic development officer of the Las Vegas Global Economic Alliance (LVGEA). Peterson's resume includes serving as president and chief executive officer of the Santa Clarita Valley Economic Development Corp. (SCVEDC). Led by Peterson's strategies, partnerships and alliances, SCVEDC quickly emerged as one of the most productive economic development organizations in the country.
"I came in asking, 'What does the Las Vegas community want?'" says Peterson. "Southern Nevada has to want the industries that we recruit. That is always the most important variable. Economic development is truly a team game."
It is a game in which Pearson has successfully "coached" across the West. Just five years ago, he was recognized as Arizona's "Economic Developer of the Year" by the Arizona Association for Economic Development and as the "New Economic Developer of the Year" by the International Economic Development Council.
"In the world of economic development there is no better place in the world to be than Las Vegas," says Peterson. "It was by design that I ended up here. I studied community and economic development at Penn State and have never stopped."
View of Vegas
LVGEA is a public-private partnership focused on growing the economy in Southern Nevada through community development and business recruitment, retention and outreach. The LVGEA's goal is to help residents thrive in a global economy by fostering a more prosperous, diverse and connected regional economy.
With its status as a 501(c)6 membership organization, LVGEA is dedicated to developing the economies of Las Vegas, Clark County, Anderson, North Las Vegas, Boulder City and Mesquite through regional cooperation, global trade and global connectivity.
"I love that the city has a tradition of high risk tolerance since it was built on pioneers and leaders who were not afraid to take risks," says Peterson. "It is important that we continue to grow, and that we grow in the right way. That means retaining and recruiting businesses through our strong gaming and hotel industries, and not relying on them solely without any strategic support."
Peterson points to the Water Center of Excellence as a model worth replicating. The Water Center combines the expertise of water companies and their partners to create jobs and capital investment.
"I already know that I have to respond to the need for even more partnerships within the business community," says Peterson. "We will continue to push harder and harder for opportunities because the community has been so open and willing to support them. The arts, design, entertainment and videogame industries are natural fits for our markets, so we will be pursuing them as well."
Global goals
In his new position, Peterson is leading the review of LVGEA's strategic planning and development documents, some of which play a vital part in the organization's current success, while other tactics have already been rendered obsolete in today's fast-moving global economy.
"My long-term goal is that in three to five years we are one of the most effective and productive economic development groups in the United States," says Peterson. "It is my job to make sure it happens."
Along with the revision of the strategic documents and policies, Peterson is already leading the short-term strategies that will help make his long-term goal a reality.
The most visible of the strategies is the "Drive for 50," a collaboration of 50 of the most influential public and private leaders under the umbrella of one organization. This is the type of brainpower, collaboration and resources Peterson wants LVGEA to rely on into 2016 and beyond.
"Each of the 50 leaders that make up the organization invested $25, 000," says Peterson. "This guaranteed that they had skin in the game and had a sincere interest about the organization's long-term stability and success."
LVGEA's strategic imperatives include becoming an engine of community development, achieving and maintaining operational excellence while leading, facilitating and being a steward of regional economic development. Its final strategic imperative is to elevate Southern Nevada's position as a global business location. That's a goal Peterson takes on with extreme urgency because of Las Vegas's international appeal and flair.
"Our ability to attract people and businesses from all across the globe is what sets us apart from most other cities in the southwestern region and I fully intend on capitalizing upon that for the benefit of our great city," says Peterson. "Our diverse population of residents is another key selling point that we will continue to use for our benefit."
Peterson is asking all members of the business community, no matter how small, to reach out to LVGEA. As LVGEA continues to expand both its recruitment and retention efforts, there is plenty of room at the table for all businesses, no matter the size, and any industry, he says.
"We are looking for information, resources and testimonials from all of our business community members," says Peterson. "It all helps with recruitment, retention and partnerships."
It is this open-door policy and an open-mind thought process that Peterson is counting on to set up LVGEA for long-term success.
"We see our organization leading discussions, outreach and implementation for the entire Las Vegas metro area," says Peterson. "It is a team effort to help continue to ensure Southern Nevada grows together the right way."