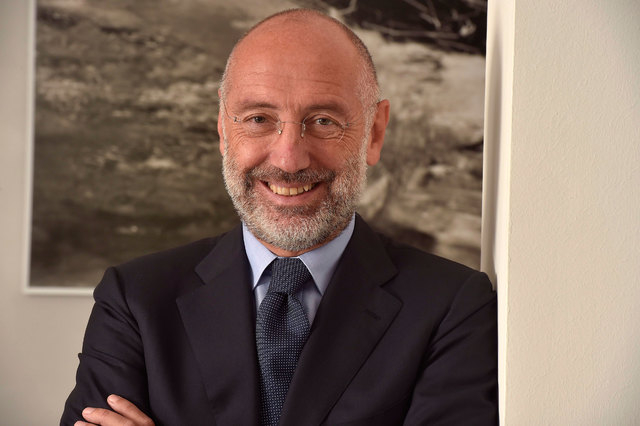 The final quarterly earnings report this month by slot machine giant International Game Technology was more of a look inside the dwindling North American gaming equipment market, rather than the company.
IGT's sale to Italy-based lottery provider GTECH Holdings for $6.4 billion closed April 7. The combined operation — now called IGT and headquartered in London — released results for the quarter that ended March 31 for each company individually.
Deutsche Bank gaming analyst Carlo Santarelli told investors IGT's results reaffirmed his negative view of the U.S. slot machine industry.
"The common refrain from slot floor managers is that slot product has become overly commoditized with no true differentiation between the products," Santarelli said. "Accordingly, this has led slot floor managers to shrink their exposure to the gaming operations segment, given it is the most expensive piece of the gaming floor."
In its final quarter as a stand-alone company, IGT lost $13 million while total revenue declined 22 percent to $399 million. The decrease was primarily because of a 43 percent drop in slot machine sales and a 17 percent decline in gaming operations.
Eilers Research founder Todd Eilers said IGT's results fell short of forecasts.
"Clearly the merger with GTECH had a negative impact in the quarter but we also believe that IGT's weaker results are party driven by further market share losses," Eilers said.
Meanwhile, GTECH's revenue increased 3.4 percent, but its net loss was $30.4 million, mostly because of costs associated with acquiring IGT.
The GTECH-IGT merger is expected to result in almost $280 million in cost savings over the next three years.
IGT will continue to focus on casino products and technology in Nevada, maintaining research and development in studios in the state. The primary manufacturing operations will take place in Reno. However, the company said it has started working to sell its Las Vegas headquarters and the adjacent land near the 215 Beltway and Buffalo Drive.
IGT is also closing other facilities in Rhode Island, Canada and Austria.
On a conference call, IGT CEO Marco Sala, who was GTECH's CEO before the merger, told analysts he didn't view the slot machine company's results as a sign of what the combined company will accomplish.
He said the company's overall performance will accelerate in the year's second half. New slot machines are expected to be shipped in the next to Massachusetts to be used in Penn National Gaming's new racetrack casino.
Some analysts aren't so sure.
"While the GTECH results were more in line with expectations, softness across the IGT business seemed to catch investors off guard," Union Gaming Group analyst Chris Jones said.
Wells Fargo Securities gaming analyst Cameron McKnight called the quarter "messy," but he thought IGT's business would improve through the balance of the year under new management.
Macquarie Securities gaming analyst Chad Beynon said IGT's results solidified his opinion that Scientific Games Corp. is now the industry's leading gaming equipment provider.
The lottery equipment company, now headquartered in Las Vegas, bought slot machine makers Bally Technologies for $5.1 billion last year and WMS Industries for $1.5 billion in 2013.
In its first quarterly earnings reflecting all the pieces combined, Scientific Games said its quarterly revenue nearly doubled to $658.7 million, but its net loss also nearly doubled to $86.4 million.
"When the headlines came out, we believe investors were concerned with Scientific Games' top line, believing that the integration and path to synergies might have led to some share erosion," Beynon said.
IGT's results showed the weakness was a function of market conditions. He said the trends were already better in April.
"Scientific Games actually gained share in a difficult environment," Beynon said.
Interactive gaming was the strongest segment for IGT with revenue increasing almost 18 percent though social gaming, such as the DoubleDown Casino, and Internet gaming.
Eilers said the segment was on pace to generate $382 million in revenue and more than $100 million in cash flow in 2015.
Contact reporter Howard Stutz at hstutz@reviewjournal.com or 702-477-3871. Follow @howardstutz on Twitter.