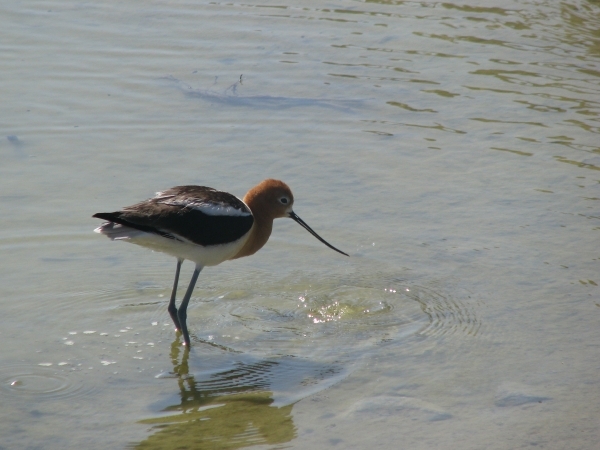 The City of Henderson was named the No. 1 vacation rental destination in Nevada by FlipKey, a travel company associated with the travel site TripAdvisor.
Over the course of 18 months, FlipKey analyzed hundreds of travelers' reviews from across the nation, singling out the best location in each state. Henderson, which received a 4.73 rating out of a possible 5 points, was recognized for its championship golf courses, weather, bird-watching, casinos, hiking, museums and proximity to Las Vegas and the Hoover Dam.
"Henderson is one of the top tourism cities in the nation," Henderson Mayor Andy Hafen said in a statement. "The city is a premier leisure destination and is home to some of the finest attractions in the Southwest, including more than 180 miles of hiking and biking trails and the award-winning Henderson Bird Viewing Preserve."
In fact, TripAdvisor presented the Henderson Bird Viewing Preserve with a 2015 Certificate of Excellence award earlier this year. The facility, which ranked ninth among the site's top things to do in Henderson, sits on approximately 140 acres and is home to thousands of migratory waterfowl and many species of resident desert birds. Nearly 300 different species of birds have been observed at the preserve, which is a National Wildlife Federation-certified wildlife habitat site.
To see the complete 50 States: Top Rated Vacation Rental Destinations list, visit FlipKey.com.
FIGHTING HUNGER
September is Hunger Action Month and there are plenty of opportunities across the Las Vegas Valley to help fight hunger.
Hunger Action Month is designed to raise awareness on the issue of hunger and encourage the public to get involved. It also serves as an opportunity for companies and individuals to show their support through grants, donations, events, volunteerism and social media campaigns.
In Southern Nevada, more than 300,000 people experience hunger, part of 49 million throughout the nation.
Three Square Food Bank has launched a social media activation campaign — #Spoontember — to engage the public and raise awareness of hunger for those who don't know where they'll find their next meal. #Spoontember supporters can share an "orange spoon selfie" — an image of themselves balancing a spoon on their nose — on their social media accounts tagging @threesquareLV and #Spoontember.
If you're looking for orange spoons for that Spoontember spoon selfie, you're in luck. Cheeky, a paper and plastic tableware company, will be selling orange flatware at all Target stores throughout the month of September with partial proceeds benefitting Feeding America.
On Sept. 3, the LINQ Promenade went orange as Flour & Barley Brick Oven Pizza, Chayo Mexican Kitchen, O'Sheas Casino, Squeeze Fresh Cocktails, Guy Fieri's Vegas Kitchen and Bar, and 3535 served special menu items with partial proceeds benefiting Three Square. In addition to these offerings, the High Roller was ceremoniously lit orange to help celebrate the day and further raise awareness.
UNLV football fans can get involved by donating to their virtual food drive by visiting www.threesquare.org, clicking on the "Give Now" button on the homepage, filling in the donor information, and in the "Comments" field include "UNLV" or "Rebels."
Smith's Food & Drug Stores shoppers can also donate $1, $3 or $5 at checkout to provide milk to local Las Vegas families throughout the month of September. Donations are also collected through bringinghopetothetable.com/PourItForward.
For additional information and details regarding Three Square's Hunger Action Month activities, visit www.threesquare.org.
MOLASKY CENTER CITED
The League of American Bicyclists recognized Molasky Corporate Center with a Bronze Bicycle Friendly Business award. With the announcement of 100 new and renewing Bicycle Friendly Businesses late last month, Molasky Center joins a cutting-edge group of more than 1,050 local businesses, government agencies and Fortune 500 companies in 47 states and Washington, D.C., that are transforming the American workplace.
"The business community's investment in bicycling is playing a central role in making the country a safer, happier, and more sustainable place to live and work," Amelia Neptune, League Bicycle Friendly Business program manager, said in a statement. "We applaud this new round of businesses, including Molasky Center, for leading the charge in creating a bicycle-friendly America for everyone."
The Molasky Center, which is located at 100 N. City Parkway in Las Vegas, has a fleet of bicycles that are available at no cost to those who work at the company as well as in the building. Management encourages bicycling as an easy option for transportation and provides amenities such as free bicycles, helmets, locks and bike racks and incentives such as gift cards to retailers for those who do group outings.
"As the largest LEED Gold office building in Las Vegas, we encourage people who work and visit our building to live a healthy lifestyle and that includes bicycling," Anna Juarez, general manager for the Molasky Center, said in a statement.
Moving forward, Molasky Center will have access to a variety of free tools and technical assistance from the League to become even more bicycle-friendly.
To learn more about the BFB program, visit the League online at www.bikeleague.org/business.