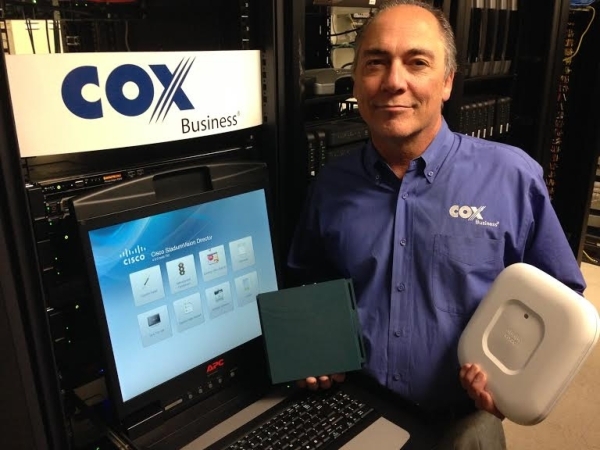 With four months to go before the opening of the Las Vegas Arena, a phalanx of IT pros is finding creative solutions to enhance visitor experiences at the new venue.
While Cox Communications' Cox Business/Hospitality Network has been named the technology integration and telecommunication services provider for the arena, it will take a village to get the job done right.
"The broadband infrastructure we provide will directly enhance the guest experience for both attendees who visit the Las Vegas Arena and the employees who work there every day," says Pat Cesser, president of Cox Communications.
It is an infrastructure that will combine the efforts and resources of several industry leaders in technology.
"Along with the broadband Wi-Fi service presented by Cox Business, the arena will also offer our guests a cell-phone distribution antennae system provided by Mobilitie," says John Bollen, senior vice president and chief digital officer for MGM Resorts International. "Digital signage will be featured throughout the venue by Cisco's Stadium Vision, delivering an immersive interactive experience. This connectivity and signage will give our guests the opportunity to use their devices anywhere in the arena and interact on multiple social platforms during events."
The Cox division that will be operating the arena is the Hospitality Network, a unit that has spent more than three decades providing advanced technological services to hotel rooms, convention, trade show and meeting room space across the United States.
"We are leveraging our technology in order to enable this exciting project at the Las Vegas Arena," says Derrick Hill, vice president of Cox Business and Hospitality Network's Las Vegas market. "We confidently design and build networks providing customized technology solutions like the Las Vegas Arena across the country. We just installed a Wi-Fi canopy at the Las Vegas Convention Center that covers 2 million square feet and we are currently installing a Distributive Antenna System there for improved cellular service."
The Cox Business/Hospitality Network designed and constructed a 10-Gigabit diverse and redundant fiber optic network for the Las Vegas Arena to support the deployment of wired and wireless Internet connectivity inside the venue. Utilizing Cisco Connected Stadium Wi-Fi, more than 550 Wi-Fi access points inside the Arena will deliver targeted download speeds of up to 20 megabytes per second to Wi-Fi enabled devices.
When the arena opens in April, guests will be able to authenticate their free Wi-Fi connectivity as they approach the arena from Toshiba Plaza, an adjacent two-acre outdoor entertainment space.
"Guests will enjoy an interactive, virtually seamless Wi-Fi experience throughout the venue and utilize the arena's free Wi-Fi versus their cellular data plans," says Hill. "The 20 megabytes of free connectivity will allow social media uploads and other Wi-Fi activity to take place without the usual buffering that occurs when you upload content on less efficient networks and when thousands of people are trying to share the same network simultaneously."
Although Cox has vast experience developing Wi-Fi networks in hotels, convention centers and other large venues, the task of developing the network at Las Vegas Arena was unlike any other.
"Building a Wi-Fi network inside an arena is quite unlike a network you build in a hotel, a convention center or any large venue with high density guest usage," says John Fountain, director of technology for Cox Business and Hospital Network's Las Vegas market. "While older arenas are unable to support a satisfactory Wi-Fi experience because of their design, our challenge in designing a Wi-Fi footprint at the arena is that we had to take into consideration issues such as crowd flows, the unique 'bowl' shape of the Arena and the lack of a flat roof for uniform placement of Wi-Fi access points."
The combination of the Las Vegas Arena's bowl shape and the constant movement of people in and out of the bowl causes Wi-Fi devices to continuously "beacon" or search for a connection. This activity places an enormous strain on a network and creates a large amount of IP-based interference inside the arena's bowl configuration, which causes even greater challenges.
"We engineered a solution by incorporating a couple different types of access points, one that provides wide coverage and another one that is more laser-focused to cover highly-targeted areas of the Arena," says Fountain. "That network architecture keeps Wi-Fi devices anchored to the fewest access points and minimizes beaconing. We also had to be creative about where to place the access points, some are hidden on handrails while others are located under seats, not typical mounting places, but the architecture of the ceiling inside the bowl did not allow for a more standard installation."
To accompany the infrastructure, Cisco's StadiumVision will provide an immersive differentiated video experience for fans throughout the venue. There will be content placement on the Arena's 650 high-definition and 4,000 digital displays, several video walls, the Daktronics scoreboard above the arena floor and the facility's massive Jumbotron at the entrance. The 650 individual digital displays can be partitioned into many visual arrangements, creating high-visibility marketing platforms for advertisers, sponsors, concessionaires and merchandising partners.
"All of this digital real estate will display video content whether it is real-time, in-house feed, advertising messages or programming from any of the 60 channels of content we are providing the arena from the Cox channel lineup," says Fountain.
"StadiumVision is a sophisticated enterprise-grade digital signage solution so a single operations console can output customized content from one or multiple screens to a group of screens at a particular location in the arena or to every screen in the entire venue, including the Daktronics scoreboard and the Jumbotron."
To monitor the user experience and maintain a high quality of service, the WiFi network will be supervised by several tools, including Cisco Advanced Services to assist in designing the proper locations and orientation of antennas.
"The convention and arena business is an important segment for Cox Business," says Steve Rowley, senior vice president of Cox Business. "When consumers go to a trade show, concert or sporting event, they want the best wireless experience; we know that without a doubt. That is why we are working with our customers to implement advanced technology to ensure the best possible experience for our customers. It is a win-win situation."