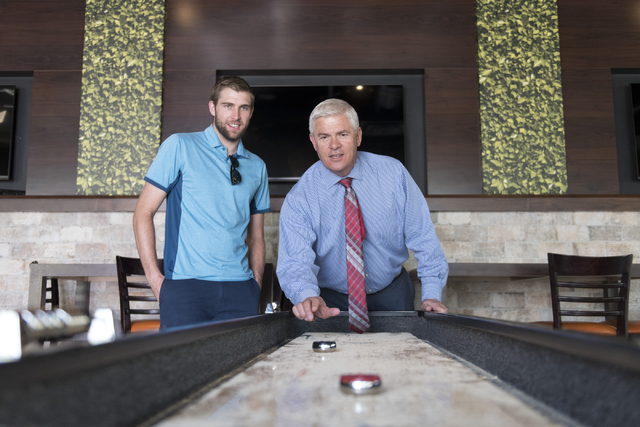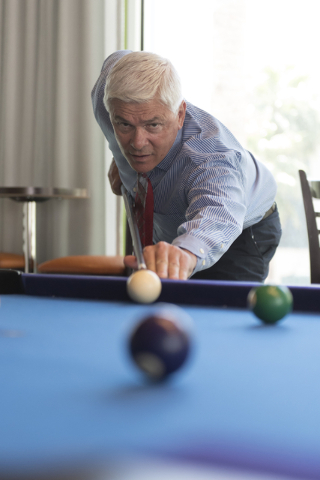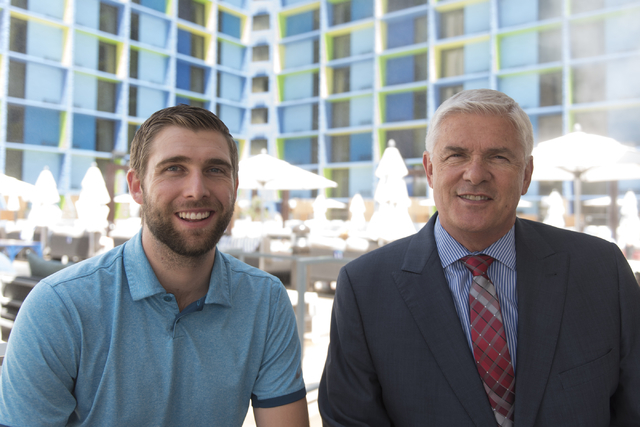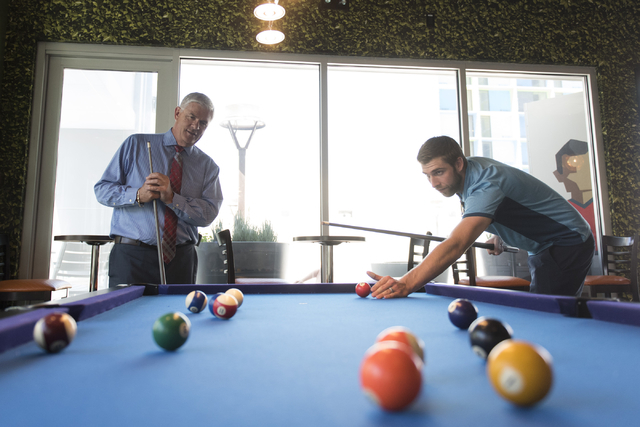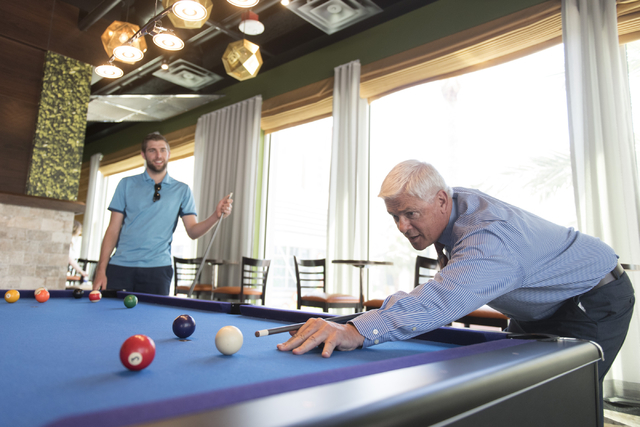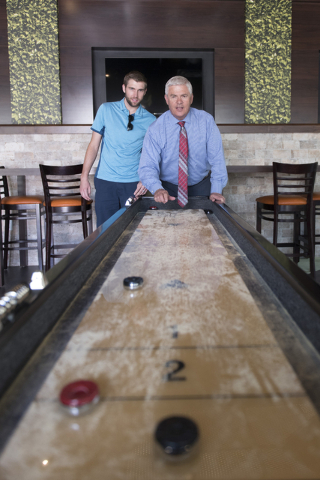 Most parents can only dream of working at the same company as their child, but for Mark Kelly, vice president of table games at Caesars Entertainment, and Ryan Kelly, general manager of Caesars Entertainment's The Pool at The Linq, that dream is a reality as both have assumed leadership roles that could give them the titles of "Mr. Inside' and 'Mr. Outside" of the company.
Mark oversees all of the table games and employees at Bally's, Planet Hollywood and Paris. He spends his time managing craps, roulette, blackjack and other various table games on the casino floor.
Ryan, on the other hand, spends his days managing the operations of the pool at The Linq that is in its second season. His responsibilities include overseeing staff management, marketing, VIP reservations and entertainment.
"In some ways, I am a little jealous of his job when it is 75 degrees outside on a picture perfect day," says Mark. "But when it is 114 degrees in the shade, I think it is better for him than me. He is young and enjoys the whole pool environment."
Ironically, it was Mark that pushed Ryan's toe in the pool by making him get a job as a lifeguard at the Flamingo pool before he hit his 16th birthday. However the exact recollection of how the conversation began offers a bit of traditional father-son banter.
"It came after I suggested that he does something with his time other than playing video games," says Mark. "It was a win-win situation for everybody and got him exposed to something new and demonstrate responsibility. Him being in a part of the company where nobody knew me meant a lot, too."
Ryan has a slightly different recollection.
"My dad told me it was time to get a job and that there was more to life than video games and sports," he says. "It was a totally different department of the company so nobody knew him, so I was treated just like everyone else. I am glad it happened that way because it has made me a better employee."
While Mark manages behind the scenes, Ryan has become one of the most visible employees as a large marketing push has been made for the highly anticipated second season of the pool. This includes promotional campaigns with Mountain Dew, celebrity guest appearances and performances by famous DJs.
It is definitely an industry that he had to learn without the assistance of his father.
"The opportunity to establish a customer experience from scratch is rare in Las Vegas," says Ryan, who has been the general manager of The Pool at The Linq since it opened, after transferring from Flamingo's pool. "It is my job to create and implement the highest level of customer service, whether it is February, Fourth of July or the final day of the pool season. We have a great staff that makes that possible and I have learned a lot about managing different types of employees from observing and talking to my dad."
Mark oversees one of the largest and most dynamic workforces on a casino floor in Las Vegas, due in part to the dramatically different table game playing environments at the different hotels he manages. Paris is known for its more mature table game-playing crowd at higher stakes, while the youthful crowd at Planet Hollywood has a high-energy, youthful table game environment that often plays in large groups and late weekend nights until sunrise. Bally's, his third property, offers an environment that is right in the middle.
"If I could spend one day in his shoes I would try to understand more how he manages such a diverse number of employees at the three hotels," says Ryan. "And how he manages so many relationships with such a wide range of people. You can never learn enough about that part of the job."
Not surprisingly, Mark takes pride in watching his son develop a successful career at the same company where he made his name in the industry.
"For him, it has been several great experiences that led to his position at The Linq," says Mark. "For me, it has been great to watch him grow from his days in an entry-level lifeguard job and even as a cabana host to being the assistant manager at Flamingo pool. He is a hard-working young man who is very efficient and has a great ability to multitask. It has been a pleasure to watch him balance different responsibilities simultaneously while delivering a great experience for the customer."
Mark enjoys being the 'Mr. Inside' to his son's 'Mr. Outside' status, but he also does enjoy the few times his job responsibility takes him outside.
"I supervise the table games at the pools and that gives me an opportunity to see how our team is doing," says Mark. "I do not have as much fun with it as Ryan does at the pool but I must admit it is very enjoyable."
Despite his busy schedule and many responsibilities, Mr. Inside does get an occasional chance to stop by and say hello to Mr. Outside.
"I have been over to the pool at The Linq on a couple of occasions after meetings at Harrah's or The Linq," says Mark. "I make it a point to stop by and see what Ryan is doing. He has built a good culture there and sets the tone and is an easy model for his team to follow. I really enjoyed watching him put together a high-quality management staff, and I get a kick out of watching him in action."
From their father-son corporate experience that has already lasted more than a decade, each has tips to give other families who may share the same employer.
"First and foremost, make sure the family member is mature enough and responsible enough to perform the job over the long term," says Mark. "Any negative action they do is a bad reflection on you, and that is why I am so glad Ryan is the real deal."
From Ryan's perspective, the goal of living up to his father's initial referral is still a daily responsibility, even though it is 15 years later.
"I have placed an extra level of expectations on myself and I take the opportunity to make him proud seriously," he says. "I saw the opportunity he gave to me as a young boy and I try to live up to it every day as a man and as an employee of the company. It has definitely brought us closer together."