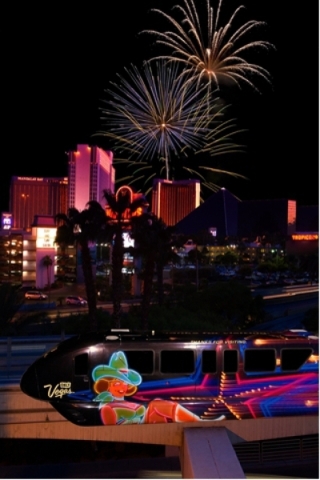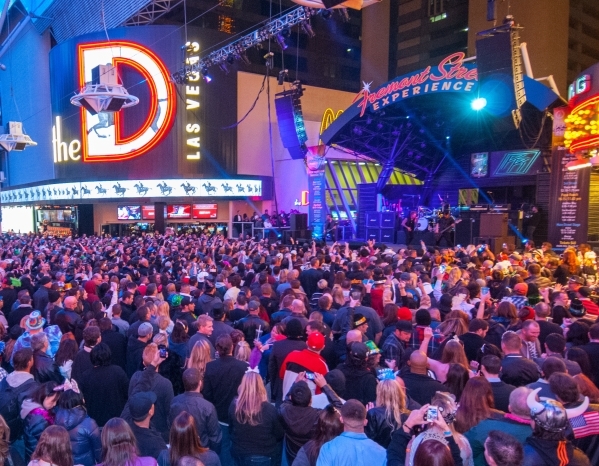 The talent will be A-list, and the tourists will come from all over the globe, along with the annual strong contingent from Southern California, while the Las Vegas Monorail plays its role as the most valuable transportation of the evening.
"We have to provide the same level of service that our tourists are used to receiving across the entire Strip and in downtown," says Ingrid Reisman, vice president and chief marketing officer for the Las Vegas Monorail. "On New Year's Eve, we get traffic from everywhere so we have to educate and direct guests when needed, but with a shuttle departing from each station every four minutes. We have full attention placed at each station because the entertainment is so spread out across the Strip."
On the Strip
At the south end of the Strip at Mandalay Bay Events Center, popular rock/pop group Maroon 5 and celebrity front man Adam Levine will headline a New Year's Eve show, the second show of a two-night engagement. The shows will highlight Mandalay Bay's annual "Paint the Town Gold" resort-wide celebration. The celebration encompasses several venues, staff and on-site promotions over the holiday.
The high-profile performances haven't gone unnoticed by Mandalay Bay's rivals on the Strip, in particular Sands Corp. In its previous New Year's Eve entertainment scheduling, The Venetian and The Palazzo has focused more on the 35 to 50 age demographic. This year, the resorts are definitely going after the same pop demographic and appealing to a younger generation. Pop sensations R5 will be headlining the New Year's Eve entertainment with a three-night engagement that begins on Dec. 29. On New Year's Eve, the show begins at 7:30 p.m.
"We are excited to bring the immensely gifted pop acts to close out 2015 and welcome 2016," says George Markantonis, president and chief operating officer of the The Venetian, The Palazzo and Sands Expo. "Fans of all ages will enjoy this opportunity in the intimate and beautiful Venetian Theatre."
Another popular New Year's Eve destination on the north Strip, Stratosphere, already has several options for its guests. In recent years, Stratosphere has become a popular nightlife destination for both its Fourth of July and New Year's Eve programming because of the value pricing of their packages.
At its popular Top of the World restaurant, for $299 each (plus sales tax and gratuity), guests can enjoy a five-menu dinner, a complimentary glass of champagne with dinner and a cash bar. One level above, at the trendy Level 107 lounge, there's a two-hour premium brand open bar from 10 p.m. to midnight for $150 per person (plus sales tax and gratuity), along with a DJ all night, limited cash food menu and party favors and fireworks at midnight.
Claire Sinclair, star of the "Pin Up" show at the Stratosphere, will be host her own party at Level 108 at the Stratosphere from 9:30 p.m. to 12:30 a.m. For $250 per person (plus sales tax and gratuity), guests get to party with the star, enjoy an unlimited three-hour premium brand open bar that includes martini luges, a food menu and go-go dancers and party models to help celebrate the festivities at midnight.
"We have shown that being a part of the party, immersed in the fireworks from the highest viewpoint in Las Vegas is an unforgettable experience," says Paul Hobson, general manager at Stratosphere. "We have put together several different party packages, each designed to deliver great moments on a night when everyone looks forward to all the wonderful things the future holds."
Fun at Fremont Street
As Fremont Street continues to add more entertainment venues and experiences for tourists, it will rival the Strip for a different type of New Year's Eve experience. Instead of destination entertainment like concerts, nightclubs and bar promotions, Fremont Street offers a more pedestrian-friendly experience, led by several tribute bands at the main stage.
Although this year's lineup has yet to be announced, expect some of the tribute bands from last year's lineup to return, which included tribute bands of AC/DC, Blondie, Billy Idol, Duran Duran, No Doubt, Queen, Red Hot Chili Peppers and Van Halen.
"New Year's Eve will be again be a paid admission with controlled access for those age 21 and over to the Fremont Street Experience," says Tom Bruny, director of marketing for the Fremont Street Experience.
The Fremont Street Experience will have a four-day New Year's celebration, beginning Dec. 30 and concluding Jan. 2. Many of the hotels will offer holiday promotions including special food menus, drink specials and on-site casino player contests.
Ready for crowds
After 6 p.m., the only transportation available on the Strip is through the Las Vegas Monorail, which covers the Strip from MGM Grand, through Bally's and Flamingo, to Westgate and SLS casino resorts on the north Strip. Often overlooked in such a chaotic night, the Las Vegas Monorail quietly keeps Las Vegas moving on the last night of the year.
"We urge tourists and locals alike to plan a night around the monorail stops for both safety and efficiency of scheduling," says Reisman. "They can access the hotels of our partner properties as long as they show their monorail card, so they won't be stuck on the Strip with nowhere to go."
Peak times on the monorail begin at 8 p.m. and continue through 11 p.m., as partygoers find a place to watch the big celebration at midnight. The monorail continues to run throughout the night until all stations are empty, which is usually around 3 a.m. Las Vegas Monorail uses social media updates to react to riders' experiences and to indicate any delays or scheduling modifications.
"For us, it is a night where both our customer service, operations and security really work together at our highest levels," says Reisman. "Our customer base turns over every three days so we are used to educating our riders during all of the major conventions and holidays, so New Year's Eve is just another holiday where all of our planning pays off."