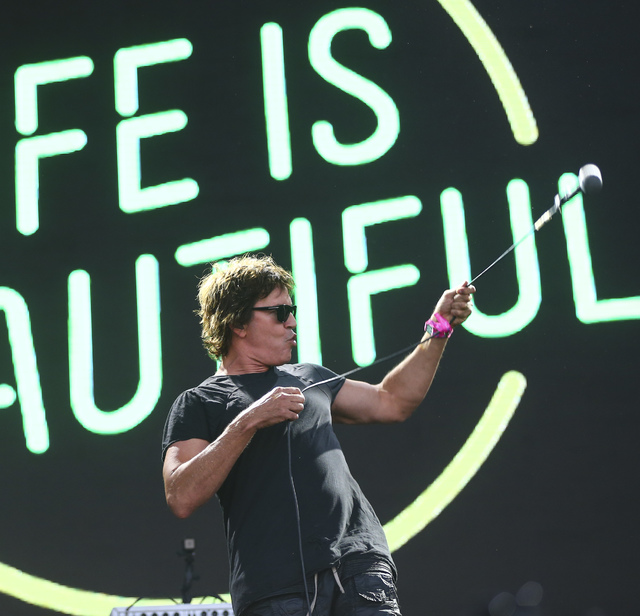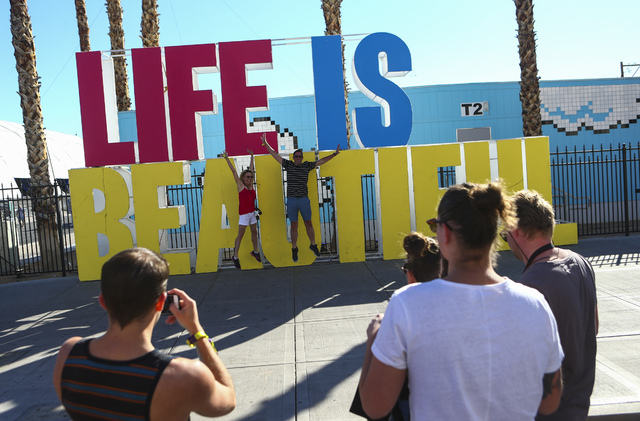 When the "Life Is Beautiful" festival opened the gates at 2 p.m. Sept. 23 for its fourth annual three-day event, it was anticipated that nearly a year of planning would result in a huge economic boost to some of the downtown businesses.
The official numbers were not in as of press time. According to the Las Vegas Convention and Visitors Authority, however, the 2015 festival was a huge success for the community. Tallies show that there were 57,000 unique attendees for the event, and over the three-day period the total attendance amounted to 131,500. The direct economic result was a $21.5 million boost to the local economy.
"Over the past several years, music festivals have grown in popularity and have become a major draw among our numerous destination offerings," said Cathy Tull, senior vice president of marketing for the Las Vegas Convention and Visitors Authority. "Life is Beautiful is one of many festivals that have decided to call Las Vegas home, and we look forward to welcoming all of the attendees to downtown Las Vegas."
During the event, 18 city blocks are fenced off with 2.5 miles of perimeter fencing. "The event is very expensive to produce; we have to build the entire venue," said Justin Weniger, a co-founder of the event. The venue includes three small stages and a very large main stage, a VIP lounge, culinary villages and art vendor booths.
Although the economic impact has been great over the past few years, the festival has seemed to fall out of favor with some downtown small business owners.
Marchello Tanasi, the owner of Vegas Flip Flop and Vegas Hot Rod and Street Wear stores in Downtown Container Park, did not have a positive experience during last year's event. "Actually, I think that it catered mostly to the food. The retail side of it, and I can speak for a lot of people; we had no business." This year, according to Tanasi, was a little better than last but nowhere near an average weekend.
Stella Pappas, the owner of Athena's Jewelry Box, agreed with Tanasi. From her upstairs window, she could see the festival attendees dancing and partying in the street but did not see any traffic in her store.
Both Tanasi and Pappas, along with a few other shop owners, have asked their landlord, the Downtown Project, if they can close early or not open at all during the festival. Part of their contract with the Container Park required them to remain open during such events.
"People are here to party, they don't want to be carrying shopping bags around," commented another shop owner who wants to remain anonymous. "However, even though I did not have any business during the event, I do think that it brought awareness to the Container Park, and I hope that some of the people came back another time to see what we have."
Kellie Kroplinski, the owner of Art Box, which carries handcrafted jewelry, clothing and art pieces from local artisans, had a better experience.
"I thought the festival was wonderful," she said. She reported a 20 percent increase in sales and said she is encouraged by the fact that an increased number of locals who never had been to Container Park, visited her shop during the event.
Scott Wurth of San Miguel Collection in Container Park sells home-decorating items, dining, jewelry and other unusual artisan-crafted items. "Last year was pretty good for us during the festival. It was a little difficult because the festival-goers did not want to take things with them because they were busy, so we offered free shipping on everything for the entire event."
When asked what sort of sales his store had, Wurth explained, "I am not sure that our store is exactly the Life Is Beautiful customer, so our sales stayed the same. We knew that we had to offer free shipping just to make some sales."
Part of the problem was the fact that on a normal business day, Container Park opens its gates at 10 a.m. During the festival, the gates don't open until 2 p.m., and only festival-goers who bought tickets are allowed to enter. To make matters worse, the shopping complex is virtually inaccessible for three days before the festival and three days after while crews barricade the streets to assemble and dismantle the stages and booths and other festival equipment.
During this year's event, in addition to the 80 bands that performed, there were 44 food vendors from restaurants all around Las Vegas. The restaurants of Container Park, while open during the event, were not listed as part of the festival experience.
Co-founders of the event, Weniger and Ryan Doherty, met in 1999 while attending UNLV and have lived in downtown Las Vegas since graduation. In 2001, the pair started WENDO (a combination of their two last names) Media Cos., and in 2006 began publishing Vegas Seven magazine to spotlight the food, entertainment and art culture in Las Vegas.
Weniger and Doherty also opened two bars on East Fremont Street called Commonwealth and Park on Fremont. "Both are designed to be real-life neighborhood community bars," Doherty said. Their frustrations in trying to entice customers to cross Las Vegas Boulevard, to a somewhat less-desirable neighborhood, turned into the idea behind Life Is Beautiful.
"The inspiration stemmed from the idea that if we combined art, music and culinary together that it would drive the community around the idea of revitalizing downtown, and at the same time build art, culture and community," Weniger said.
The partners teamed up with Tony Hsieh, who owns Downtown Project, to form Life Is Beautiful LLC. Hsieh has for the past few years been acquiring property along East Fremont Street and several blocks to the north and south. This area is the site for the Life Is Beautiful festival. Downtown Project also owns Container Park at 7th and Fremont streets.
Tickets for the event started at around $125 for single-day general admission and $285 for all three days. VIP tickets start at $655 for the three days and as much as $15,000 for a package that included 10 VIP passes, a bucket of beer, two bottles of hard liquor, a dedicated concierge and cocktail server, private viewing areas and shaded relaxation areas with flushable restrooms among other perks.
Both Life Is Beautiful and the iHeart Radio Music Festival, which was held Sept. 24 and 25, were competing for music lovers. iHeart reported a sellout of 15,000-seats at T-Mobile Arena and a capacity crowd of 25,000 for Saturday's daytime festival at Las Vegas Village.
Weniger and Doherty are hoping to increase attendance by 40 percent this year. "Early numbers show that occupancy was up in Downtown Las Vegas and spilling over to the Las Vegas Strip," said Weniger.