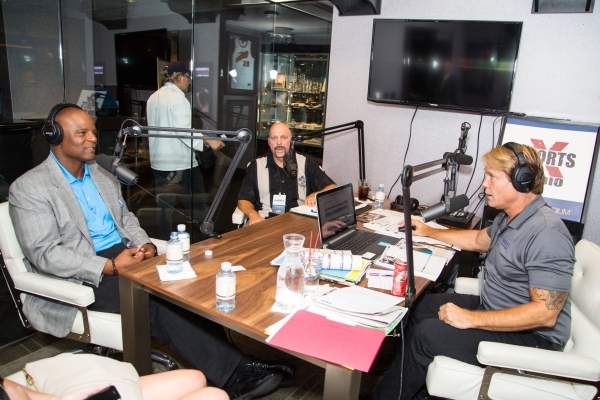 Strip hotels are known for a wide variety of attractions — mainly casinos, restaurants, nightclubs and shows. However, it's a recent trend that's accomplishing the hard to do — getting locals down to the Strip.
The trend of Strip hotels hosting live radio programs is one that doesn't seem to be going away anytime soon.
"In traditional radio, when you are in your car, it is a very contained experience," says Tim Moungey, spokesman with Tickle Me Entertainment, a public relations and event planning firm that works with the popular "Old School by the Pool" party hosted by 105.7 FM at Kahunaville restaurant at Treasure Island. The event draws about 800 people every Friday.
"Broadcasting from a casino gives you a larger area to work from, and instant feedback and interaction with your audience," Moungey say.
The latest major Strip hotels joining the radio broadcast partnering trend is The Venetian and Palazzo, which just celebrated the grand opening of a new broadcast studio with Yahoo Sports Radio, with a star-studded event July 15. Actor Rob Riggle joined Pete Boyd, Venetian/Palazzo senior vice president of operations, and Ken Thomson, Yahoo Sports Radio's Sports X Radio program host, in cutting the ribbon at the grand-opening ceremony.
"It is a win-win situation for everybody," says Matt Kenagy, executive director of marketing partnerships and strategic alliances for The Venetian and Palazzo. "Our guests like to see celebrity athletes during their vacation and it is a unique opportunity for us to control our message for marketing purposes. We are fortunate enough to have the No. 1 sports bar on the Strip with Lagasse's Stadium, so it was a natural fit for a radio broadcast studio."
The addition of a live remote broadcast from a Strip hotel makes for more dynamic event programming, with the radio broadcasts often being tied into other hotel resources and attractions. The ability for radio broadcasts to be streamed online to anywhere in the world has given the hotels a new level of brand awareness from these media partnerships.
"Now you have global outreach, and the whole world can listen to you," Moungey says. "There is nothing remote about the radio broadcasts anymore."
Reach of radio
The Venetian and Palazzo's partnership with Yahoo Sports Radio allows it to reach all 500 of the Yahoo Sports Radio stations across the United States, further branding Lagasse's Stadium as a place for the young, hip and trendy, while showing the hotel's philanthropic side.
Just two weeks ago the resorts hosted basketball star Chris Paul's charity table tennis tournament, and as part of the grand opening of The Palazzo Broadcast Studio, a partnership was announced between basketball player C.J. Watson's Quiet Storm charity foundation and Sands Cares, the global citizenship program from Las Vegas Sands Corp. A $10,000 donation was made to fund 10 individual scholarships.
"Being able to showcase our efforts through our own media partnership is crucial," Kenagy says. "It serves as a testimonial to our brand, and our venue that has been built around sports since the day it opened."
One brand that has had to constantly reinvent itself with the help of both radio and hotel venues is the weekly 105.7 FM "Old School by the Pool" party, a staple for almost a decade. This longtime radio event is enjoying a resurgence in popularity in 2015 with a format change, and it is being hosted by longtime Las Vegas rhythm and blues singer and entertainment personality Phil Flowers.
"Instead of circulating the same three or four bands that everyone knows, we feature a surprise local lead vocalist each week, and then all the other local vocalists attend because they are waiting for a couple of minutes of open mic time to showcase their skills," Flowers says.
In less than a year, "Old School by the Pool" has transformed itself from a predictable weekly party with a radio presence to an interactive showcase of vocal talent, funk and rhythm and blues music from the 1970s and 1980s. A newly located dance floor that places dancers in front of the band at Kahunaville — and not across from the band, separated by water — has dramatically increased the energy at the event. The result is the most popular weekend event at Treasure Island since Tangerine nightclub closed almost a decade ago.
"Our crowd has a lot of youth and energy because we keep it up tempo from the start," Flowers says. "We have a big following of line dancers that start out the evening, and the dance floor is packed until the night is over."
Another major Las Vegas hotel venue that is packed on a weekly basis in part because of live radio promotion is Westgate Resorts' Football Central hosted in its showroom and promoted with ESPN radio 1100 AM. Every Sunday from 8 to 10 a.m., during the regular season of the National Football League, popular sports radio personality Mitch Moss broadcasts live from the Westgate sports book, the largest sports book in the world.
"Mitch has a loyal following in Southern Nevada, and the timing of the broadcast right before the games start is perfect," says Jay Kornegay, vice president of the Westgate Las Vegas SuperBook. "The broadcast reaches as many people as possible and we definitely see the results."
Locals are listening
Both the ESPN Radio broadcast at the Westgate and the 105.7 FM "Old School by the Pool" program at Treasure Island do something that is thought of as nearly impossible by many Las Vegas hotel industry insiders — they get locals to make the trip on or near the Strip.
"We give a lot of locals the opportunity to watch their favorite team without all the packed crowds that are all across the Strip," Kornegay says.
A packed crowd is what guests of the "Old School by the Pool" party anticipate, but the new event features have locals coming out in droves to see what is next.
"Radio helps us out, and we in turn help out the hotel by letting everyone know this is the best place for locals to be on a Friday night," Flowers says. "Every week we let in the first 105 people free, and it is a great use of radio promotion. Now we are looking to expand into the fall and winter because we are really on top of the hotel and radio formula right now, and we need to continue to give the people of Las Vegas what they want."