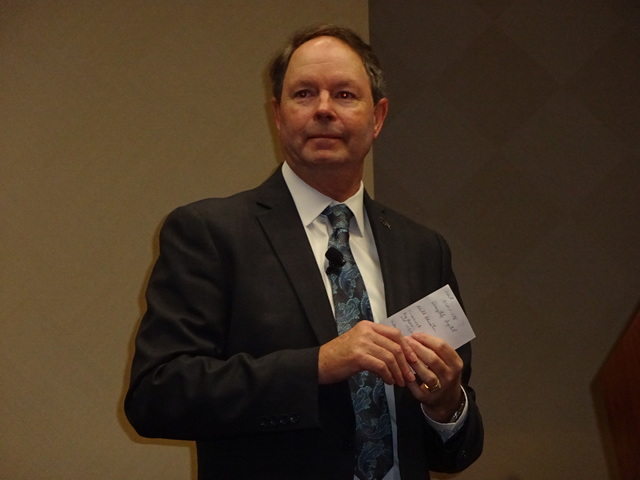 During a breakfast presentation to the Las Vegas chapter of the Hospitality Sales and Marketing Association International, Chris Meyer, vice president of global business sales for the Las Vegas Convention and Visitors Authority, had some encouraging words about the Las Vegas market.
Between 2000 and 2009, the number of rooms in Las Vegas increased from 125,000 to nearly 150,000. In 2016, Las Vegas lost about 1,300 rooms with the implosion of the Riviera, but saw construction activity at the Lucky Dragon, Resorts World and Alon.
"One of the things that we in Las Vegas do so well is maintain occupancy. Even during the dark days of the recession, the occupancy level never dropped below 80 percent," Meyer said. Currently, the average occupancy hovers around 89 percent while the rest of the country is in the 60 to 70 percent range.
Contrary to the report on international activity by Roger Dow, president and CEO of the U.S. Travel Association during this meeting, "Our (Las Vegas) destination is exceeding all expectations," Meyer said.
The latest figures for 2016 as of the end of July show that all numbers have increased over prior years:
■ Leisure visitation up 1.7 percent at 25.2 million
■ Convention attendance up 14.4 percent at 3.9 million
■ Occupancy up 1.7 percentage points at 89.8 percent
■ Revenue per available room (RevPAR) up 6.8 percent at $113
■ Gaming up 1.3 percent at $5.7 billion
■ Air traffic up 5.2 percent at 27.4 million
The two dominant numbers are the convention attendance, showing a double-digit increase year-over-year, and the RevPAR number, which is twice the national average.
One of the growth trends that will effect Las Vegas is not the number of hotel rooms but the increase in meeting space. Not including the expansion and renovation of the Las Vegas Convention Center, between now and 2019 resorts in Las Vegas have announced plans to build an additional 555,000 square feet of meeting and convention space.
In addition to promoting Las Vegas as a business and vacation destination, the research and statistics department at the LVCVA has more than 25 years of experience monitoring leisure and business trends according to age, gender and ethnicity. Research shows that consumers are trading things for experiences. For instance, they are giving up ownership of an automobile in order to be able to afford to travel more.
The LVCVA is also engaging booking agents and travelers through social media. So far in 2016, the fans/followers have increased by 48 percent to 3 million; and videos about Las Vegas have increased by 175 percent to 79 million downloads. Part of the social media program involves reaching out internationally with 10 international social accounts reaching 310,000 users. The LVCVA has had 13.5 million engagements with international Facebook content and launched a WeChat account linking to the largest stand-alone messaging app in the world, serving 680 million active users, most of whom are in China.
The LVCVA has developed what it calls a "content forward trade show experience" that allows Las Vegas-based companies to access a web-based application that is constantly updated with the latest information about events, shows and sightseeing tours in and around Las Vegas. This application can be accessed through a computer or tablet to show customers at trade shows. It will debut Oct. 20.
Access to Las Vegas via air travel has significantly increased during the last 12 months with the addition of more and more direct flights both domestically and internationally.