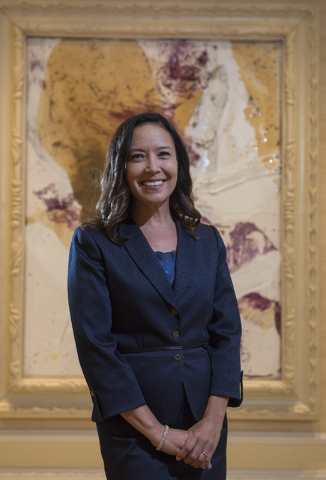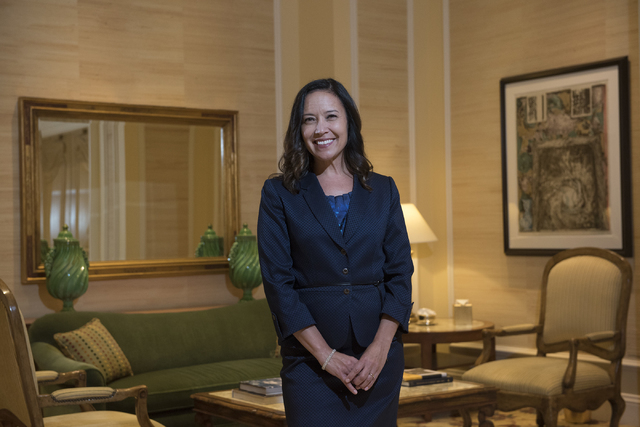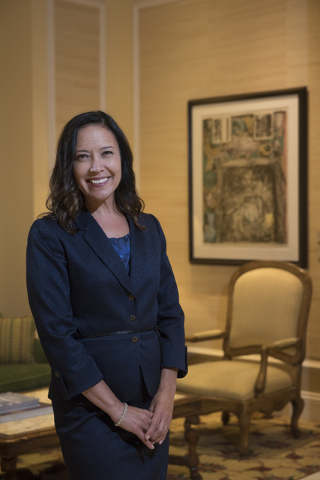 MGM Resorts International, the Las Vegas Valley's largest private employer with 54,000 local employees according to a July 2016 Las Vegas Business Press survey, hires 13,000 to 14,000 people every year, Michelle DiTondo said.
DiTondo, the company's chief human resources officer, is responsible for making sure this process operates smoothly and efficiently.
A native of North Las Vegas, she grew up near Pecos and Gowan roads. Both of DiTondo's parents worked in hourly jobs; her father in the military; and her mother as a seamstress.
This upbringing gave her an acute awareness of the struggles and difficulties involved in hourly work, an understanding that she said has served her well in managing human resources for a company in which the majority of employees are hourly.
One of the things she's proud of is that MGM Resorts hires most of its employees locally. "We rarely relocate for roles within our company," she said. "We fill most of our roles from within the local market and our company." She said 40 percent of hires are from within the company, and 72 percent of management hires are internal.
DiTondo and MGM Resorts have a strong focus on providing their employees with more than just a job, but a career that allows people to move up in life. "We believe strongly that we create careers that provide a pathway to the middle class," she said. "People enter our company, and through innovative development and career development programs we grow from within."
The company offers a variety of educational programs for existing and entering employees.
Two of the programs incoming employees can participate in are the company's Hospitality Internship Program (HIP) and the Management Associate Program (MAP), which work hand in hand. HIP participants are hired for a 10-week internship between their junior and senior years in college, and rotate through various departments to learn how the company works. Interns must be at least 21. This summer's HIP employed 44 interns.
"The idea is that if you do well in HIP, you'll come back after you graduate and take part in MAP," DiTondo said. "MAP has been around for more than 20 years. We hire new college grads, about 40 to 50 per year, and train them by rotating them through various jobs within the company for a year."
The sought-after program receives approximately 1,500 applications each year and feeds the company's entry-level management positions, DiTondo said.
Educational and training programs for existing employees include MGM University, a program that offers in-class and online training, as well a tuition-assistance program for people completing a college degree.
"In house, we offer everything from entry-level supervisory training, to continued training of high-performing senior leaders," DiTondo said. "We also offer skills-based classes like business writing and computer skills that a number of employees take advantage of."
Of the 13,000 to 14,000 jobs the company fills each year, approximately 60 percent are from turnover or new jobs," DiTondo said.
At any given time, 1,100 to 1,200 jobs are available with the company. While most of those jobs are in the obvious areas of food and beverage and hotel services, the company hires for a broad range of jobs. These include some very specific needs like dolphin care specialists and trainers and analysts for the newly created department of enterprise analytics.
Filling that many jobs on a continuing basis has required some innovative thinking. DiTondo said that the company expects to have 500,000 job applicants this year. That makes it very difficult to sort applications, so the company recently launched a new application system that DiTondo said makes the process much more streamlined for the applicant and hiring managers.
For example, the company can now conduct video interviews, where applicants can answer questions online. These videos can then be reviewed by managers at their leisure, allowing them to conduct far more interviews than they could if they had to personally meet each interviewee.
Social media also has become a source of employees, especially for certain seasonal positions like lifeguards, which is generally a population that is receptive to social media.
"We've used Facebook, Instagram and Twitter pretty extensively to recruit for summer jobs," DiTondo said.
One of the challenges DiTondo sees for her company and all local businesses is to encourage locals who leave the state for college to return back home to work here. Part of that encouragement comes from creating a workplace atmosphere that makes people feel as though they belong to the company. Part of that process has been integrating the various properties into a common company philosophy.
DiTondo found that "the biggest driver for employee engagement is pride in the company, pride in who we are in the communities in which we operate." This is borne out in companywide employee surveys, which the company has conducted three in recent years.
Ultimately, education is one of the most important factors that any community needs to stress.
"I have a strong passion about this because my husband is a principal in the school district. I'm a product for our public school system," she said. "The one thing we can do to improve the community long term is to insure that we have quality education.
"If we have more college graduates and vocational education; if we have a more skilled labor force, I think other companies would move here and create jobs, which improves the reduction of crime and improves the tax base. If there were one thing all of us need to focus on it's to improve public education."