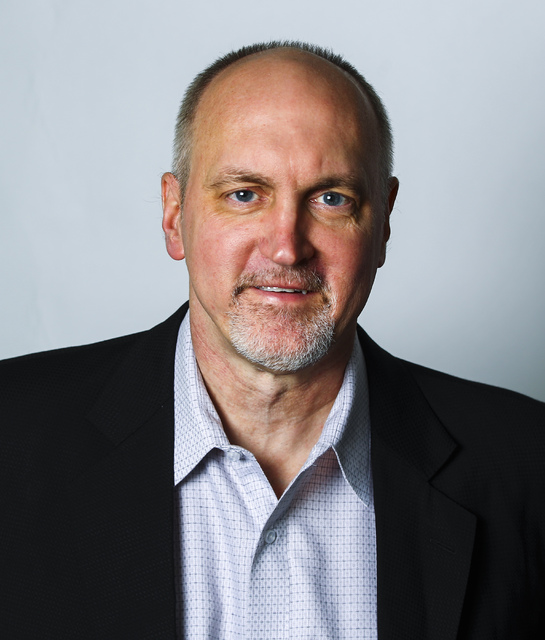 A growing convention business and the opening of T-Mobile Arena have been a boon to MGM Resorts International, and the opening of Park Theater in December will be a further boost.
Chairman and CEO Jim Murren said T-Mobile Arena, which opened in April, was the No. 1-ranked arena in the world in September for gross revenues. That's ahead of No. 4 Madison Square Garden in New York City and Staples Center in Los Angeles, ranked No. 7, Murren said during an interview with the Business Press.
"It's a hot spot for Las Vegas," Murren said. "It's incredible how quickly successful T-Mobile has been, and what's also very encouraging about that is the MGM Grand Garden and Mandalay Events Center have also been up year over year in terms of their activity. It bodes very well having T-Mobile for a whole year next year versus opening in April this year."
The arena helped MGM record its best net revenue for domestic properties since prior to the Great Recession in 2007.
Murren said the south Strip neighborhood will be helped by the opening of the Park Theater at Monte Carlo on Dec. 17. It opens with Stevie Nicks. Bruno Mars will appear Dec. 30 and Dec. 31. Cher will be there in February.
The T-Mobile Arena has not been the only positive for MGM Resorts; so has the convention business in which the resort company has been setting records with more than 19 percent of its rooms dedicated to convention attendees during the third quarter. That business also will continue to grow, and the percentage will be higher in 2017, Murren said.
MGM reported net revenue of $1.9 billion at its domestic resorts, a 16 percent gain over the third quarter of 2015. That comes to an 8 percent increase on a same-resort basis.
Casino revenue increased 23 percent compared to a year ago with the acquisition of the Borgata and a gain in table games and slots, MGM reported. Same-establishment casino revenue rose by 7 percent. Room revenue increased 14 percent over the previous year. For the third quarter, the occupancy rate for domestic resorts was 97 percent, up from 96 percent a year ago. The average daily room rate was $154, up from $141 a year ago. The revenue per available room was $149, up from $135.
"Business activity is relatively strong in the United States," Murren said. "You wouldn't know it by watching television, but there's good strength in multiple businesses, and they want to come to Las Vegas with good airlift, affordable rooms and a lot of fun things to do. We're riding a wave that's going to carry us into the next few years."
Las Vegas hosts 22,000 meetings and conventions a year. The Las Vegas Convention Center hosted 49 events in 2015, with a combined attendance of 1.3 million people.
"We have seen really great collaborative activity among the (Los Vegas Convention and Visitors Authority) and the operators themselves by marketing Las Vegas as an alternative to other cities," Murren said. "Las Vegas continues to succeed in attracting conventions that maybe were otherwise in Orlando, Chicago, Phoenix and Los Angeles. That's why we were so supportive of the convention center expansion and improvement because we know how important that is."
In October, Gov. Brian Sandoval signed legislation increasing Clark County's room tax by a 0.5 percentage points to raise $400 million as part of the $1.4 billion, 600,000-square-foot upgrade of the Las Vegas Convention Center.
Murren said MGM has helped itself by adding staff to its convention sales department, and staff has had more to sell because of the expansion at the Mandalay Convention Center. MGM is also expanding convention space at Aria and MGM Grand, Murren said.
A big reason for the growth during the third quarter is that convention planners are more open-minded when they host conventions, Murren said.
"They used to be a very atypical activity in the third quarter during the summer, but that's no longer the case," Murren said. "The third quarter is becoming more like any other quarter in terms of the mix of convention business. That's very appealing for all of us.
Murren said the focus is not solely on adding conventions but adding ones with a higher value rather than groups that focus on value. He said MGM soon will announce that it has landed a major company to host its annual convention in Las Vegas.
"It's a massive company that has historically held (its convention) outside of Las Vegas," Murren said. "It will be good for the whole town and not just us."
Murren said attracting conventions is more than just about one operator. He called the convention center expansion vital because the Consumer Electronics Show and other conventions have made it clear that they need the extra space.
"They are turning away people, which benefits no one, and in order to do that we need to get the Riviera land and clean that up and provide for parking initially for CES," Murren said.
Renovating and modernizing the convention center is vital because other centers around the world are more appealing and can lure business from Las Vegas if improvements aren't done, Murren said.
The only way to do that without disrupting business for years is to build new space, get that occupied and move groups into the new space during a renovation, Murren said.
"You just can't paint around a convention," Murren said. "You have to go in and robustly renovate and contemporize the technology and the aesthetics and acoustics and the core in the older pavilions. Once you complete that, you will have not only expanded space but a vastly improved space. This is a five-year undertaking by the convention center and why we're so anxious for them to get going on it. It's already been about five years later than it should have been."