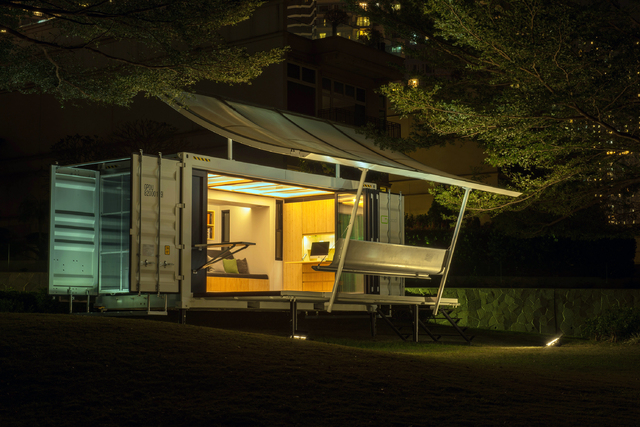 As the largest hospitality expo in the world, Hospitality Design Expo celebrated its 25th anniversary this month in Las Vegas, and the expo did something rarely seen here — it turned locals into students of our own popular hotel industry.
"We showcase the best and most innovative designs in the industry, and Las Vegas does the same," says Stacy Shoemaker Rauen, editor of Hospitality Design magazine, which hosts the expo.
The magazine is featuring Las Vegas in this month's issue. "From the hotel owners and operators to the designers, some of the industry's best call Las Vegas home and we love being a part of it and celebrating it all," Shoemaker Rauen says.
The celebration at the expo, held May 4 to 6 at Mandalay Bay, offered a peek into the major trends in the hotel industry: technology and transportability. These two major design trends are making hotel executives across Las Vegas think twice about the traditional hotel experience, as well as opportunities for new revenue.
"Las Vegas is a showplace for ever-evolving, innovative and varied hotel designs because there are no limits. It is where designers can imagine larger-than-life creations or ultra-luxe escapes with fairly hefty budgets not found elsewhere," Shoemaker Rauen says. "It makes for great backdrops for our networking events, content for the magazine and for a great pool of talented speakers. Las Vegas is a natural inspiration for our attendees."
Generation of transportability
The design of the standard hotel and motel room has not changed much for 50 years, but if The Rollick Hotel gets its way, the firm's new pop-up hotel-room model will transform the concept of transportability in Las Vegas' hotel industry.
"We come from a background of sports and entertainment and putting on high-profile events like the Olympics, NCAA Final Four and the Super Bowl," says Shawn R. Bouley, founder and chief executive officer of The Rollick Hotel. "About three years ago, we saw stories about portable hotels in the United Kingdom and the concept made sense to us because we are from the world of producing events, and everywhere we went there were never enough hotel rooms. That is when we thought, 'Let's build a portable hotel,' and we started our research from there."
The research included identifying the proper container design for the 425-square-foot portable hotel room that features slide-out doors, shower, bathroom and even a microwave. The first prototype debuted in February. They already have designs in for a two-bedroom unit. The retail price for the one-bedroom design is $75,000.
"We are talking to both hotel brands and millennial-facing brands about partnerships," Bouley says. "From our perspective, we would like to find an operator partner in Las Vegas and other markets."
The novelty of The Rollick Hotel gave Las Vegas attendees the rare feeling of being on the outside of the newest hotel trend. The portable hotel room also features a Murphy bed that doubles as a couch; chairs; décor; shaded roofing and LED lighting.
"We have received a warm reception from the hospitality industry and we are very serious about offering a new product in efficiency and transportability," Bouley said. "It makes us proud to know that the hospitality industry thinks this is a good idea."
Technology mirrors reality
When hotel technology is discussed, the conversation is usually based around self-check-in machines, LED lighting, room service and appliances for suites. However, the one basic item every hotel has is being tested by technology — the mirror.
For Metro Light and Power, a New Jersey-based electronics innovation firm, the Imagimirror product may redefine how Las Vegas' hotels sees themselves when providing luxury mirrors for their guests. These mirrors use state-of-the-art technology to provide a touch-operated large circular magnifying zone in the middle of a mirror. Operated by plus and minus buttons, the magnifying zone is 12 inches in diameter and can magnifying the subject up to ten times, and then return to its normal mirror reflection.
"We received a great reaction at the expo and when people walked by and thought it was a regular mirror they were amazed when they saw what it could do," says Daniel Deutsch, co-president of Metro Light and Power. "We are already getting requests to expand our product for his and her mirrors, smaller sizes and custom shapes."
Metro Light and Power is conceiving ways hotel electric outlets can be incorporated into hotel rooms. They incorporate steel brackets, steel plates with twin USB ports to maximize the technology benefits while minimizing the space used.
"What we are finding is that resource combination is the newest trend in hospitality technology," says Scott Usher, co-president of Metro Light and Power. "We are providing something different to the industry, and we like how it is being received."