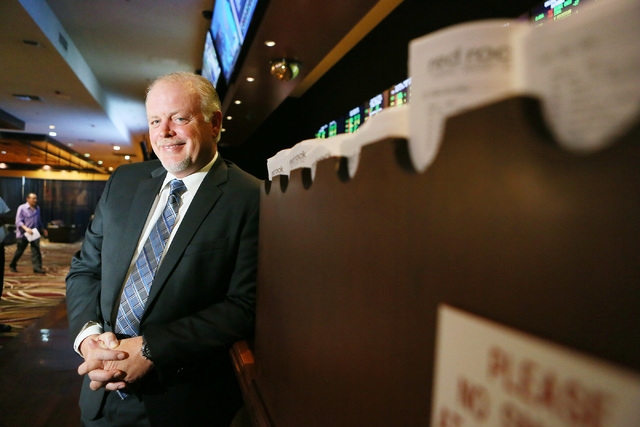 The iconic Palace Station is celebrating its 40th anniversary with a major face-lift.
The Station Casino property, which was the original Las Vegas locals' casino, is in the process of upgrading its race and sportsbook. The renovation includes replacing all plasma displays with new LED TV technology. The new screens will provide clear and bright videos that can be viewed easily at a distance.
The renovation also includes the addition of two high-resolution sports information tickers that provide casino patrons with live scores, relevant sporting news and headlines, according to a news release announcing the project.
And, of course, the (in)famous whiteboard has been replaced with an electronic odds display system mounted in both landscape and portrait formats. The displays will provide electronic odds data in an ultra-clear, readable format for both race and sportsbooks. The live, dynamic odds data will be instantaneously linked to the race and sportsbook at Red Rock Resort, which is also owned by Station Casinos, according to the release.
Construction was finished in time for the start of the NFL season, said Scott Nelson, general manager of Palace Station.
"To stay in the top of the industry, we recognized that we wanted to create a fun and exciting environment for our customers," Nelson said. "When looking at our race and sports books, we saw an opportunity to put in new LED displays, new boards, as compared to the old whiteboards, and it couldn't have come at a more appropriate time for Palace Station, as it was our 40th birthday.
"We took a look at where we were 40 years ago today, and it just made sense to make the adjustment and bring that room up to what customers are looking for in today's sports betting world. It was the right thing to do looking at our local base."
And what has been the reaction of customers?
"The feedback has been great," Nelson explained. "The 'oohs' and 'aahs' from our customers, compared to what they had been dealing with or looking at, have been great. They can watch the games in a comfortable environment. We were truly in need of these enhancements, and you could tell with our customers that they are very pleased with what we have accomplished so far. The seats also have been redone. They are very excited about it."
Race and sportsbooks across Southern Nevada have been undergoing major changes as a way to stay on top of an ever-changing technological landscape and as a way to appeal to the millennial generation, an emerging demographic that is highly coveted by casinos. Those books also want to make sure they get their share of the growing sportsbook handle. According to University of Nevada Las Vegas' Center for Gaming Research, $72.5 billion has been wagered on sports in Las Vegas since 1984. And the annual figures continue to grow.
Station Casinos has been upgrading all of its race and sportsbooks. The Cosmopolitan of Las Vegas and Westgate SuperBook have also been upgraded this year.
"Overall, as a company and as an industry, we are always looking to appeal to the younger demographic," Nelson said. "The upgrades are not something we only did for our existing customers. We also wanted to speak to that younger demographic.
"I've been in the business for 30 years, and we are trying to figure out what drives a millennial. They have no problem spending $400 on bottle service, but what motivates them from a gaming perspective. A lot of companies are trying to figure that out and build from that experience."
One way to appeal to the younger demographic is to offer the convenience of mobile wagering and online accounts that allow patrons to set up and access betting from the convenience of their smartphones.
Station Casinos has also launched its new mobile application and new football contest in order to draw in millennials.
"We'll also offer in-game wagering and things of that nature and, I believe, as a whole, we have the state-of- the-art technology that our customers are looking for," Nelson said. "Just watching how things have evolved over the last 30 years compared to where we are today in those mobile apps that weren't there years and years ago. It truly fascinates me what is available."
One question that seems to perplex race and sportsbook operators in connection with millennials — and even Gen-Xers — is how to draw them into the race side of the book.
Although race books see a spike during major events such as the Kentucky Derby, millennials have not embraced horse-race wagering, as that handle in Las Vegas continues to decline. According to covers.com, horse racing hit a high-water mark at Nevada books in 1998 with a $736.6 million handle. Since then, it has dropped, with a low-water mark of $339.6 million in 2013.
Nelson said one way to draw in new race fans is through handicapping lessons, race seminars and contests. However, he isn't ready to say horse racing is on its way out.
"It's like craps," he explained. "Craps was so popular during World War II, and in the early days, we were challenged to get younger people involved in craps. We offered craps lessons to get them learning and understanding craps as a table game, and I kind of look at it as similar to that. You provide different things that you can offer to millennials or these younger demographics and try to get them interested in it."