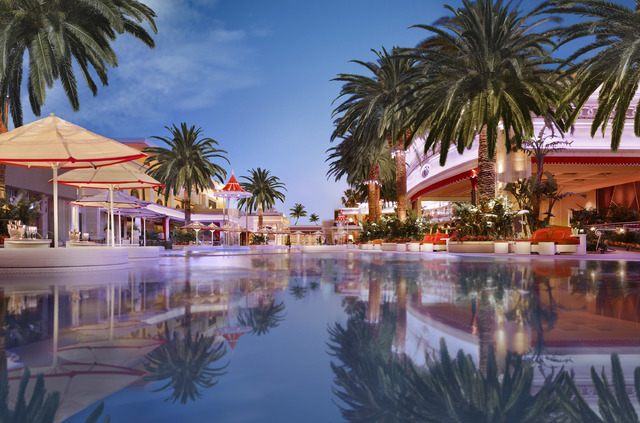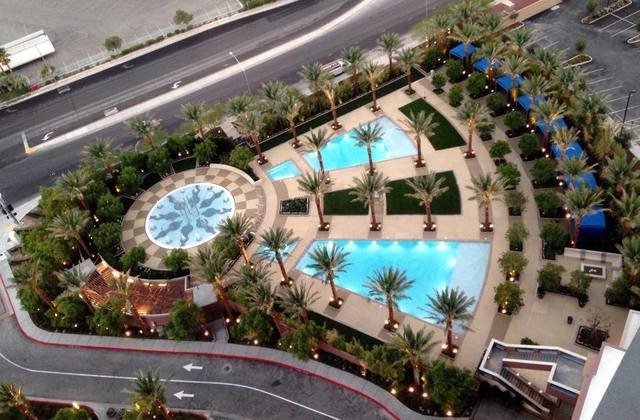 The multimillion-dollar pool installation business is back. And much of the credit goes to the valley's booming club culture.
Tim Singleton, project manager at Water FX, said a few big jobs have come his way in recent months. One was at the recently renovated SLS Las Vegas. Singleton helped build three ground-level pools and one rooftop pool, which can be accessed through Life Nightclub just below. The SLS named the upstairs portion Beach Life, but the pool area maintains its own unique sound and atmosphere.
Singleton and his team also helped install three new spas at MGM Grand's ultra pool over the summer.
And just down the street, a rooftop pool was installed at The Cromwell this year — adding 65,000 square feet to the club scene.
"It's more spread out, so it might not feel that the industry is growing," said Sean Christie, managing partner at the Encore Beach Club and Surrender nightclub at Wynn Las Vegas. "But it certainly is still in the double-digit percentage growth."
During the recession, work had dried up for pool builders along the Strip, but with the rebounding economy, some of the lost work has come back.
Work had stopped at the Wyndham Desert Blue, but the property owners came back a couple years ago and asked Water FX to finish it. Work on two pools, two spas, a fountain and a children's lagoon was completed in August.
But remnants of abandoned projects that went belly-up still can be seen on the Strip, including the Fontainebleau. Singleton said the pool his company was contracted to build there was 75 percent complete before the project was halted. Singleton said Water FX also was scheduled to complete a lot of work at Echelon, another halted project.
"From 2009 to 2012, we didn't build one single pool," Singleton said.
Some industry people think little has changed.
Scott Leavitt, sales executive at Sierra Ready Mix LLC, said his business in general has stayed flat for the past couple of years.
But when the club industry increases its profits, the pool industry and other builders do, too.
Christie said Encore Beach Club and Surrender are upgrading constantly. Recently, the Encore Beach Club got several new upgrades, including a high-resolution light-emitting-diode screen directly above the disc jockey booth. The club also had a closed-circuit camera installed to project the DJ's image to far-off patrons, Christie said.
On top of the electronic toys and gadgets, Singleton said he sees the pool industry heading toward offering new water features.
"It will be similar to kiddie play pools, but for adults," Singleton said.
Spray nozzles, mist systems and even video projection onto screens made of water droplets will be a reality, Singleton said.
Beyond the specialty items, Singleton said his clients are looking for other grand items, including high-end finishes. Singleton said he installs fancy stone and puts custom patterns in the stone. He added that sun shelves or wet decks, which let guests soak without being fully submerged in the water, are also popular.
Singleton said two factors help determine whether a company will get one of these major pool jobs: a low bid and a good reputation. Bidding can be challenging. Singleton says that he doesn't want any surprises later, so he is as detailed as possible during this process.
"We know that in the end, the client wants a complete turn-key pool without having to go back to the bank to get more money for things that may have been missed initially," Singleton said.