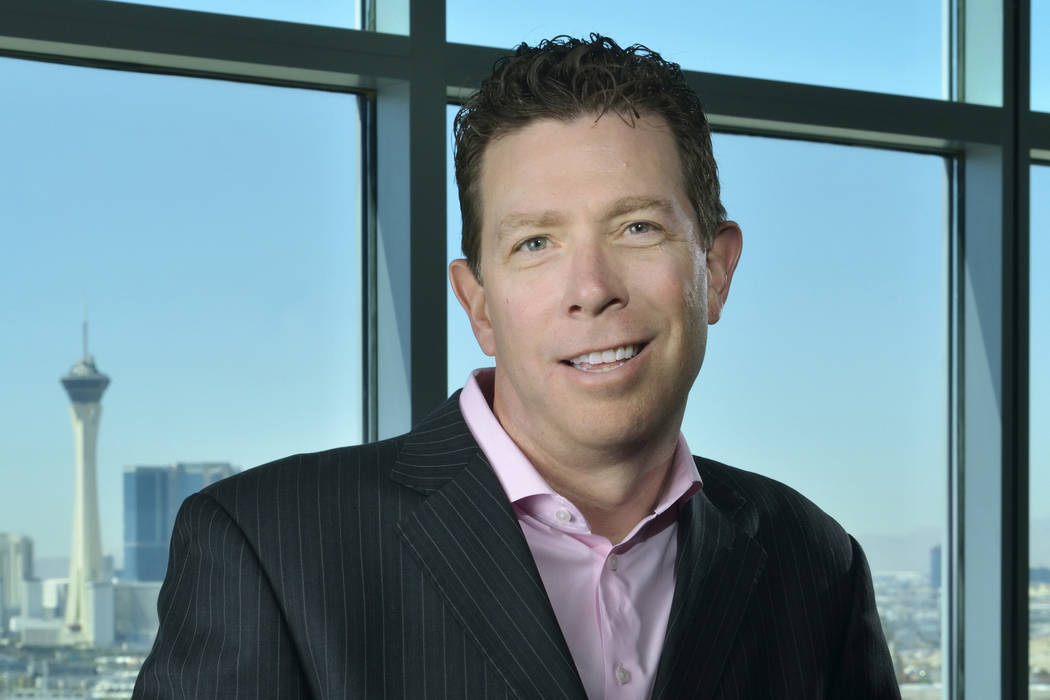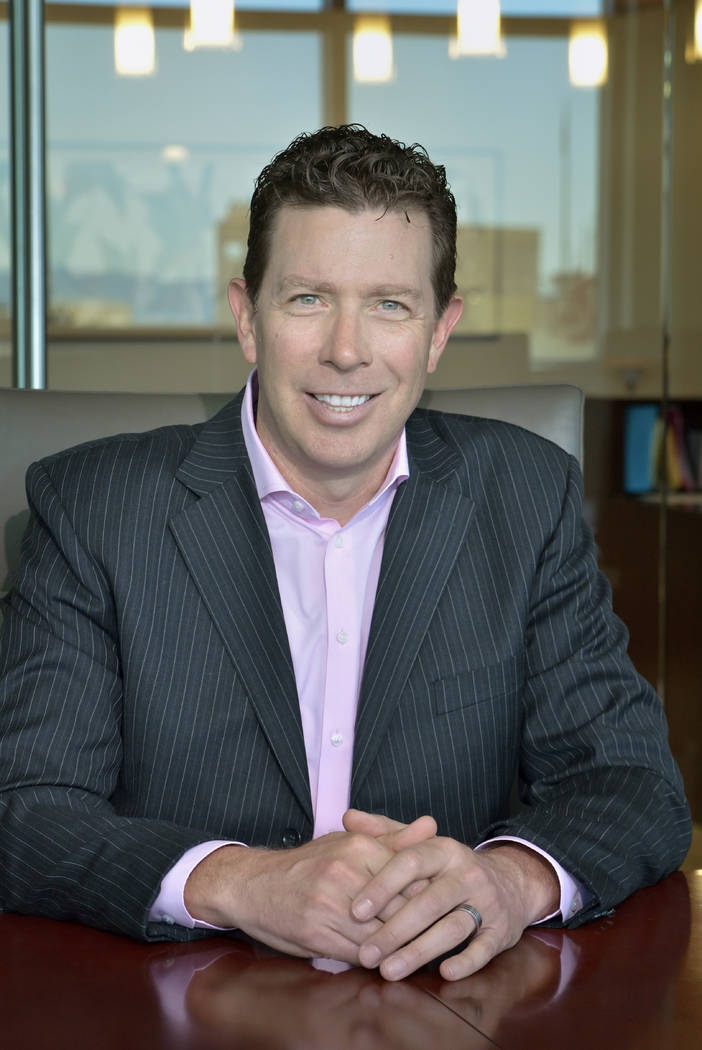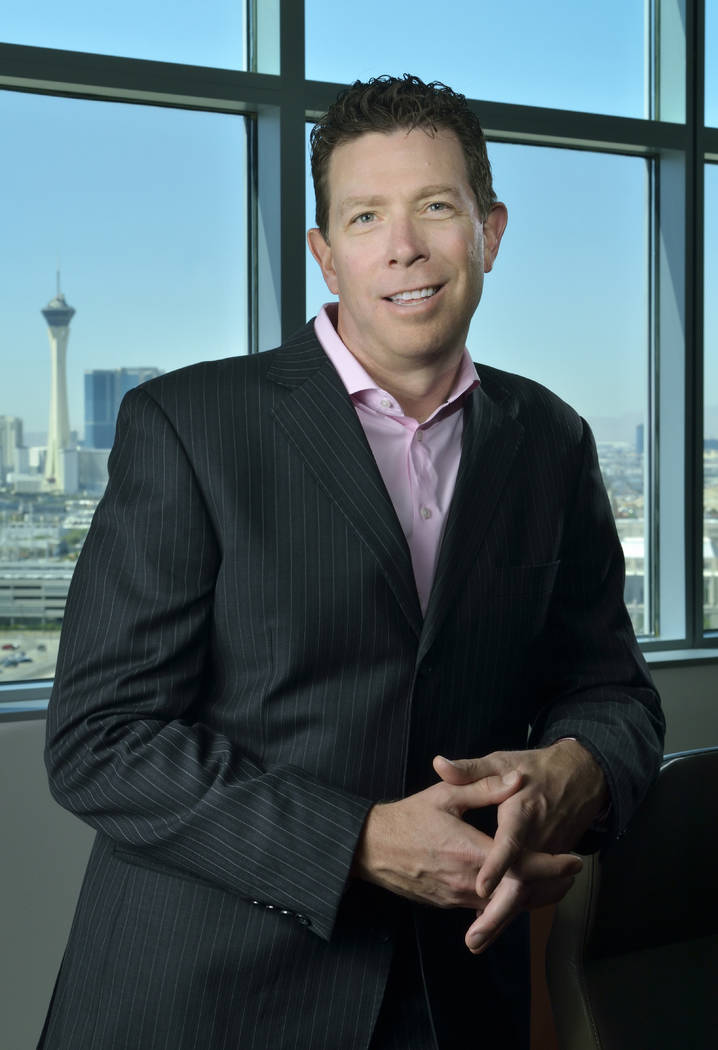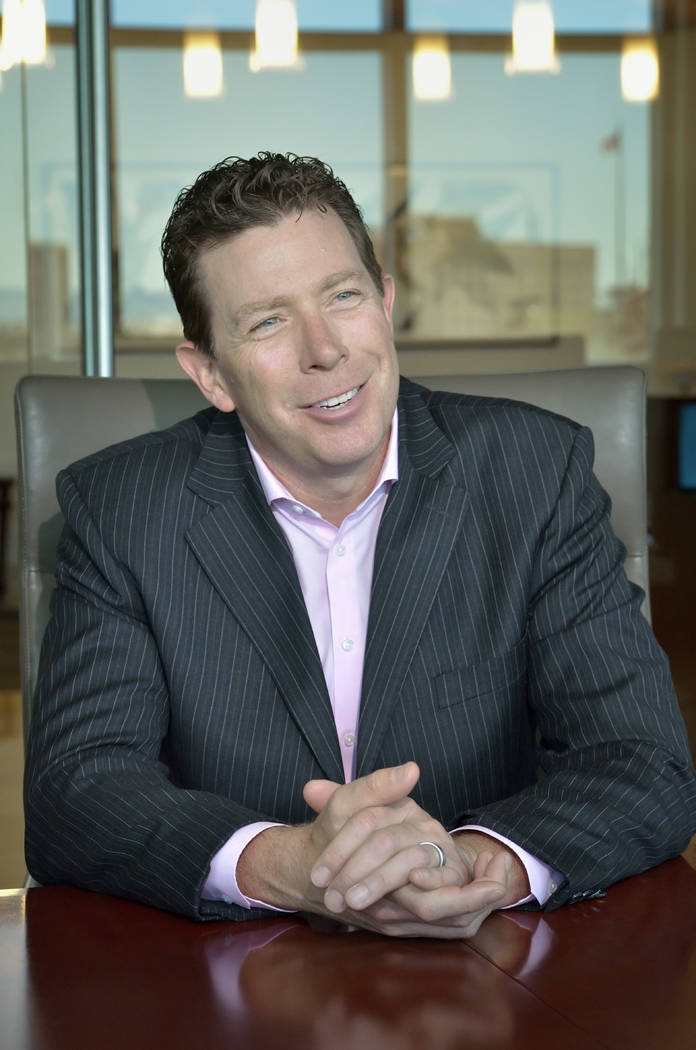 Scott Wiegand said the expansion of sports betting across the country will benefit Nevada and won't deter tourists from coming here to bet on sports.
Wiegand, a former senior vice president and deputy counsel at Caesars Entertainment, is the newest addition to Brownstein Hyatt Farber Schreck and will initially work on emerging sports betting and online gaming practices.
States are slowly legalizing sports betting after the U.S. Supreme Court in May struck down a federal prohibition on all-encompassing wagering outside of Nevada.
"I think everybody sees this as a great opportunity for growth," Wiegand said. "Some people see the opportunity for additional revenue as substantial, some see it as incremental, and some see it as a great additional amenity that will generate more interest in gaming generally and more traffic in their casinos. I think all three of those are legitimate points of view."
Wiegand dismisses concerns that Nevada will lose out because Las Vegas has been long been a destination for the Super Bowl and the March Madness NCAA basketball tournament.
"You see the environment created here," Wiegand said. "I would anticipate that Nevada, which is expert at creating wonderful customer opportunities, will continue to do that. I don't see it as a negative in any way to Nevada and most of the participants here have facilities elsewhere and for companies that are headquartered here, like Caesars, have nice geographic distribution. They are all going to be benefit from sports betting as a company and that's beneficial for Nevada."
Wiegand, 49, grew up in Lexington, Kentucky, and attended Florida State University to study musicbefore deciding to attend Cornell Law School. He will work out of the Denver and Las Vegas offices of the firm, which has 13 offices around the country.
Q: Why did you decide to pursue a career in law?
A: When I decided music wasn't the career I wanted, law school was a natural fit, having a mother (Shirley) as a law professor. It was cool to share with her. I was interested in business. The law has never been something where I wanted to litigate and be in courtrooms. I always wanted to focus on the corporate side — the transaction side of the practice, and those two things married very well for me.
Q: Where was she a law professor?
A: The University of Oklahoma. She was good friends with Anita Hill (who accused Clarence Thomas of sexual harassment during a hearing on his Supreme Court nomination). When my dad came to see me at Cornell, he said he wasn't sure if my mom would be able to make it. Something was going on with Anita that turned out to be the whole story that blew up with the Clarence Thomas confirmation hearing.
Q: What did your dad do?
A: My dad (Wayne) was a professor at Kentucky and was a library and information science professor, who specialized in the history of library and print. He's written a number of books focused on the public library. He and my mother have written a couple of books together. They did one on desegregation of the public libraries in the South.
Q: Where did you go and what did you do after finishing law school?
A: Cincinnati. At the time for whatever reason I started working a lot on technology-oriented clients and became pretty excited about technology, generally. I find myself still that I'm attracted to things that are creative and disruptive and those sorts of things are fascinating for me. You have these founders who are fired up making changes and changing the way an industry works and operates.
Q: What brought you to Las Vegas?
A: I came to Las Vegas (in 2000) to work with a technology company that ended up failing and I was here in Las Vegas and took a role with Harrah's Entertainment, that through acquisitions became Caesars Entertainment. That was in 2003 and with Harrah's and Caesars, I was incredibly blessed. That company went through a number of transactions that were transformative, and I got to work on all of them as it grew and became owned by private equity and as it went through bankruptcy with one of its major subsidiaries. I was able to work on all of those things, and it's was enriching, rewarding and incredibly fun, fascinating and intellectually stimulating.
Q: What did you primarily you do for Caesars?
A: I worked on new development opportunities and acquisitions. If you think about here in Las Vegas, it's The Link and the High Roller, are a visible example of some of the work I and my team worked on.
Q: What was your team's role with that?
A: If you see a vacant piece of land or existing casino and you want to change to it and build something new, there's a number of different things required in order to do that. The Link project and the High Roller involved combining a number of real estate parcels. Working with the county to do that was a challenge for the team, and it's was complicated set of licenses, leases and easements that were all required to create the parcel in a buildable format. And with the High Roller, you had the FAA because of its proximity to the airport.
Q: What did you learn from the experience?
A: I enjoyed being an in-house lawyer because of the opportunity to truly learn and think strategically and be part of the business decision-making process. Our general counsel, Tim Donovan, was fond of saying our company is full of business people. They all have areas of expertise. We are business people, with our area of expertise being the law. For me ,now coming into the law firm, I think my practice is enhanced by being a part of a business team and part of the strategic direction of the company and thinking how do we accomplish these business objectives.
Q: What is your outlook for Caesars?
A: I think Caesars is well-situated and primed for growth, and I think it has an incredible platform to expand into new areas. For Caesars to succeed in the hospitality industry, it has this great collection of brands that it wants to leverage into non-gaming lines of business, like hotels. It has an unparalleled loyalty program that allows it to provide excellent management services to clients that benefit from that. Finally, with innovation and interactive gaming, Caesars platform from a bricks-and-mortar perspective provides it a great opportunity. It's just in more markets than other companies are and gives it a platform to leverage sports betting, interactive and online gaming. Those things will develop on a state-by-state basis. Having a head start and being in these states primes it for growth in that area.
Q: Why did you leave Caesars?
A: I was ready for a change from a Fortune 500 environment. While it's incredibly rewarding and enriching, I started to feel like I wanted a little more autonomy and variety in my profession. You are working on one client all the time. I was attracted to being in a law firm environment again to work with clients at the same time. In addition, I am attracted to disruptive and creative technologies, and I think the gaming industry is on the precipice of a number of changes on evolutionary technological advances. I want to be a part of that. I know the gaming companies want innovative new products in their casinos, and I know that customers are demanding new ways to interact with gaming — not just traditional slot machines, but maybe mobile and online, and maybe the convergence of some of the video game aspects into an e-sports offering. Those things are incredibly exciting for me, and I really wanted to be in an environment to explore those things and work with these types of clients.
Q: Why do you split time between the Denver and Las Vegas offices?
A: Denver has a great ecosystem among startups and entrepreneurial activities and that's something I am really excited about. And, my wife and I enjoy the area because she has family in Boulder. If you open my garage door, you will see a Jeep, snowboard, skis, backpacking equipment and bikes. That's what we do. Las Vegas is great for that in the wintertime and Denver is great for that in winter and summer.
Q: What is your family life?
A: I have been married for 22 years. My wife is Erin. We have a son, Patrick, who's a Cornell freshman and daughter, Ryan, a junior at Las Vegas Academy.
Q: You talked about your interest in technology. What about technology in Las Vegas?
A: That's one of the areas that attracted me to law firm life. I think there is an opportunity in Nevada. There is a lot of stuff happening in Southern Nevada around some of the new gaming technologies. I think there is an opportunity for policymakers here and industry participants here and for new technology providers here to create a more hospitable ecosystem for creation of new businesses and a real entrepreneurial environment. If you look at places like Silicon Valley, Austin, Texas or Boulder and Denver area what you see are incubators to get these businesses off the ground. There's a real attractiveness to those incubators for new startups because they get advice from established players. It creates a center of gravity and that starts to attract venture capital.
Q: Why is that important?
A: Those platforms don't exist in Nevada, and it's a real problem I think for people who want to start new things and create new innovative technologies here. One thing I would like to see, and discussed amongst policymakers and existing industry participants is how do we come together to create that environment and ecosystem. If you want to diversify your economy, you have so much energy around new startups. The Kaufman Institute issues a survey every year of largest metropolitan areas and rate of startup activities in those areas. People don't realize Nevada is No. 5 on that list in the entire country. Something is happening here, but it's scattered and diffused. How do we organize the community to get that energy combined into one place to attract attention and create a platform? Because of the industry we have here and incredible hospitality program at UNLV and the focus on real customer relationships in the hospitality industry, I think you will see opportunities for people to create new technologies in this space. It could be anything from esports to new slot technology to new payment systems.
Q: What about that in Southern Nevada?
A: Everyone of the casinos in Las Vegas is chalk full of technology and all of it can be better and be enhanced. You have people working here who have ideas and want to do new things and create a center of gravity around that. It is an incredibly exciting opportunity for the community. You have companies, like Switch and Zappos, that are great success stories in technology in this community and shows there is a way to be successful at this. There is a real opportunity we're not taking advantage of.
Q: Where is the gaming industry heading when it comes to technology?
A: I see the industry becoming more distributed electronically. With new technology, each of the regulatory agencies want to ensure that there's integrity in the gaming that is electronically engaged. There is a natural regulatory function to apply to each of these new technologies. There's a definite trend toward a liberalization, allowing gaming to occur within states remotely through the internet and mobile technology. I see the industry continuing to move in that direction.
Q: But gaming law continues to be a big focus for you?
A: We definitely as a firm want to focus on gaming. It's one of the leading gaming firms in the country. It was very attractive for me and with the recent Supreme Court decision to overturn the prohibition on sports betting. It's an incredible opportunity for the firm and me and personally looking to work with companies willing to expand their offerings and to get into that as it becomes legal in states across the country.
Q: What do you see happening?
A: I think casino companies will want to offer sports betting in their casinos, but I think they will also want to offer sports betting through internet and mobile wagering. Casinos companies will be looking to contract with providers of those services for those pieces of technology. The firm is well-positioned and has an incredible roster of existing clients in this gaming industry and to work on all of those things. As this industry grows in the sports betting space, each state will come online with variations of how it wants to establish it in its state. Brownstein can help advise casinos as consumers and technology and sports service providers.
Q: Do you see states adopting Nevada's standards?
A: That's one everybody in the industry is trying to determine. What you will see is a variation state by state. Some will follow Nevada and some won't. There will be states where the lottery is the primary. There are just a few that have passed legislation so far. European offerings are interesting because the technology is generally well-established in that market and the internet gambling has been more liberally allowed than in the U.S. The U.S. has a federal system and each state has its laws and applies them in the way it sees fit.
Q: What do you see happening in Congress as sports leagues complain about the expansion of sports gaming without any direct compensation?
A: I would be surprised because this doesn't seem like the highest priority Congress faces. With respect to the leagues, I think you will see the leagues have an aligned interest on capitalizing on increased value associated with their sports because of sports betting. I think (sports leagues asking for an) integrity fee boils down to whether the leagues feel they should receive some royalty or payment for use of their data. I don't know how to predict the outcome, but there is enough people with the interest in the success of sports betting and the value that it creates for these constituencies that there should be a common basisfor understanding. Over the next several month we will see constituencies start to come together andhave a constructive dialogue.