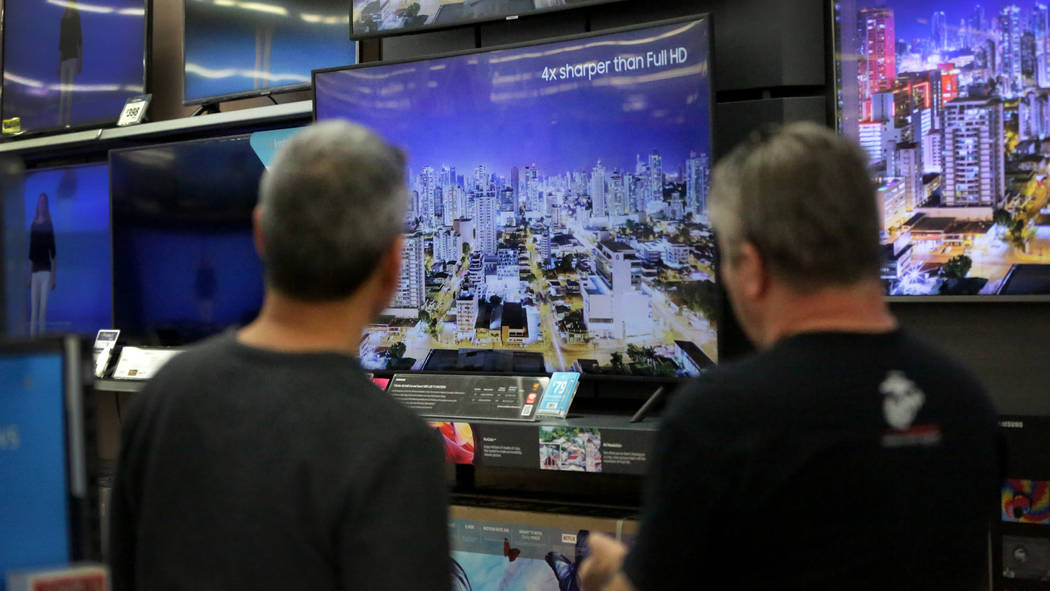 The vacancy rate for Las Vegas' retail center continued to decrease during the third quarter and the office and industrial markets remained steady, according to the latest report from Colliers International.
The firm reported the retail vacancy rate, which was 8.1 percent in the first quarter of 2018, fell to 6.9 percent at the end of September. Retail vacancy bounced between 8.1 and 8.4 percent in 2018 before finally dropping beneath 8 percent in the fourth quarter of 2018. It has remained below 8 percent in 2019, the firm noted.
As the retail vacancy rates continue to decrease, rents are rising. Landlords are asking for $1.53 per square foot, up from $1.37 per square foot in the third quarter of 2018.
Mike Mixer, executive managing director with Colliers, said the retail market in Southern Nevada has had a healthy year, and "it looks as though 2020 might not be too bad either."
Net absorption was 143,864 square feet in the third quarter, bringing total net absorption for 2019 year-to-date to 865,265 square feet. This was "considerably more net absorption than was recorded at this point in 2018 and suggests that rumors of brick and-mortar retail's demise were a trifle exaggerated," Mixer said
As taxable sales continue to be very strong in Clark County, the retail properties scheduled for completion in 2020 "exhibit a high level of preleasing," Mixer said. Matching 2019's absorption space might be difficult in 2020, but "it looks as though 2020 will continue the trend of positive net absorption and decreasing vacancy rates."
Between August 2018 and August 2019, there were 600 jobs in the food and beverage sector and 100 jobs in the health and personal care sector, according to Colliers.
The food services and drinking sector added 5,900 jobs over the last 12 months.
The Retail Association of Nevada estimates retailers will boost hiring by 7,100 new positions during the October to December holiday shopping period and outpace national trends. Seasonal positions include in-store employees as well as logistics and warehousing workers fulfilling online orders, the group noted.
"Unemployment is near a historic low and personal income is rising for Nevadans, positioning residents to be active consumers this holiday season," said Bryan Wachter, senior vice president of RAN.
The state's retail sector also remains on an upward trend heading into the three-month holiday shopping season, with trailing 12-month average employment exceeding the same period a year ago by nearly 1,000 jobs, Wachter said.
Retail sales for the months that include the holiday shopping season typically account for more than a quarter of annual retail sales. Through July, statewide taxable retail sales for the prior 12 months reached a record $62.7 billion, up 5.8 percent from the previous year, Wachter said.
Major retailers such as Target and Kohl's announced seasonal hiring plans of 130,000 and 90,000 workers, respectively. Macy's/Bloomingdales expect to add 80,000 positions while JCPenney announced plans to bring on 37,000 employees. Gap announced 30,000 seasonal positions throughout its stores, including Banana Republic and Old Navy, and Michael's is seeking to match last year's goal of 15,000, Wachter said.
Walmart and Amazon have yet to announce hiring plans for this year, however, Amazon recently announced plans to hire roughly 30,000 new permanent employees. Delivery companies UPS and FedEx also will boost hiring, with announced seasonal hires of 100,000 and 55,000 positions, respectively, Wachter said.
Net absorption in the third quarter was positive in five of the valley's eight submarkets, including University East at 95,350 square feet, North Las Vegas at 40,288 square feet and northwest at 38,338 square feet. Net absorption was negative in Southwest, Henderson and west central, according to John Stater the research manager of Colliers International's Las Vegas office.
Absorption of space was highest in neighborhood centers at 394,959 square feet and strip retail centers at 278,629 square feet. The one negative was that power centers saw a drop off because of troubles with retailers in those centers.
So far in 2019, store closures were announced by Payless ShoeSource, which is closing all of its stores this year, and Family Dollar, which is closing almost 400 stores nationally. Although it has not been announced which Family Dollar stores will be closed, Payless Shoe Source formerly occupied 43,000 square feet in Southern Nevada, Stater said.
OTHER COMMERCIAL SECTORS
The industrial market had a 3.5 percent vacancy rate, a tick above the 3.4 percent mark during the second quarter. It stood at 4.4 percent at the end of September 2018.
In the office market, the vacancy rate was 12.7 percent, just above 12.6 percent in the second quarter. A year ago, it was 14.4 percent.
Southern Nevada's warehouse/distribution market "seems to be the gift that just keeps giving," Stater said. The industrial market's pace of growth will continue as long as the overall economy and consumer spending continues to grow, he said.
Warehouse/distribution net absorption "has been on a run since the first quarter of 2013," averaging almost two million square feet per quarter. "We owe this run to the reconfiguration of the nation's logistics system due to e-commerce and its promise to deliver anything anywhere within days, if not hours. Whether this is sustainable is a question for the future. In the present, companies are building and occupying warehouse/distribution projects at a fever pace, and for now that activity is producing spectacular results in Southern Nevada."
Southern Nevada's office market is "flashing two signs of potential trouble down the road," Stater said. The first is the rapid expansion of available sublease space in the market, and the other two quarters of decreasing net absorption. He also noted that office-related job growth has also slowed over the past year.
Almost 460,000 square feet of new office space is scheduled for completion over the next four quarters, Stater said.
"Pre-leasing is strong in these projects, and they may just prove that Southern Nevada's demand problem was really a supply problem, with a lack of desirable office space on the market hampering growth," Stater said. "If this does not prove to be the case, we should expect to see vacancy rates increase over the next year.
It appears the first wave of multifamily development has ended because 2018 saw more than 3,000 new units of multifamily completed, while 2019 had only seen inventory expand by 210 units by mid-year, Stater said.
Stater said if there was anything puzzling about the multifamily market, it was the way in which older properties struggle to compete with new Class A properties despite offering much lower rental rates.
"The excellent performance of Class A properties probably guarantees that a new wave of multifamily completions will begin soon," Stater said.
While Southern Nevada's medical office market rebounded from its dip in the second quarter, it remains "less robust" than it was in 2018, Stater said. And he added no significant medical office development is expected in 2020.
"The market seemed to get a boost from new construction in 2018, thus the current decrease in demand could be a matter of the lack of new medical office developments in 2019 and future development in 2020," Stater said. "It might take new construction to get the market out of its current slump.