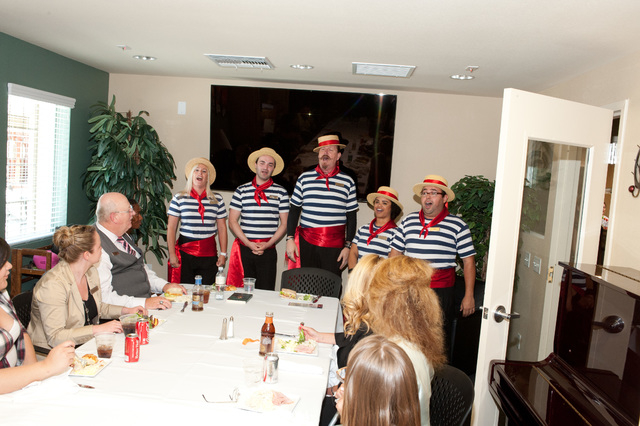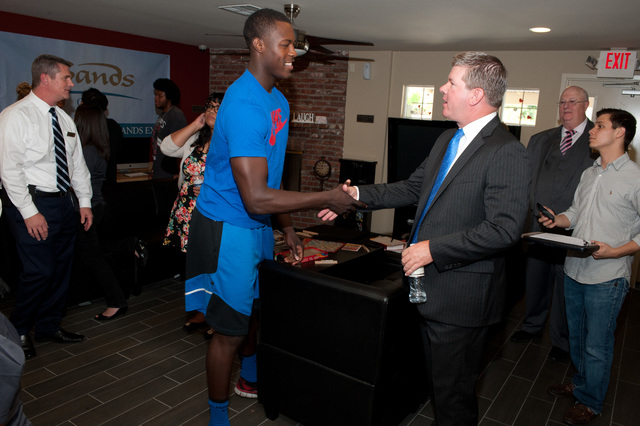 Las Vegas Sands Corp. decided its employees should have a say in where the casino operator focuses its community philanthropy.
After all, it's the employees at the properties in Las Vegas, Macau, Singapore and Bethlehem, Pa., who have the best understanding of where the company's contributions can have the most effect.
For example, in Singapore, Marina Bay Sands employees volunteered more than 2,000 hours for a variety of services on the island nation. Sands China employees donated time to help elderly Macau residents prepare for the Lunar New Year.
Las Vegas Sands has been pushing efforts in all its gaming markets. Last year, international soccer star David Beckham attended a Macau youth soccer clinic on behalf of the company. In Pennsylvania, employees of Sands Bethlehem have worked with an adopted school since 2008.
The Sands Cares program was created in 2014 to focus on "people, communities and the planet."
In a letter outlining the company's efforts, Las Vegas Sands Chairman Sheldon Adelson said the idea behind the program is to have a positive effect in areas the company's employees care about the most.
"Our team members around the world were also a driving force behind Sands Cares, devoting their time, effort and enthusiasm to a variety of causes and organizations," Adelson said. "Our team members led by example. They volunteered their time."
Companywide, Las Vegas Sands has 45,000 employees, including 9,000 in Las Vegas, a focal point of the outreach.
Las Vegas Sands opened a partnership a year ago with "Clean the World," a nonprofit organization that donates hygiene products to 96 countries to stem the spread of various hygiene-related diseases. The charity has a facility in Southern Nevada.
The hygiene kits contain discarded soap, shampoo and other amenities collected from The Venetian and Palazzo. Las Vegas Sands employees took part in the two-day effort in Las Vegas last year to build 100,000 kits.
The company also donated $1 million to "Clean the World."
Also in Las Vegas last year, the company donated $7 million to the William F. Harrah College of Hotel Administration at the University of Nevada, Las Vegas.
A portion of the money will be used toward construction of Hospitality Hall, a new $56 million home for the hotel school. The largest portion of the gift created the Center for Professional and Leadership Studies, a new executive educational program.
Last month, Las Vegas Sands announced a new partnership with two organizations to provide homeless youth in the Las Vegas area with increased educational resources and support during the summer break.
Clark County School District officials consider more than 9,000 of its students as homeless or children in transition. The summer months magnify challenges for homeless students because infrastructure and the safe haven provided by a school are missing.
Las Vegas Sands made financial donations to Nevada Partnership for Homeless Youth and STREET Teens to create year-round educational sites that offer assistance, including technology, personal support and scholarships.
Under the company's program, a $60,000 grant was given the partnership to purchase computers, books and other career resources for the organization's drop-in center, where youth focus on academics and plan their future with case managers.
Las Vegas Sands also established a $45,000 grant for STREET Teens, which allows the organization to expand its infrastructure and provide more educational resources at its drop-in center.
According to the National Conference of State Legislatures, approximately 75 percent of homeless youth nationally have dropped out or will drop out of school.
Ron Reese, Las Vegas Sands' senior vice president of global communications and corporate affairs, said the newest donations show how the company has realigned its corporate giving structure to focus on local community efforts that might get overlooked.
Reese said employee feedback helps target important community efforts.
"Education provides a foundation for all youth to overcome challenges, realize their goals and reach their highest potential," Reese said. "It is essential to provide support, especially during the summer months, for our community's most vulnerable youth to have access to educational resources as a path to a more secure future."
Contact reporter Howard Stutz at hstutz@reviewjournal.com or 702-477-3871. Follow @howardstutz on Twitter.