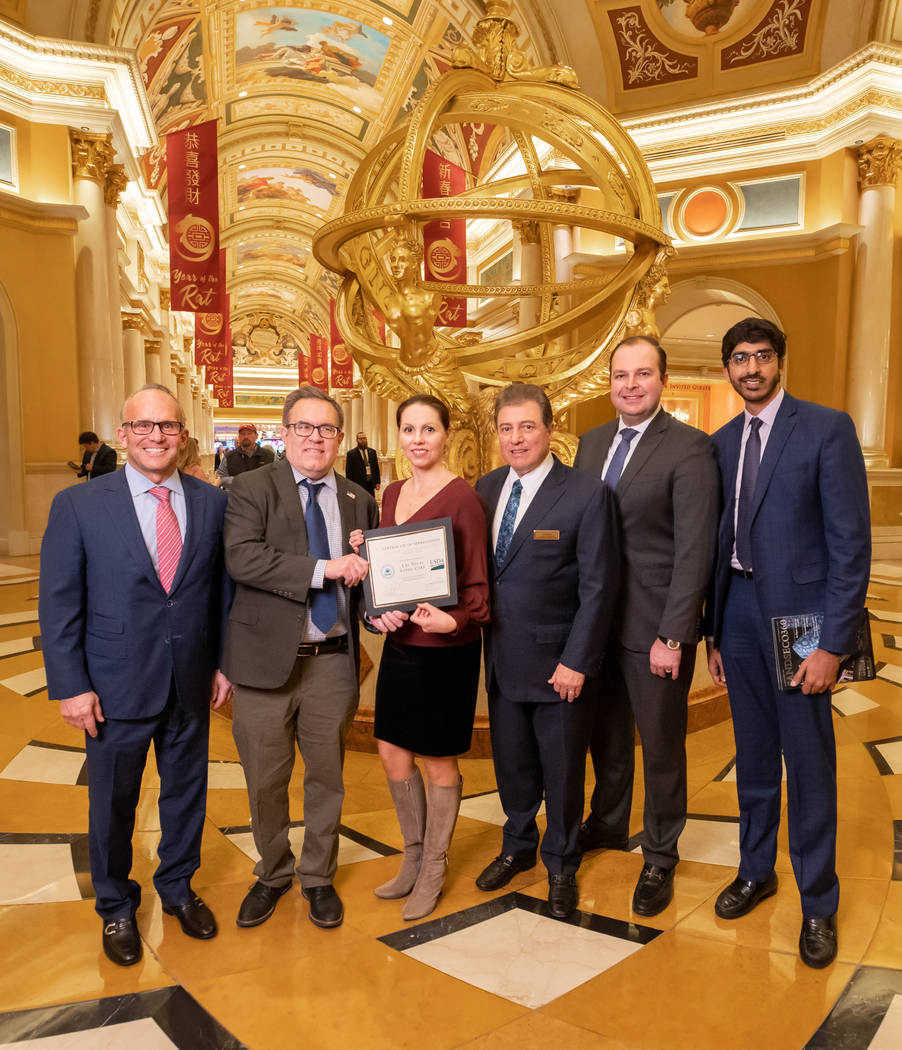 The resort industry on the Las Vegas Strip may have a reputation for opulence and excess, but local gaming companies also strive to implement sustainable programs that promote food, water, energy and waste conservation within a fragile Mojave Desert environment.
Las Vegas Sands Corp. and its ECO360 program recently received recognition of its conservation efforts through two awards.
Andrew Wheeler, administrator of the U.S. Environmental Protection Agency, visited the The Venetian in January to welcome the company as a U.S. Food Loss and Waste 2030 Champion. The EPA has partnered with the U.S. Department of Agriculture to create a program that encourages businesses and organizations to reduce food waste within local operations down to 50 percent by 2030.
"Food products make up 22 percent of municipal solid waste sent to our nation's landfills annually and, working with my partners at USDA, we are challenging American businesses and consumers to reduce food waste," Wheeler said. "The commitments made by these organizations in joining the Champions program will help propel the U.S. one step closer toward meeting the national goal of reducing food waste and loss 50 percent by 2030."
The EPA estimates that over 75 billion pounds of food reach landfills and combustion facilities every year, constituting 22 percent of all discarded waste material. Food waste not only affects landfill space and creates methane emissions, but it also hurts the overall US economy. The U.S. Department of Agriculture estimates the value of food loss and waste for retailers and consumers each year at $161 billion.
"The elimination of food waste has been a critical component of our Sands ECO360 sustainability plan," said Las Vegas Sands Senior Vice-President of Global Sustainability Katarina Tesarova. "While this is definitely an environmental issue, it is also a social and economic issue. Not only does wasted food end up in the landfill, but there are other implications as well. For instance, we continue to focus on new ways to get excess unserved food to those in the community who are food-insecure."
The Venetian diverts 27 different types of waste material away from the local landfill, recycling 55 to 60 percent of its operational waste each year. This compares to a national average of 32 percent and a Nevada state average of 23 percent.
During June 2019, The Venetian resort also began an initiative to study the company's seafood supply chain, with a goal to increase the percentage of purchases directed at sustainable seafood production.
The Las Vegas Sands Corp. joined five other awardees of the US Food Loss and Waste 2030 Champions during 2019. These included Browns Superstores, Compass Group, Giant Eagle, Hello Fresh and The Wendy's Co.
The Las Vegas Sands Corp. also was recognized last year by the CDP, formerly the Carbon Disclosure Project, for inclusion in its "A List" of sustainable corporations, due to the company's water conservation practices.
During 2018, The Venetian and Palazzo completed expansion of a nano-filtration system that can purify and reuse non-potable water for irrigation, ornamental fountains and a cooling tower. Today, the Palazzo's horticulture system is completely independent of the local water grid, replacing 22 million gallons of municipal water from recycled resources each year.
The CDP is a nonprofit organization, founded in the United Kingdom, that encourages corporations to include environmental risk management and reporting in their operational practices. Of the 7,000 reporting companies that were evaluated by the CDP during 2019, only 27 global companies were included in the organization's "A List" for recognition worldwide.
"The CDP provides a comprehensive framework that continues to inspire us to become leaders in our industry and provide guidance for strategic direction," Tesarova said. "Among the thousands of companies that were scored this year, Sands is one of a very small number from around the world to make the A List. We're proud to be recognized and we will continue to work toward additional reduction of our environmental impact."
Some of the other accomplishments of the Sands ECO360 global sustainability program include the construction of resort buildings that have been certified by the US Green Building Council's Leadership in Energy and Environmental Design program. LEED-certified construction can be found at the Silver-rated Parisian resort in Macao and the ArtScience Museum at Marina Bay Sands in Singapore.
Within the ECO360 program, Las Vegas Sands has implemented 38 ECOTracker programs worldwide that are expected to save more than 48 million kilowatt-hours of electricity each year at its resorts. These include energy-saving programs such as the use of LED lighting and efficient infrastructure, as well as sustainable energy-reduction practices by its employees.
Last year, The Venetian surpassed a 20 percent energy reduction goal that started in 2011, through a partnership with the U.S. Department of Energy and its Better Buildings Challenge program.
Las Vegas Sands Corp. purchased 225 million kilowatt-hours of Renewable Energy Credits last year from solar, wind and other renewable resources to offset its electric energy consumption within its Las Vegas facilities. More resort clients now require the electricity they consume while staying in Las Vegas be emissions-free, when booking trade shows at the Las Vegas Sands Convention Center and other resort venues.
Las Vegas Sands Corp. has been recognized by the Dow Jones Sustainability Indices and Newsweek Green Building Rankings with top awards. These two lists give recognition to corporate sustainability practices that include environmental responsibility and performance.
So, next time you stroll down Las Vegas Boulevard and gaze at the monuments to fun and entertainment, look behind the veneer to find enlightened management teams that are laser-focused on social responsibility and environmental awareness within their local community of Southern Nevada.
Disclosure: The Las Vegas Business Press is owned by the family of Las Vegas Sands Corp. Chairman and CEO Sheldon Adelson. Las Vegas Sands operates casino resorts in Macao, Singapore, and Las Vegas.