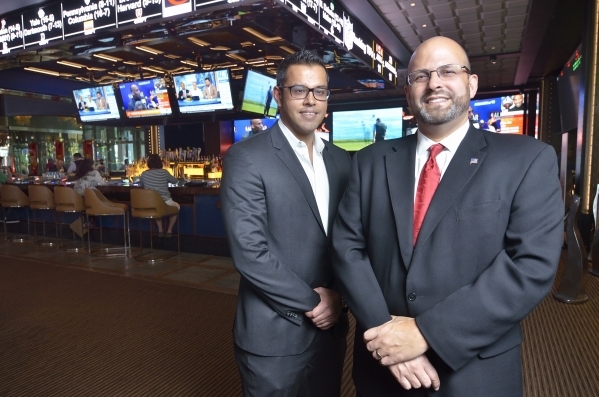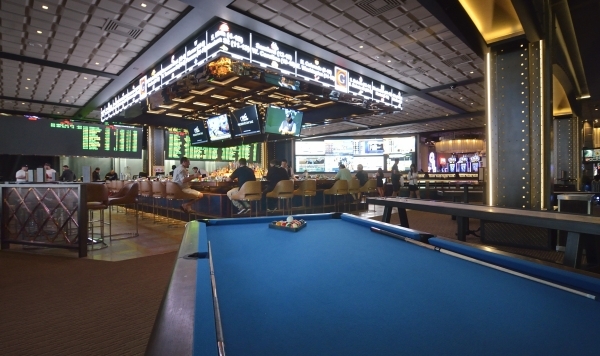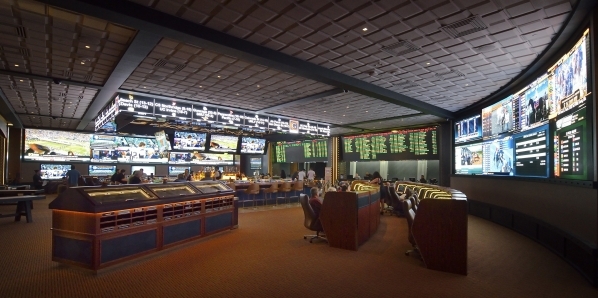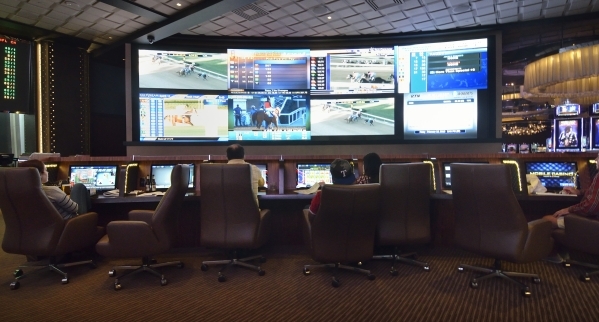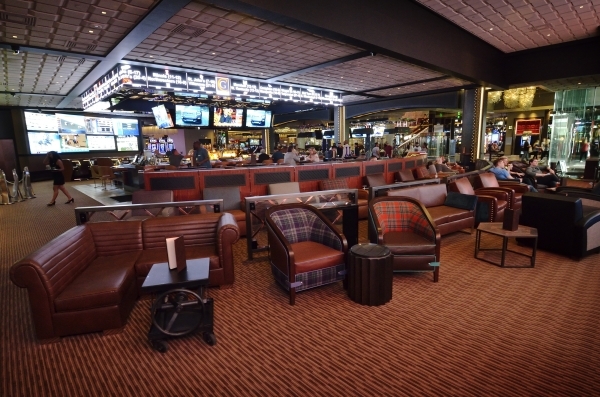 The Las Vegas sports betting handle keeps growing and growing, and two major properties have taken steps to draw more guests and to keep them in their locations during the games.
And in both locations, catering to the tastes of millennials is top of mind.
The Cosmopolitan of Las Vegas on the Strip relocated its race and sports book from a small, upstairs transactional location to a high-end book, complete with comfortable seating, state-of-the art LED video walls, dozens of high-definition television screens, the latest in mobile wagering technology and VIP areas where guests can view their own 90-inch television.
The new downstairs location, which used to house slot machines in what was described as a dead zone, now has a bar with 23 video poker machines and 24-hour food and beverage service.
If that isn't enough to keep their guests occupied during the games, The Cosmopolitan's race and sports book also has pool tables, shuffleboard and foosball. And for those who wish to continue to have some action going, there is blackjack, roulette and other games right outside the race and sports book.
The Cosmopolitan's race and sports book also has the added benefit of being the closest to Las Vegas Boulevard, which should also help draw in patrons.
A better location
"We want to be active in the high-end luxury market, and we certainly felt that our old location on the second floor was a substandard location in both of where it was and size," said Brian Benowitz, The Cosmopolitan's senior vice president of casino operations. "It really gave no reason for people to stay there and hang out in our race and sports book. It was pretty much transactional there, and they left after they placed their bets. The staging in front of marquee line was not an optimal thing for our players.
"So, we found this place in the casino, which was kind of a dead space, and we felt as though we could create more energy and excitement. We felt it was something our guests would come to expect from a luxury, high-end resort."
The stakes are large. According to UNLV's Center for Gaming Research, $72.5 billion has been wagered on sports in Las Vegas since 1984. And the annual figures continue to grow.
The Westgate SuperBook, which has long had one of the largest race and sports book in the resort area, renovated its facility to make sure it was one of the best books in Las Vegas.
Westgate SuperBook was renovated to feature the world's largest indoor 4K video wall, Nevada's largest wagering menu, 10 state-of-the-art wagering windows, VIP booths and personal seating areas featuring 32-inch LED screens at every seat.
Siegel's bet
"David Siegel, owner of Westgate, during one of the first tours of the SuperBook, realized we had one of the largest race and sports books, but we didn't have the best race and sports book," said Jay Kornegay, vice president of the Westgate SuperBook. "His idea was to not only have the biggest and largest race and sports books, but one of the best ones. That was his main reason for committing the funds to this new venue.
"When you come into the new SuperBook, it's a jaw-dropping reaction. And it's such an overwhelming experience that when my friends and family who haven't visited us in the last six to seven months, I prefer to meet them in the parking lot and walk them into the building just to see that reaction. I'm still in awe of it. It's a landmark. The screens are so large and clear, and the resolution and clarity is second to none."
Both facilities beat "the over," and were completed before Super Bowl 50. Both Benowitz and Kornegay said it was important to be open by then to capture a larger share of the record $132.5 million bet on the game. The books won $13.3 million on the game, according to the Las Vegas Review-Journal.
The next big test for these new facilities is March Madness, the annual 68-team men's college basketball tournament to crown the NCAA Division I champion. Last year, the local race and sports books took in $375 million on NCAA and NBA bets in March with about 70 percent of that handle on the tournament. The Nevada Gaming Control Board does not separate college and pro basketball wagers in its figures, according to covers.com.
"We were pleasantly surprised with the amount of patrons who approached requesting to wager higher limits," said Parikshat Khanna, chief operating officer of CG Technology. CG Technology operates the race and sports book at The Cosmopolitan, as well as at numerous other casinos in Southern Nevada.
"The high-limit line for the Super Bowl was about 25 deep and that was for wagers for more than $3,000. For March Madness, we will probably need to have three high-limit windows open," he added.
Millennial 'Madness'
For anyone concerned about the future of sports wagering in Las Vegas, one only needs to look at the large percentage of millennials that descend upon Las Vegas during March Madness to cheer on their alma maters — and have some action on the many games being played the first Thursday and Friday of the tournament.
"Millennials are embracing sports gambling, and March Madness is proof of that," Benowitz said. "The college campuses dump out for spring break, and those over 21 come to Las Vegas to have a great time. They all want to have a little action, even if it's only a small taste. They do enjoy that part."
One of the reasons that millennials have embraced sports wagering is the entertainment value and the advancement of technology, which has made it easier for younger patrons to place bets and stay involved in the game, Kornegay said.
"The wide range of demographics that sports betting attracts is growing," he said. "I expect that to continue to expand as the entertainment value for sports betting is second to none. You can wager $10 and have two hours of action, and this is very attractive to a lot of young people.
"Because technology has played a big part of the advancement of sports betting, younger people tend to adapt to it faster than the older generations, but I see some of these old dogs learning new tricks all the time and I expect that to continue. It is certainly a lot easier for the younger generation betting from their phones or tablets, which is becoming more and more popular."
'Down the stretch they come'
Although the race books see a spike during major events such as the Kentucky Derby, millennials have not embraced horse race wagering, as that handle in Las Vegas continues to decline.
According to covers.com, horse racing hit a high-water mark at Nevada books in 1998 with a $736.6 million handle. Since then, it has dropped, with a low water mark of $339.6 million in 2013.
"Sadly, we've seen the state handle go down consistently over the last few years," Khanna said. "The best we can do is offer a conducive environment and the best technology to enhance their experience. Overall, the race industry, especially in Nevada, has declined over the years."
Kornegay said the way to get millennials involved in racing is fewer racing cards, fewer racing days and lower takeouts.
"The bottom line is they have to win a little more often," he said. "The winning just hasn't been enough for millennials to grab ahold of, and because the fields are so small these days, even when you do win, it's not what it used to be. So, that is why we need larger fields and lower takeouts to make it attractive."
But don't think these new facilities are trying to squeeze out the race gamblers in order to attract younger patrons.
"We can accommodate just about anybody — the casual players who want to play a little bit, watch a game, have a little fun, play video poker and sit and watch their favorite team," Benowitz said. "We are really excited as well to handle the highest-end race player that wants to sit down and watch the races. We are really excited about this space and the direction we are going."
The new race and sports book at The Cosmpolitan of Las Vegas features state-of-the art LED video walls. Bill Hughes/Las Vegas Review-Journal The new race and sports book at The Cosmpolitan of Las Vegas features plenty of comfortable seating. Bill Hughes/Las Vegas Review-Journal Leadership at The Cosmpolitan of Las Vegas targeted a "dead space" on the casino floor in need of sprucing up and put together the new race and sports book. Bill Hughes/Las Vegas Review-Journal