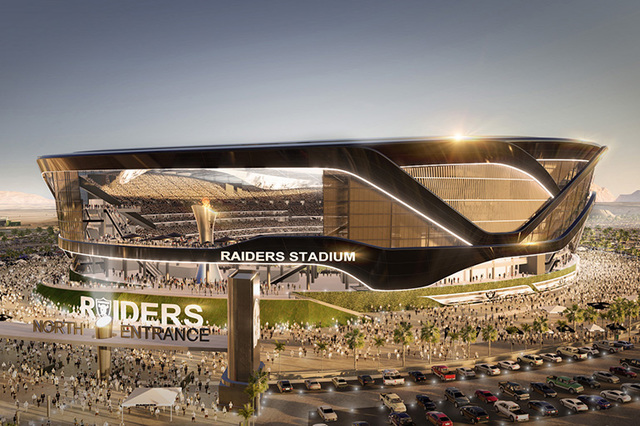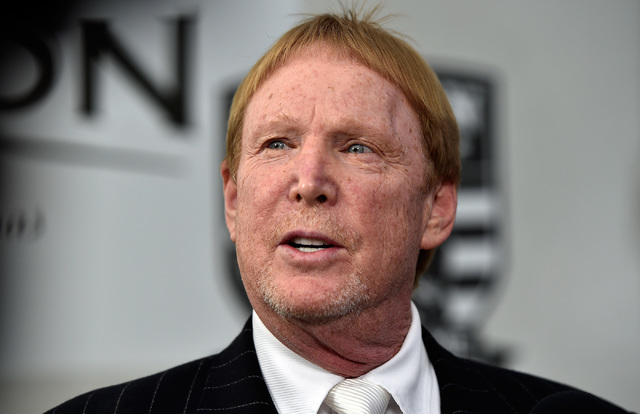 The debate is over. The votes are done, and Gov. Brian Sandoval has signed legislation that finances an expansion of the Las Vegas Convention Center and the building of a domed stadium.
Now it will be wait-and-see to determine if Las Vegas can secure the Oakland Raiders' move to town as team owner Mark Davis has pledged, and what its economic impact will be. The stadium will be home to the UNLV football team, adding momentum to that program.
"I think the big effect is just psychological," said University of Nevada, Las Vegas economist Stephen Miller. "We've been through horrendous times here in Vegas — just being ground zero for the Great Recession. We've nearly recovered from that, but this is a big event — something that people can get excited about. On balance, it's a big win for Las Vegas and also a pretty big win for the university. I have said all along as a professor that if you want to recruit good students, get a good football or basketball team."
The legislation increases the county's room rate tax by 0.88 percentage points to raise $750 million of the $1.9 billion projected cost of the 65,000-seat stadium. An extra 0.5 percentage point increase in the room tax raises $400 million as part of the $1.4 billion, 600,000-square-foot upgrade of the Las Vegas Convention Center.
While much of the public discussion and debate has been about the stadium, no one should discount the importance of the convention center.
Jeremy Handel, senior director of communications for the Las Vegas Convention and Visitors Authority, said the convention center expansion and stadium projects are expected to create more than 14,000 jobs. The two projects will have an annual incremental economic impact of $1.43 billion and will attract 1 million additional visitors a year, he said.
Las Vegas hosts 22,000 meetings and conventions a year, supporting 60,000 jobs for a $9 billion industry, Handel said. The Las Vegas Convention Center hosted 49 events in 2015, with a combined attendance of 1.3 million people and those visitors generated $2.1 billion in total economic output, he said.
"It's also an incredibly competitive industry," Handel said. "There are other cities investing billions into their convention centers to try and take business from us. We need to make sure our center is the finest in the country. We don't want anyone to leave, but we also want to attract new conventions to fill in those dates when we can put more people in town."
Jeremy Aguero, a principal at research and consulting firm Applied Analysis, which worked with the Southern Nevada Tourism Infrastructure Committee on the behest of the governor's Economic Development Office, said extensive testimony from conventions like the Consumer Electrics Show, fashion trade show MAGIC and others that are important to the region showed that they are at risk of being lost because they are outgrowing the convention center.
"They have all but said we will leave and go somewhere else if the convention center does not expand and renovate some of the existing facilities that are not up to par," Aguero said. "If you look at what is going on in Orlando, San Diego and Chicago, these communities are spending hundreds of millions if not billions of dollars and they're doing it for a single purpose — to get market share away from Las Vegas. They have said that publicly."
Handel said once funding it set and architects are hired, construction could start by the end of 2017 on the convention center expansion. Portions will be completed within three years and the entire project will take five years, he said
The Consumer Technology Association owns and produces the Consumer Electronics Show, the largest trade event held annually in Las Vegas. Gary Shapiro, president and CEO of the group, praised the convention center renovation and expansion project as paramount. He said CES draws more than 165,000 attendees every January and uses more than 2.4 million square feet in exhibit space, most of the convention space available in Las Vegas.
"It's critical for the continued growth and future of our show in Las Vegas and the many benefits CES contributes to the local economy and community at large," said Shapiro who added January will mark the 39th year CES has been held in Las Vegas. "The revitalization of the Las Vegas Convention Center is critical for Las Vegas to maintain its billing as the world's best exhibition city with state-of-the-art, high-tech convention facilities."
As for the planned stadium, the Raiders will contribute $500 million and Las Vegas Sands Corp. Chairman and CEO Sheldon Adelson will contribute $650 million. If the Raiders don't relocate, the room tax would be raised to generate $300 million for a smaller stadium for UNLV.
The stadium has had its critics who've called it corporate welfare and said that stadiums don't create new economic development or generate visitors but instead transfer spending. Some have suggested the region should spend tax dollars on other needs such as schools.
Aguero said the opening of the T-Mobile Arena earlier this year has demonstrated people will travel to Las Vegas for special events. People have been doing the same for the MGM Grand Garden Arena and Mandalay Bay Events Center, he said.
"We know that 80 percent of the people who buy tickets to those venues aren't Las Vegas residents," Aguero said. "Those are people are people who are making a choice to come to Las Vegas."
Its research showed, Aguero said, that a new stadium would have an annual attendance of 1.9 million, and the calculation is that 450,000 of these people would otherwise not have come here.
Miller said, the experience with stadiums around the country in terms of the economics is both positive and negative, referring to it as a close call. Las Vegas as a tourist destination means a stadium will have a greater impact on the economy than in other markets, he said. The stadium could even lure a Super Bowl and NCAA Final Four.
"Every time you have a home game, there's going to be someone in a city from somewhere else in the United States who is going to say, 'I haven't been to Las Vegas in a while, let's go to Vegas, see the game and hang around for a few days.' I think that could push you well over the line of having a positive economic effect," Miller said. "Time will tell whether that turns out to be true, but we're different from most cities. Most cities have tourists, but most don't have more than 40 million tourists."
Handel said the room tax increase will still keep Las Vegas' rate "right in the middle" of the country and won't pose any undue burden on visitors. It will remain below top competitor Orlando, he said. He also remains optimistic visitor volume will grow to generate enough revenue to fund the projects.
"We had a record year last year and record year so far this year and if we can continue to attract that business into town, that's what we need to do to grow that visitation," Handel said. "There is some development in the pipeline for some new resorts to open up and that will add some more rooms to the destination that will accommodate more people as well. As long as we continue to aggressively market not only to conventions that will fill this new space but to more international and leisure visitors, we will continue to see that growth in visitation."
In the aftermath of the vote and looking back at Nevada's history of arenas, stadiums and luring professional sports teams to the region, the approval of a domed stadium still has a surreal sense about it, especially getting approved in a special session in an election year.
"It's a big event in Nevada and the fact that you can get two-thirds of Republicans to vote in favor of it when it comes to taxes, that's a big deal, especially when it's before the election," Miller said. "I'm sure some legislators feel like they're putting their political lives on the line by voting for it."
The Review-Journal and Las Vegas Business Press is owned by the family of Sheldon Adelson, chairman and CEO of Las Vegas Sands Corp.