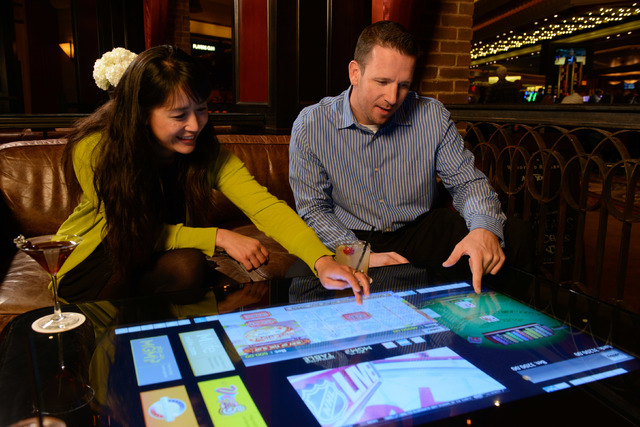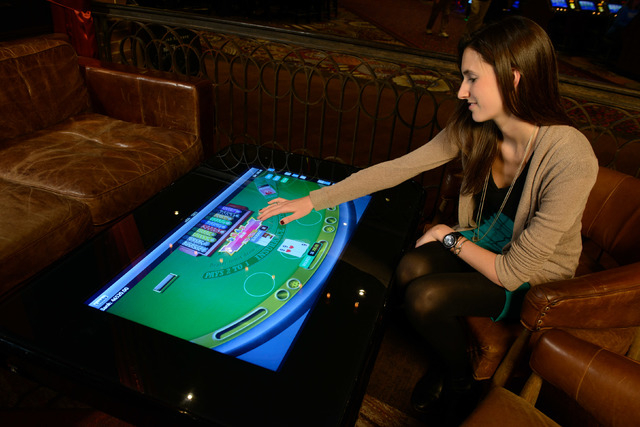 Tables that resemble giant smart phones inside The Mirage and MGM Grand Las Vegas are the future of gaming.
You just can't gamble on them quite yet, at least not for real money.
The InteractivePro tables, manufactured by an Australian company, have quickly developed a following from MGM Resorts International customers. For now, the 42-inch screens allow customers to watch television, gain access to social media, and check on their fantasy sports teams.
The tables also serve as a "virtual concierge," where customers can purchase show tickets or make restaurant reservations through their player loyalty program.
The tables also offer customers free-to-play social games through the MGM Resorts' MyVegas virtual casino site.
Thomas Mikulich, MGM Resorts' senior vice president of business development, hopes a real money gambling component will happen by the end of the year. The technology is in the testing and approval process with Nevada gaming regulators.
The tables were placed in locations not traditionally associated with gambling inside the two resorts, such as lounges, nightclubs, day clubs and bars. One table inside the Roasted Bean coffee bar at The Mirage has become a popular draw.
Mikulich said the tables are attractive because they are based on smart phone technology, "which has massively changed our culture," and social gaming, a market that reached $2.8 billion in revenue last year, according to Eilers Research.
Social gaming — played on mobile devices and websites such as Facebook — offer free play casinos, although players often spend nominal fees to acquire virtual gaming chips, such as 99 cents for thousands tokens.
The most popular sites are operated by Zynga (Zynga Poker, Wizard of Slots) and Caesars Interactive (Slottomania, WSOP, Bingo Blitz). MyVegas, which is produced by Playstudios in Burlingame, Calif., has been increasing its activity.
"There are 1.3 million people a day playing that site," Mikulich said. "That's more people than the number of folks playing in all of our casinos on a daily basis."
The trick is to convert those free play customers into real money gamblers.
That's where the InteractivePro tables come into play.
Customers have been using the devices for social interaction and to watch live sporting events. MyVegas offers blackjack, slot games and other features. Video poker, bingo, and other games will eventually be offered.
The multi-touch tables can be configurable up to four windows, have eight speakers, and 16 headphone jacks.
Mikulich said tables attract millennials because of the social experience.
"We have been looking for different gaming paradigms and gaming dynamics that we're just not offering right now," Mikulich said.
The plan is to have a mobile application with a digital wallet for MGM Resorts customers by the end of the year. Players would place money on account and would access their personal information through the InteractivePro tables.
"They could be betting on a football game or blackjack while watching sports," Mikulich said. "It's a generation that likes to multitask. Sitting in front of a solitary slot machine isn't attractive to them."
Last week, MGM Resorts announced the initial stage of the gaming aspect through an agreement with GTECH Holdings.
The Italy-based gaming equipment provider is introducing technology to deploy a mobile wagering system across 12 of MGM's Resorts' Nevada casinos later this year.
The initial use of the technology is to provide mobile sports wagering. GTECH's system will modernize the casino operator's sports book operations to include live in-play betting. Also, MGM Resorts customers will be allowed to place sports bets on their mobile devices from anywhere in Nevada.
Another aspect of the technology allows MGM Resorts customers to play real money gaming on mobile devices and, eventually, the InteractivePro tables.
GTECH Senior Vice President Matteo Monteverdi said MGM Resorts will be able "to offer more gaming without requiring more space on the gaming floor."
Mikulich said the casino industry will soon see a convergence between social games and traditional casinos. The interactive tables are the first step in delivering a new product to MGM's customers.
"You look at what games our customers like to play, such as 'World of Warcraft,'" Mikulich said. "We need to find new ways to bring players into the casino."
Contact reporter Howard Stutz at hstutz@reviewjournal.com or 702-477-3871. Follow @howardstutz on Twitter.