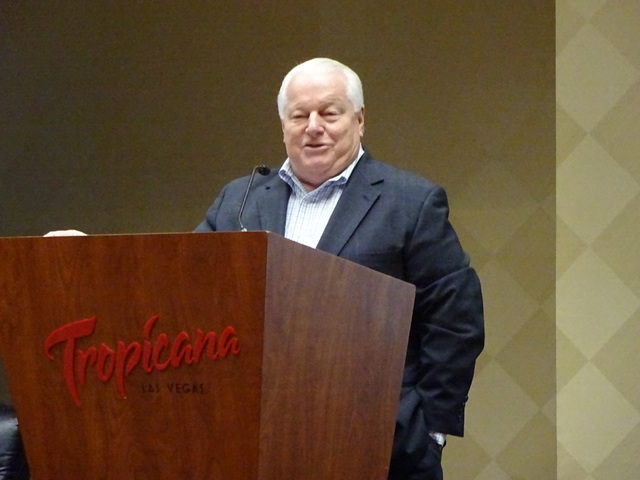 About 80 marketing executives, many from the major Las Vegas casinos, met Sept. 29 to consider potential growth for and obstacles to the city's ability to draw international tourism.
"The U.S. travel industry generates $2.1 trillion in economic output and supports 15 million jobs. Tourism is Southern Nevada's No. 1 industry, supporting 368,900 jobs (41.4 percent of the workforce) and generating $51.8 billion in aggregate economic output."
That was the opening statement of Roger Dow during a breakfast presentation to the Las Vegas chapter of the Hospitality Sales and Marketing Association International. Dow is the president and CEO of the U.S. Travel Association, an organization that represents all segments of travel in America.
"I keep saying that hospitality, lodging and the travel industry is the front door to economic development. No one ever decided to buy a second home or condo here (Las Vegas) until they first came here for a meeting, event or a vacation. Then they realize wow, pretty cool, lots to do, great restaurants, all these things," Dow said.
In his talk, Dow outlined how international travel has improved for the hospitality industry and listed some hurdles to be overcome.
On the positive side was the improvement of visa wait times. In the past, the waiting period for a three-minute visa interview was 120 days. That has been shrunk to fewer than five days, and, as a result, the number of international visitors went from 53 million in 2009 to 77 million in 2015. That number is expected to climb to 100 million by 2021.
In addition to improving the visa wait times, the U.S. also expanded the number of countries enrolled in the Visa Waiver Program from 27 to 38. This program enables most citizens or nationals of participating countries to travel to the United States for tourism or business for stays of up to 90 days without first obtaining a visa when they meet all requirements.
One of the best examples is South Korea. When it was added to the Visa Waiver Program, visitation went up 46 percent in 18 months. An additional 400,000 South Koreans visited the U.S., making an average of 850,000 to 900,000 visitors each year.
One of the most important business and tourist countries in the world is China. In 2009, there were 500,000 Chinese visitors to the U.S. By 2015. that number was 2.2 million, and it is expected to grow to 5 or 6 million visitors each year. China is not one of the countries in the Visa Waiver Program, but the five-day visa processing program has helped to bring more tourists. In addition, a Memorandum of Understanding was signed with China to allow for 10-year business visas. This means that a Chinese businessman that comes to Las Vegas each year for the CES only needs to apply for a visa every 10 years, making it easier for China to do business in the U.S.
Recently, the Las Vegas Convention and Visitors Authority recognized how important the Chinese visitors will be to the lcoal economy and launched a campaign asking local businesses if they are "China ready." The program talks about the need for improved signage, menus and guest relations personnel that speak Chinese languages.
Challenges that the travel industry faces include:
■ Infrastructure: This must grow to be able to move people throughout destinations. "The problem is the government keeps 'kicking the can down the road,' which stifles cities' ability to grow and properly accommodate incoming travelers," Dow said.
■ Ability to process people through airports: More travelers should utilize TSA precheck programs.
■ Customs and border protection: The U.S. needs to continue advancing technology including automated passport control and facial recognition.
■ Airplane capacity: In 2006, 11 airlines controlled 85 percent of air traffic in America. Now, there are four legacy carriers: Delta, American, United, and Southwest. "I want them to grow, but we can't have four airlines controlling our destiny," Dow said.
■ Improve load factors: Legacy carriers are projecting only 2 percent growth, yet international visitation is predicted to grow by 4 to 6 percent per year. The numbers don't match, and carriers will stifle visitor growth.
■ Pandemics: The government and the media need to do a better job of identifying the exact areas affected by an epidemic and not make it sound like an entire state, region or country is affected.
The good news for the hotel industry is that, nationwide and in Las Vegas, the number of visitor days has not declined, but the amount of money spent during those stays has. Dow notes that "people are spending less on a hotel room. Instead of purchasing two Gucci bags, they are buying one. Instead of going to a 4-star restaurant, they are going 3-star."
While nationwide the travel industry is flat, only growing at about 2 to 3 percent at this time, projections are for improved growth.
While business travel is very important to the economy, two-thirds of the travel and hospitality industry is for leisure activity.
One of the main reasons for the stagnated growth is the fact that Americans are not taking vacations. Americans have become what Dow calls "a nation of work martyrs." In 2000, Americans took 23 days of vacation time. In 2015, that figure dropped to 16.2 days. Millennials, according to Dow, are the "worst offenders." Because of the challenging work market, "they're terrified of losing their jobs and want to look good."
Furthermore, the USTA surveyed children, ages 6 and 7:
■ 75 percent say their parents never disconnect from the office when they come home.
■ 61 percent say the best time they spend with their parents is when they're on vacation.
■ The surveyed children said, at least three days per week, their parents promised they would be home but were not.
To encourage Americans to take more leisure time, the travel and hospitality industries have teamed up to build a campaign called "Project Time Off," producing a series of public service announcements touting the social and health benefits, physical and mental, of leisure activities.
MasterCard has committed $80 million to its television campaign where children ask their parents to take a vacation.