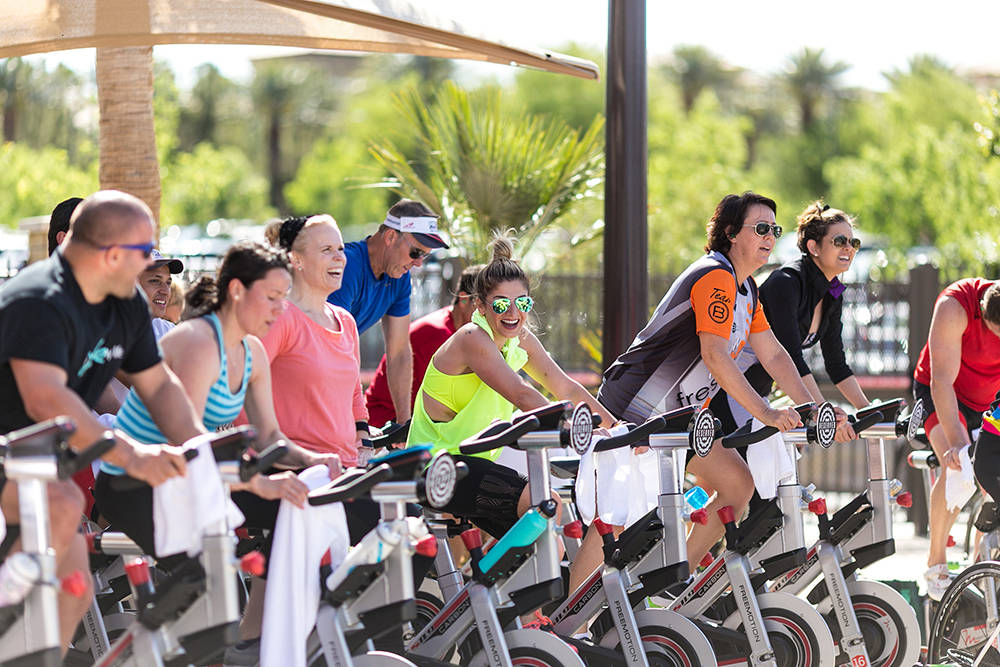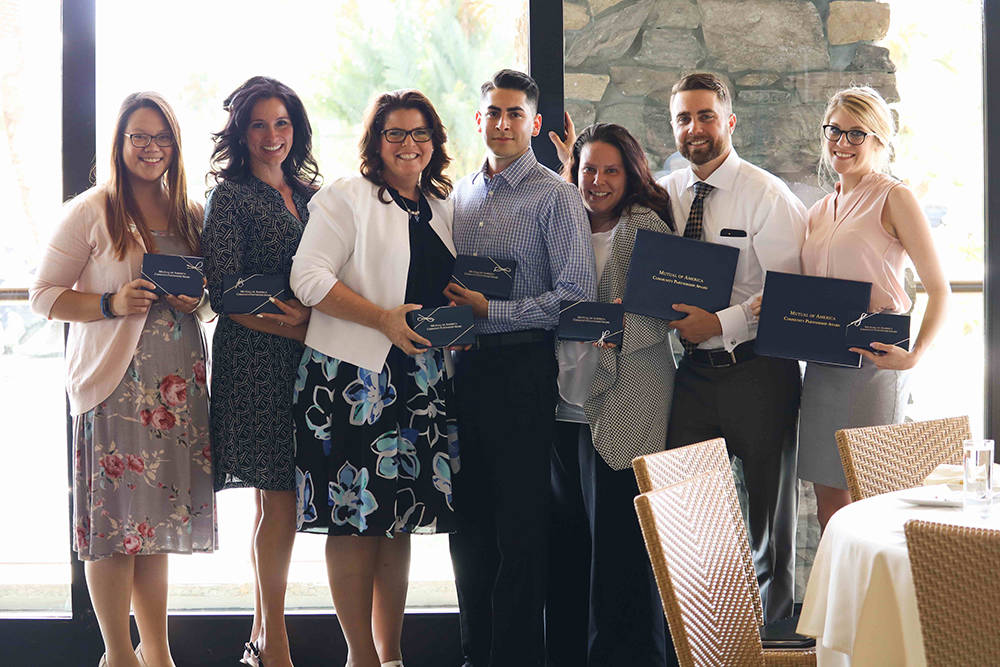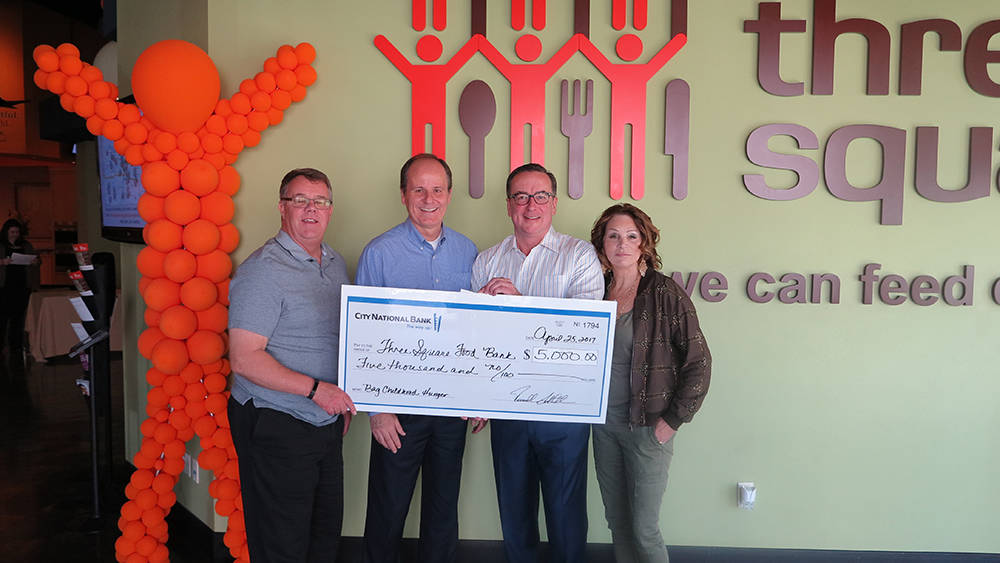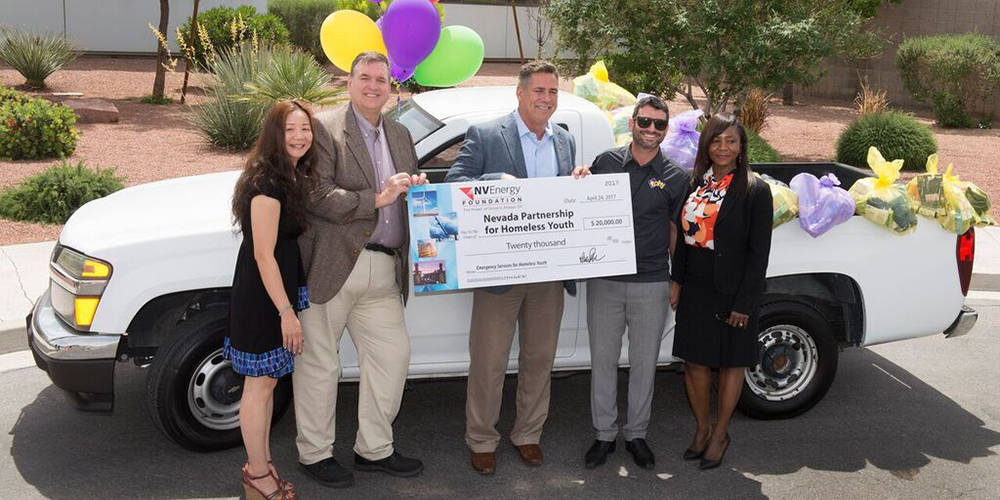 City National has announced that it has provided Three Square Food Bank with a $5,000 donation for this year's Bag Childhood Hunger Program. The funds from City National's donation will be matched by the Bennett Family Foundation, which will provide funding for 40,000 meals to families and children in Southern Nevada who are food insecure and hungry. Three Square's mission is to provide wholesome food to hungry people, while passionately pursuing a hunger-free community. They combine food banking (warehousing canned and boxed goods), food rescue (obtaining surplus or unused meats, bread, dairy and produce from hospitality and grocery outlets), and ready-to- eat meals to be the most complete food solution for Southern Nevada.
NV Energy helps homeless kids
NV Energy officials and employees joined Nevada Partnership for Homeless Youth to help youth in crisis and donate a truck, toiletries and canned goods, and $20,000, the latter through the NV Energy Foundation. The announcement was made at NV Energy's Ryan Operations Center. The fully loaded, gently used Chevrolet Colorado is being retired from the NV Energy fleet for a new mission transporting NPHY youth clients, primarily Independent Living Program clients. These transports include trips to the DMV, UNLV, educational field trips and other activities, and to the NPHY Drop-In Center. During the past few weeks, NV Energy employees have embarked on a "fill-the-truck" drive to stuff the truck with needed items for homeless kids. The $20,000 donation will be applied to direct service costs resulting from more homeless youth accessing NPHY with the expanded Drop-In Center hours and additional emergency shelter beds. Needs include additional food, clothing, hygiene items, bus passes, fees for identification documents, school fees, and other direct service resources.
Clark County was ranked No. 3 in the nation for prevalence of homeless youth, and Nevada was ranked No. 1 in the nation for rate of homeless youth living on our streets, according to the U.S. Department of Housing &Urban Development's 2016 annual report. During the 2015-2016 school year, there were more than 14,000 homeless students enrolled in Clark County schools. In 2016, there were more than 1,500 unaccompanied homeless children and youth living on the streets or in homeless shelters on an average night in Southern Nevada.
Nevada Partnership for Homeless Youth is the most comprehensive service provider for homeless youth in Southern Nevada. Programs stabilize homeless teens' lives, meeting their immediate needs and providing a safe environment and a path to self-sufficiency.
Andson Receives $25,000
Local nonprofit Andson was the recipient of the Community Partnership Award by Mutual of America on April 13. Andson was honored as a 2016 Merit Finalist for the Community Partnership Award and received a check for $25,000 at a special award luncheon. Each year, Mutual of America selects 10 organizations, from a national pool of candidates, that have shown exemplary leadership by facilitating partnerships to build a cohesive community that serves as a model for collaborating with others. Andson was selected for their Piggy Bank project, a provides students with weekly hands-on banking experiences. Starting from Kindergarten, students at three Clark County Schools set savings goals and make weekly deposits at a "bank" that is set up at their school. Those deposits are kept by the Silver State Schools Credit Union in savings accounts. At the end of 5th grade, students have the option to convert their Piggy Bank savings account into a regular savings account or withdraw their funds.
Life Time Green Valley hosts fundraiser
Life Time Athletic Green Valley hosted its annual cycling fundraiser, "Ride for a Reason," in April to benefit St. Jude Children's Research Hospital and the Life Time Foundation.A total of 75 teams consisting of a combined 288 riders participated in the four-hour cycling relay ride. Riders raised over $62,000 to help St. Jude continue to go the distance for children battling cancer and their families, and to support the Life Time Foundation's efforts to improve children's nutrition in schools nationwide.
Teachers receive surprise grants
CenturyLink Inc. surprised nine Clark County School District teachers with grants from the CenturyLink Clarke M. Williams Foundation's Teachers and Technology grant. The program, which began in 2008, awards grants of up to $5,000 to schools in CenturyLink's local service areas on behalf of teachers who have developed specific plans to implement technology in their classrooms. Across the country, more than 2,300 grant applications were submitted and 309 were awarded. Grants were awarded based on the impact they will have on students in the classroom and the overall innovation of the project. The first presentation was in April to teacher Jason Lillebo from Edith Garehime Elementary School. The grant will benefit the Full STEAM Ahead with LittleBits program.
Mixer HELPS HomeAid Southern Nevada
Southern Nevada Home Builders Association salutes its good member, Closets Las Vegas, by hosting a membership networking mixer May 18 for fellow members at its office and showroom. Proceeds from the mixer will be donated to HomeAid Southern Nevada, the outreach partner of the Southern Nevada Home Builders Association.
HomeAid is a national nonprofit provider of housing for today's homeless. The organization builds and renovates multi-unit shelters for homeless families and individuals through local chapters in 17 markets across the country, each working with the local building industry to give back to the community.