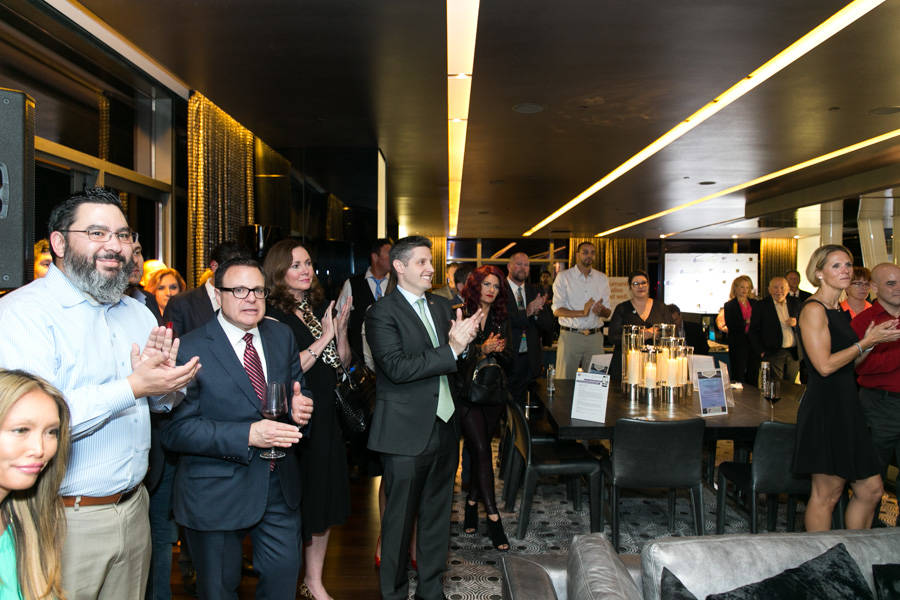 Folded Flag Foundation raises more than $50K
The Folded Flag Foundation held a fundraiser at the The Boulevard Penthouse Suite at The Cosmopolitan of Las Vegas on March 29. Sponsored by Dignity Health, the event raised more than $50,000 to help support families of fallen heroes. Guests met Gold Star families and enjoyed entertainment, hors d'ouevers and tastings of Foley Family Wines' finest labels, all while taking in breathtaking views of the Las Vegas Strip in the 5,000-square-foot penthouse suite.
Fourteenth Fold guests had the chance to bid on Vegas Golden Knights jersey and auction items and included an all-inclusive, one-night stay in the suite, complete with 24-hour butler service and an in-room private dinner for two from Scarpetta served by lead chef and a private sommelier for meal and wine-pairing descriptions.
The Folded Flag Foundation is a nonprofit organization that enlists the public's financial support for families of those fallen heroes who have lost their lives as a result of hostile action. All donations go directly to the qualifying families in need. To purchase tickets or sponsorship, visit foldedflagfoundationtion.org.
Blind Children's Foundation holds Ladybug Ball
Nevada Blind Children's Foundation (NBCF) will host its ninth annual Ladybug Ball at the Bellagio at 6 p.m. on April 7. MGM Resorts Foundation will be honored for its longtime support of NBCF and its positive impact in the lives of children with visual impairments in the Las Vegas community.
Guests of the Ladybug Ball will be treated to a hosted cocktail reception, multicourse gourmet meal with wine pairings, live and silent auctions, entertainment, dancing anda VIP after-party.
"As a leader in community engagement, MGM Resorts Foundation has long supported NBCF's mission to serve children with visual impairments," said Emily Smith, NBCF executive director. "By providing grants to fund educational programs, arranging volunteer service opportunities, and sponsoring special events, such as the Ladybug Ball, MGM Resorts Foundation has proven its commitment to making the Las Vegas community strong."
Proceeds from the Ladybug Ball remain local, providing education, recreation, programs and services for blind and low-vision youth in Southern Nevada. Individual tickets are available for $300 or $3,000 for a table of 10. Sponsorships and advertising opportunities also are available. To purchase tickets or get more information about the event, visit www.nvblindchildren.org.
Founded in 2006, by Kevin and Toni Spilsbury, Nevada Blind Children's Foundation is the only nonprofit organization solely dedicated to improving the lives of Southern Nevada children, ages 0-22, who are visually impaired. NBCF provides comprehensive services for children and their families including, advocacy, family support, health services, education and adaptive recreation programs and life skills and employment training for visually impaired and blind young adults.