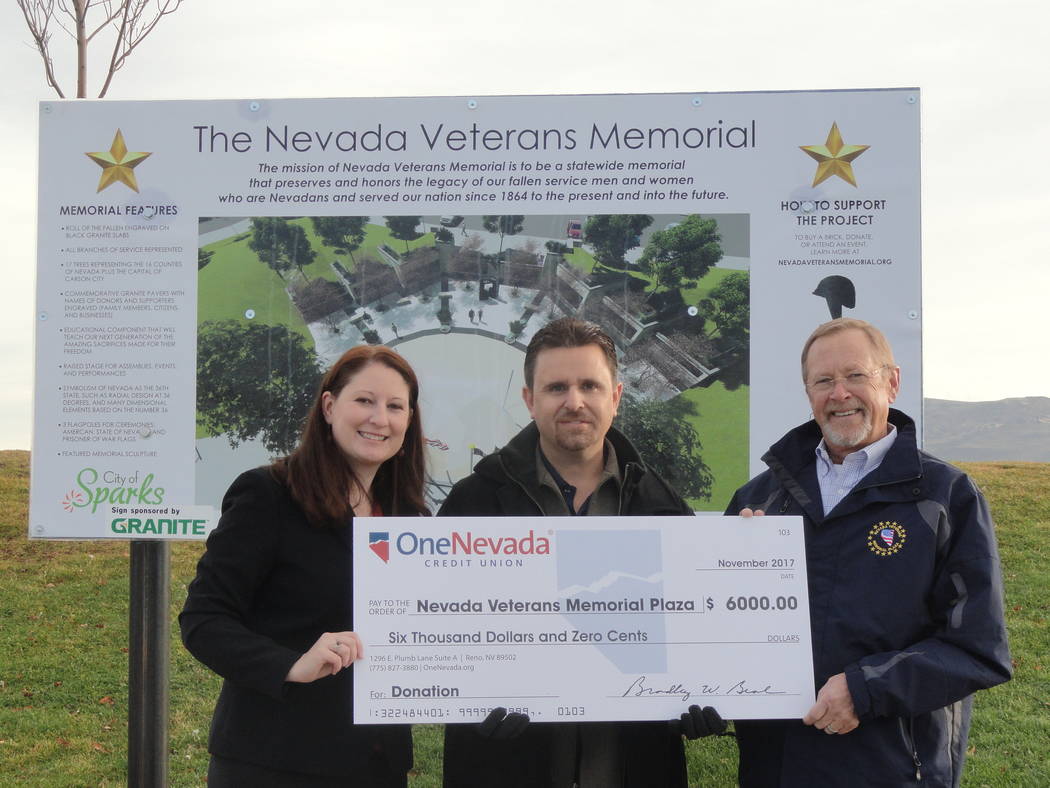 Bank of America recognizes Giving Tuesday with $117,500 for local nonprofits
Bank of America today announced $117,500 in economic mobility grants to be awarded to eight nonprofits working on community revitalization efforts in the Las Vegas community. These nonprofits provide solutions addressing a range of economic development issues from affordable housing and small business microloans, to arts and cultural programming.
As the cost of living continues to increase across Southern Nevada, with the Greater Las Vegas Association of Realtors reporting double-digit home sale price increases over last year alone and the National Low Income Housing Coalition noting Las Vegas as having the biggest shortage of affordable housing available for rent, resources like those provided by the grant recipients can help bridge the affordability gap.
"The growing gap between housing costs and wages is one of the biggest obstacles to economic growth impacting neighborhoods, so these grants support nonprofits working to remove barriers contributing to that gap. By helping with housing costs, small business capital and sustainable workforce opportunities, we can take a communitywide approach to economic revitalization in Southern Nevada," said Al Welch, Las Vegas market president, Bank of America. "
Among the nonprofits receiving grants is Financial Guidance Center, which will use the funding to support programs such as A Home of My Own, a first time homebuyer counseling, coaching, education and down payment assistance program.
"In partnership with Bank of America, and through A Home of My Own, we will be able to continue promoting economic security through financially responsible behavior to all consumers, regardless of the ability to pay," said Michele Johnson, president and CEO of Financial Guidance Center. "Through the grant funding and volunteer support from Bank of America, we look forward to meeting the needs of the Las Vegas community and creating even greater impact."
Organizations receiving community development grants include: Accion, Blind Center of Nevada, Consumer Credit Counseling Service/Financial Guidance Center, Joy Prom Las Vegas, Las Vegas Natural History Museum, Nevada HAND, The Smith Center for the Performing Arts and Women's Development Center.
Wynn Las Vegas to donate 8,000 pairs of socks to Project 150
For the third consecutive year, Project 150 has partnered with Wynn Las Vegas to collect new socks for disadvantaged high school students during an annual monthlong drive. With donations quadrupling since the first year, more than 8,000 pairs of socks were collected. In addition, Wynn Las Vegas is donating one dollar per pair collected to Project 150.
There are more than 3,300 registered homeless, displaced and disadvantaged high school students in Clark County. Project 150 helps these students stay in school by providing clothing, food, hygiene items and school supplies.
"Wynn employees and our valued customers are proud to come together in support of Project 150 and the vital services they offer," said Chris Flatt, executive vice president of hotel sales and marketing at Wynn. "Every donation of essential clothing items helps eliminate unnecessary worry, providing the chance for students to focus on what matters most: succeeding in the classroom."
Nathan Adelson Hospice receives $570,000 grant
Carole Fisher, president and CEO of Nathan Adelson Hospice, announced the Elaine P. Wynn & Family Foundation provided a $570,000 grant to help fund the Nathan Adelson Hospice, Elaine Wynn Palliative Care Program.
The goal of the Elaine Wynn Palliative Care Program is to improve the quality of life for patients and their family members facing debilitating physical, emotional and social issues associated with an advanced illness. This program provides a unique and innovative interdisciplinary approach to care coordination across settings. As the expert in hospice and palliative medicine in Southern Nevada since 1978, Nathan Adelson Hospice is the best organization equipped to address such an important matter in our community.
"We are very grateful for the Elaine P. Wynn & Family Foundation's generosity. The donation will help to improve the quality of life for patients and their families," Fisher said. "Contributions like this help thousands of community members in a variety of ways."
Palliative care is a rapidly growing medical specialty aimed at improving quality of life for people with serious illness and their families. Although palliative care is associated with better quality of care and lower costs, access to it is limited mostly to hospitals and, for those who are dying soon, hospice. Making palliative care available to the larger population of the seriously ill who are receiving care in the community settings where they live, is the single largest opportunity to improve value in the U.S. health care system. Patients and families coping with serious illness want and need access to the quality of life that palliative care provides. This donation will decrease unnecessary suffering and improve the quality of life for our community's most fragile.
Local animal rescues and shelters get $12,000
The Family, Fur & Fun Festival raised more than $12,000 for animal shelters and rescues in Southern Nevada. The annual event held at Exploration Park in Mountain's Edge educates the public about the importance of helping, fostering and adopting abandoned and neglected animals and proper care for pets and provides a fun day for people and their pets.
During the festival, six dogs were adopted, including River, a blind dog rescued by On My Way Home Rescue. In addition, seven rescue organizations had the opportunity to educate the public about their work in the community, collect donations and sell products. They included: Animal Help Alliance, The Churchill Foundation, Hearts Alive Village, Chi of Hearts, Las Vegas Hot Diggity Dachshund Club and Rescue, On My Way Home Rescue and Paws 4 Love.
Funds at the free event were raised through a raffle and the Halloween Pet Costume Contest, the latter hosted by The Las Vegas Hot-Diggity Dachshund Club and Rescue.
The Family, Fur & Fun Festival was sponsored by Americana Restaurant, Bulldog AC and Heating, Joyce and Associates, Law Offices of Donna Stidham, Maupin Nalor Brastor Attorneys at Law, Mountain's Edge, Nutrisource, Pictographics and Camp Bow Wow.
Pinot's Palette Studios raises nearly $12,000 for Las Vegas Victims' Fund
Pinot's Palette, the popular paint-and-sip studio with three Southern Nevada locations, raised $11,821 for the Las Vegas Victims' Fund. Throughout the month of October all three locations held Painting It Forward classes featuring custom "Vegas Strong" paintings. A portion of the proceeds from each class was donated to the Victims' Fund.
Pinot's Palette owners Reed and Judy Alewel presented the check to Commissioner Steve Sisolak, who started the GoFundMe campaign to raise money for the victims of Oct. 1.
With more than 170 locations open or under development across 35 states and Canada, Pinot's Palette is the world's fastest growing paint-and-sip franchise. Guests enjoy a "no skills required" art class — all supplies included — directed by trained, local artists, who guide guests step by step through a featured painting. By bringing fun, modern and creative ideas to their events, Pinot's Palette curates a unique, rewarding experience while providing a worthwhile contribution to the community.
Smith's donates pumpkin pies to Three Square Food Bank
Smith's Southern Nevada grocery stores donated 2,500 pumpkin pies to Three Square Food Bank Nov 15. These pies were distributed to Three Square's network of community partners, who are able to reach families on the front lines of hunger.
"The holidays are a time for sharing food and enjoying the fruits of the season. We want to help spread holiday cheer by topping off their meal with pumpkin pie," said Marsha Gilford, vice president of public affairs for Smith's.
Smith's is a division of the Kroger Co., one of the nation's largest grocery retailers, operates 140 stores in seven Western states including seven in Northern Nevada and 37 in Southern Nevada. Smith's charitable giving, in partnership with more than 5,000 Nevada associates, generous customers and suppliers totaled $4.2 million in cash and food products to nonprofit organizations in 2015.
One Nevada Credit Union donates $6,000 to Nevada Veterans Memorial Plaza
Thanksgiving is a time for reflection and showing appreciation. One Nevada Credit Union has donated $6,000 to the Nevada Veterans Memorial Plaza project to express gratitude for the men and women who made the ultimate sacrifice.
The mission of the Nevada Veterans Memorial Plaza is to preserve and honor the legacy of fallen Nevada service men and women. The organization is building a new memorial plaza for the entire state that will be located at the Sparks Marina in northern Nevada. The memorial will bear the names of all 834 servicemen and servicewomen and those in the future, from all Nevada counties.
"One Nevada is honored to sponsor the Air Force bench area in the Veterans Memorial Plaza," said Lisa Jansen, assistant vice president of community relations at One Nevada. "Our credit union started at Nellis Air Force base, and we've proudly served the financial needs of the Nevada Air National Guard and Creech Air Force base personnel and civilian employees for many years. We feel so thankful that we are able to support this important community project."
The Nevada Veterans Memorial Plaza is a privately funded project. They have secured many significant contributions for the multimillion dollar project and continue to seek donations from the community and Nevada businesses.