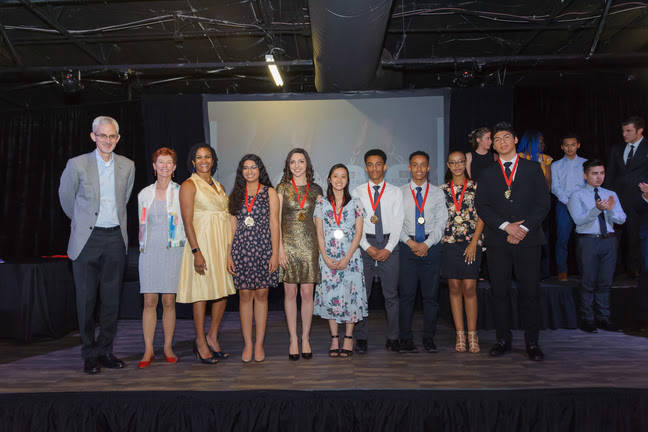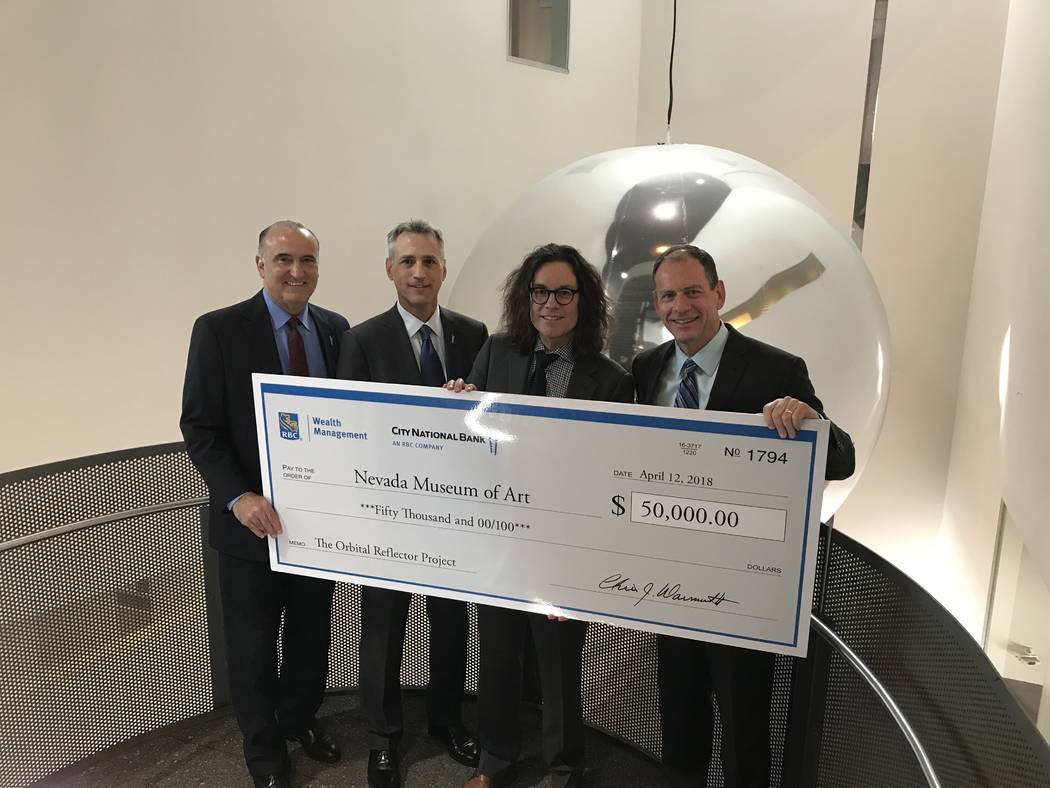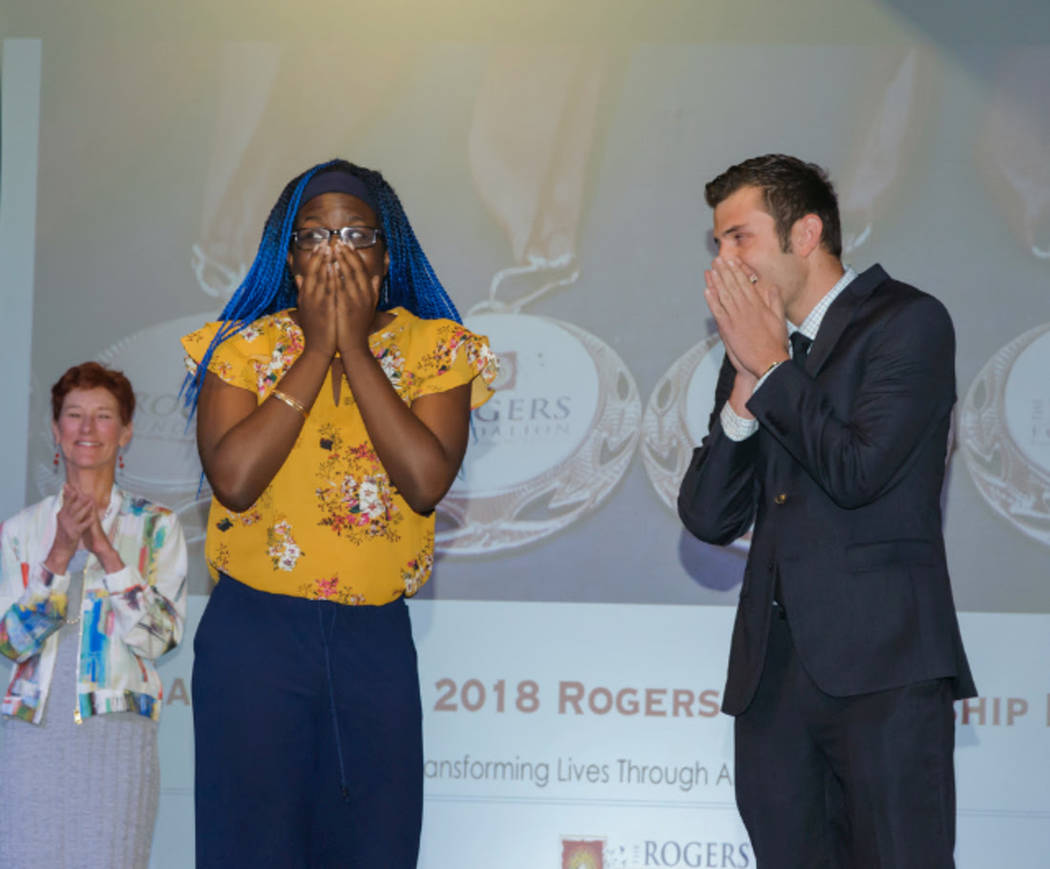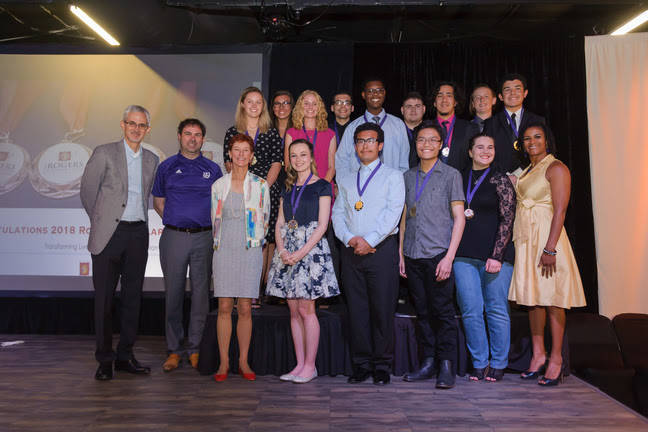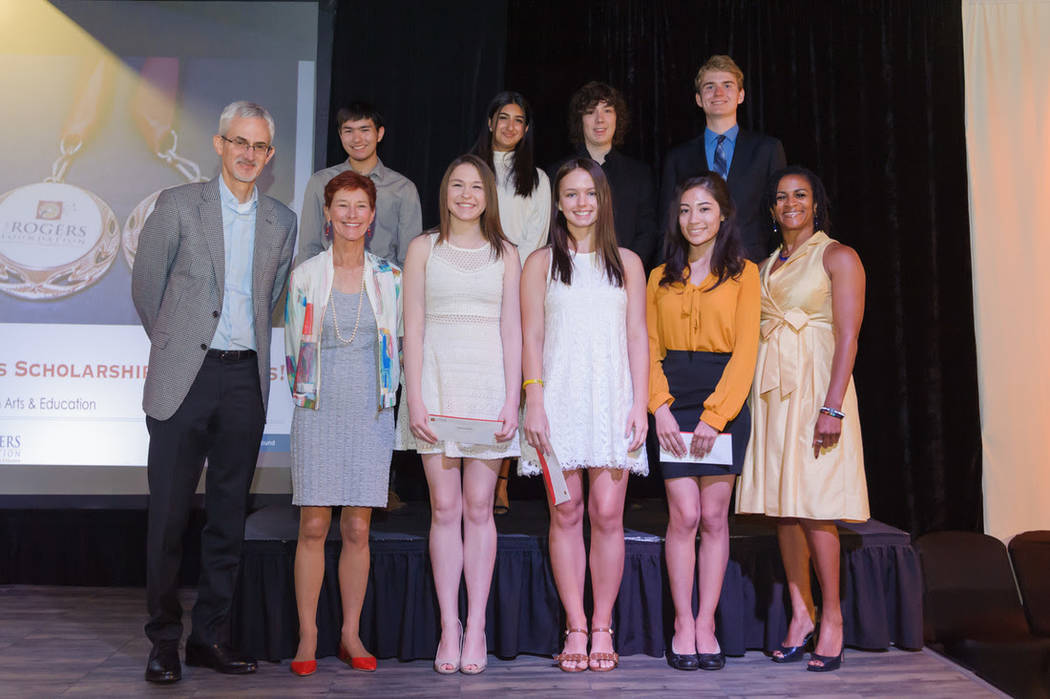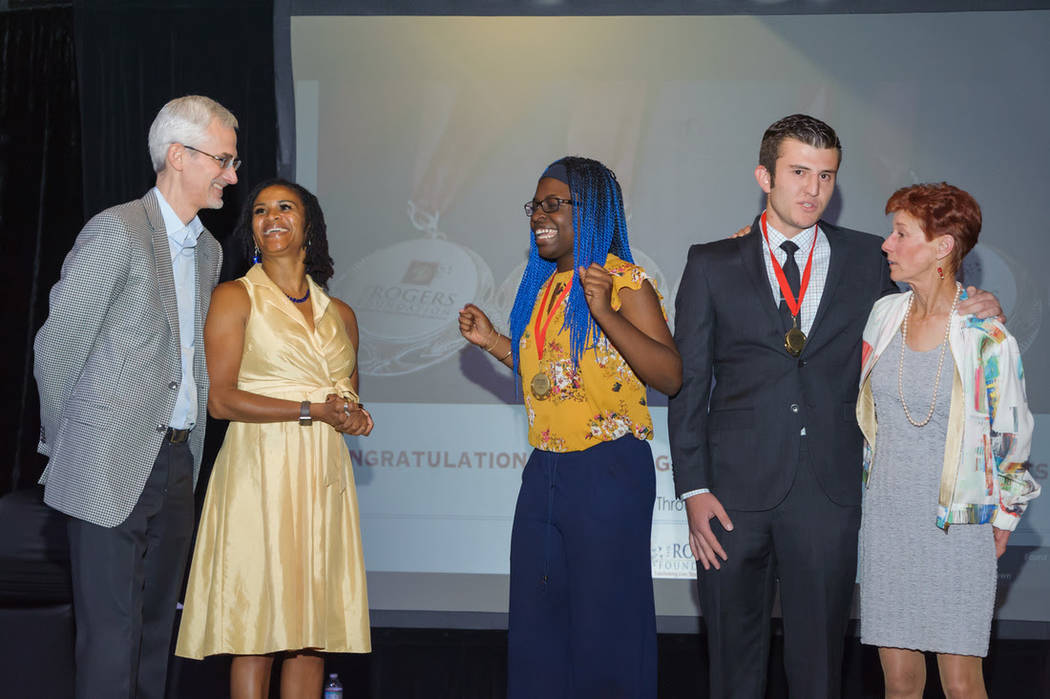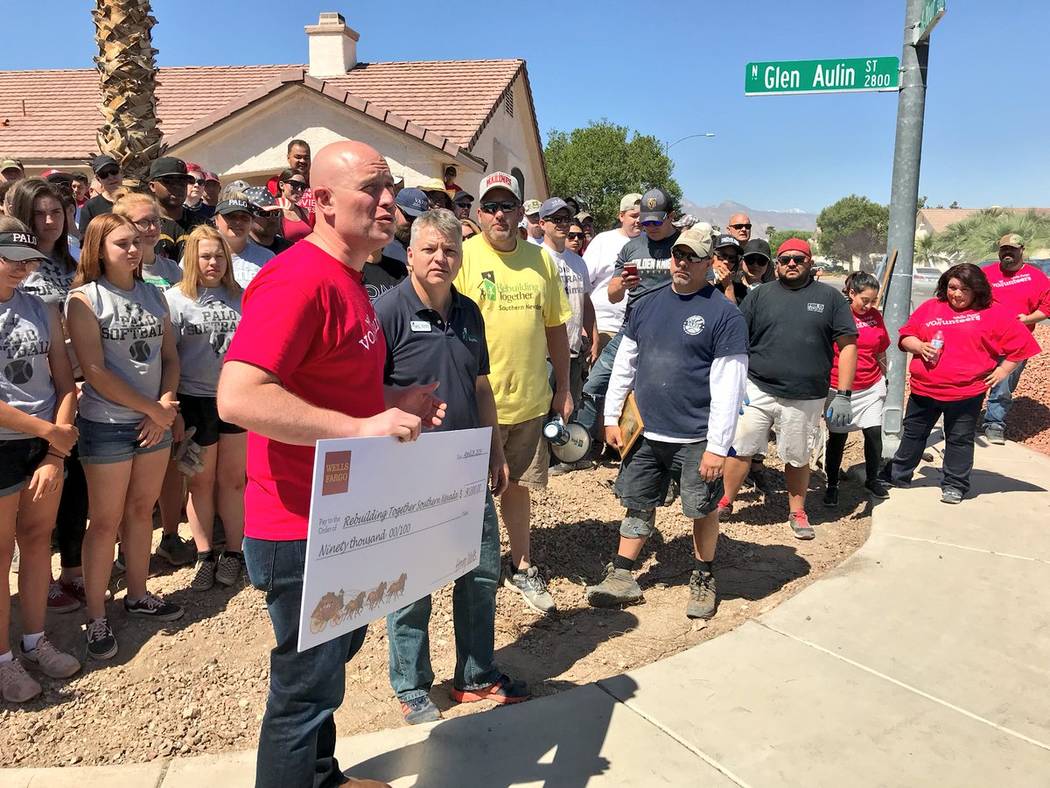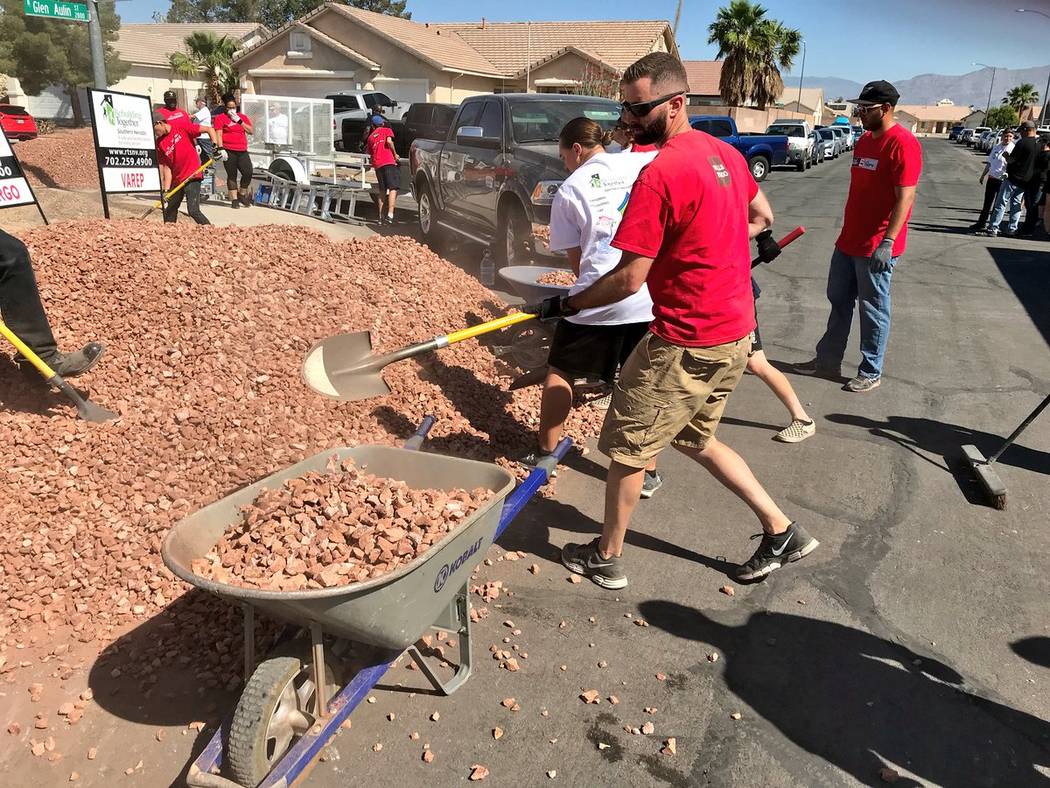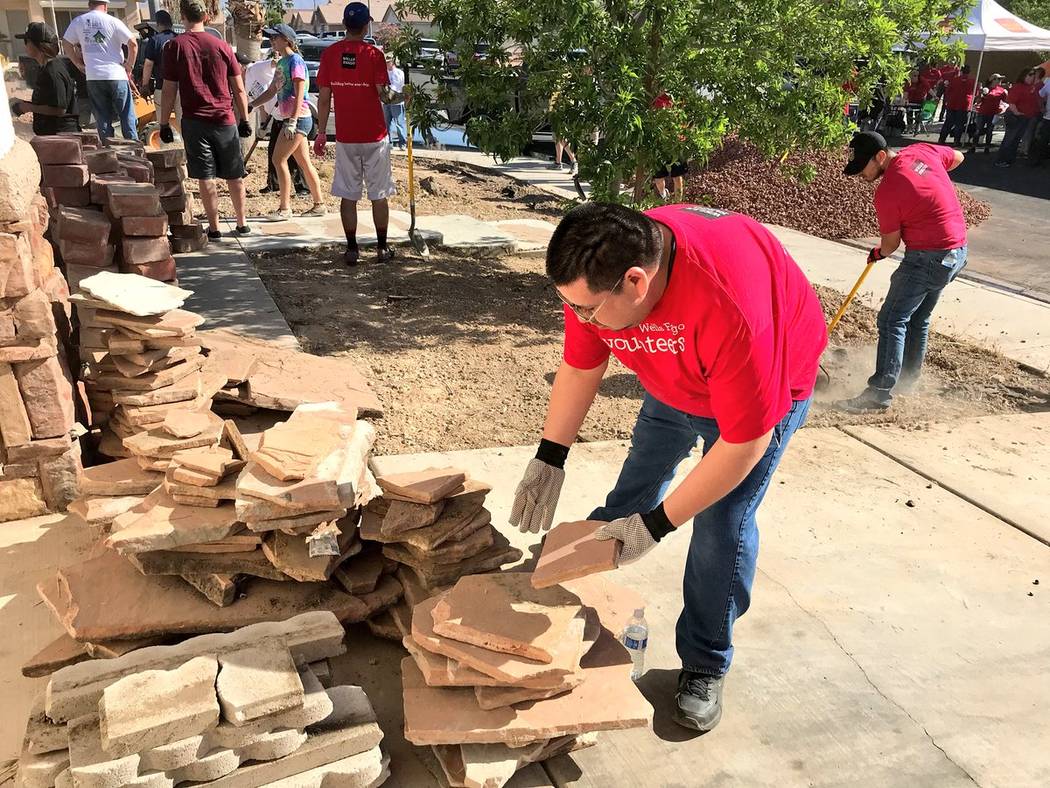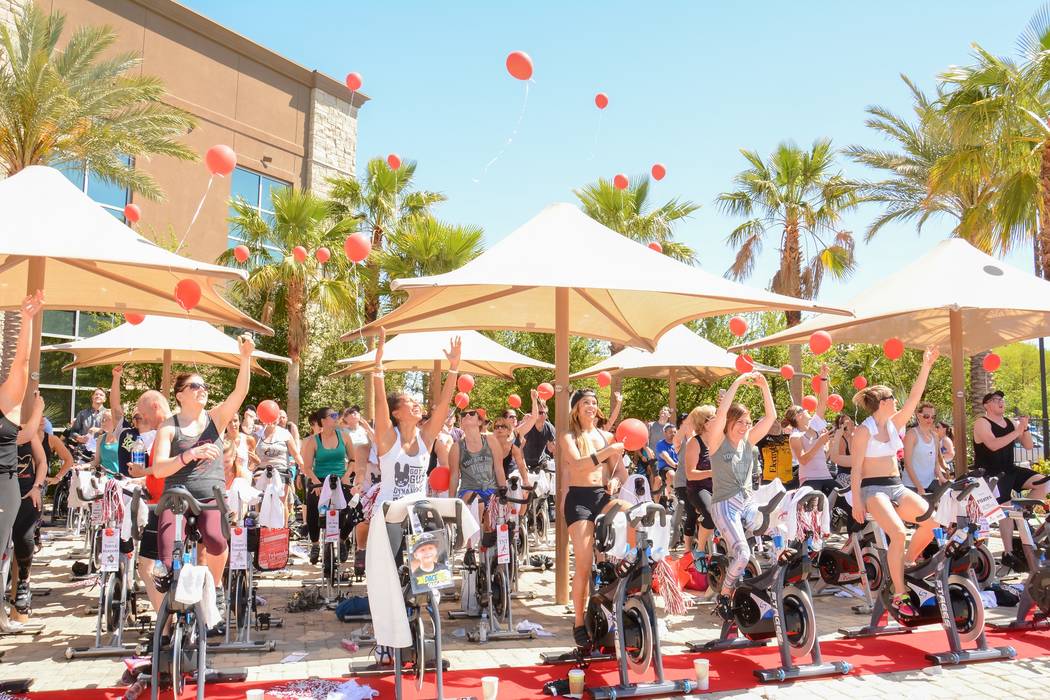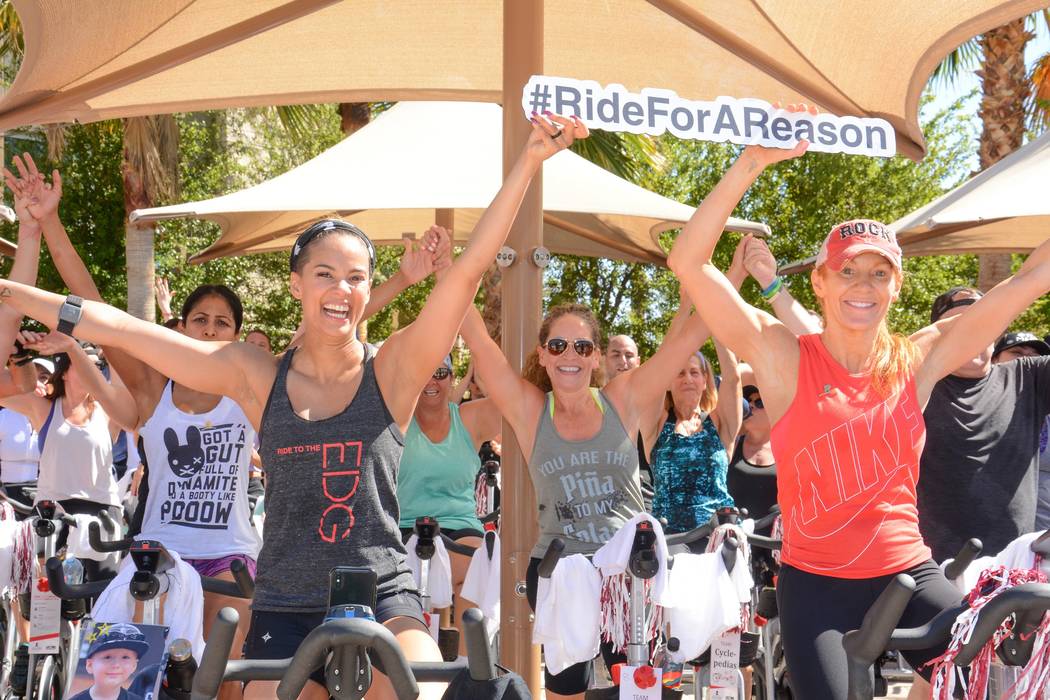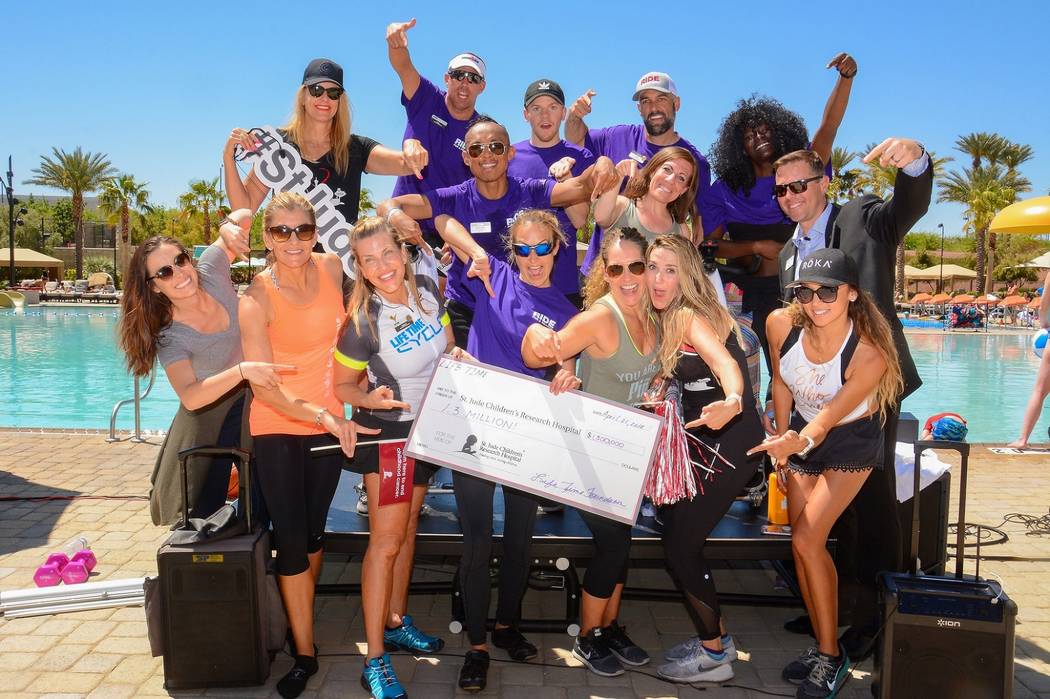 ROGERS FOUNDATION AWARDS $2M IN COLLEGE SCHOLARSHIPS
On April 21, The Rogers Foundation awarded 38 Clark County School District high school seniors with more than $2 million in college scholarships. While some of the students knew they had won something, most were surprised by the amounts when they were revealed at a special banquet and ceremony held for the students and their families at the Industrial Event Space.
For the first time ever, in a surprise move, The Rogers Foundation awarded two of the top $100,000 Rogers Foundation Achievers Scholarships. They also awarded two additional $20,000 scholarships and two additional full-ride scholarships to Kentucky Wesleyan.
"It's never happened before but this year there was a tie for the top award of $100,000," said Beverly Rogers, chairman of the board, The Rogers Foundation. "These two students were both so remarkable that we knew we had to award each of them the full amount. We are thrilled to be able to assist all these students who have worked so hard throughout their academic lives so far. We know they are going to do amazing things."
After reading through hundreds of applications, The Rogers Foundation narrowed the pool down and called dozens of students in for interviews. After committee discussions, 38 students were selected.
The scholarships were broken up into three categories:
• The Rogers Foundation Achievers
With the addition of three extra scholarships, a total of 14 Rogers Foundation Achievers scholarships were awarded. Recipients have the opportunity to use their scholarships at any college or university in the country. Of the 14, seven students received $20,000 scholarships, five received $40,000 scholarships and two received the $100,000 scholarship. The scholarship amount is divided over the course of the four years.
• Kentucky Wesleyan Rogers' Fellows
A total of 14 Rogers' Fellows scholarships were awarded. Recipients will have all college expenses paid for at Kentucky Wesleyan College, an institution close to The Rogers Foundation, and the alma mater of many in the Rogers family. Over the coming years, The Rogers Foundation will provide $10 million in total to cultivate a community of Southern Nevada scholars at Kentucky Wesleyan College.
• Books and Supplies Allowance (BASA)
New this year, The Rogers Foundation-Chapman Dodge Book and Supplies Allowance. This is a one-time $500 award that may be used by the recipient for books and or supplies at any institution of higher education. Ten BASA scholarships were awarded.
The Rogers Foundation plans to continue awarding college scholarships every year and announced that in 2019, they will introduce a Rogers Foundation Alumni Association to keep all scholarship recipients connected and provide a networking resource as they pursue their careers.
CITY NATIONAL, RBC WEALTH MANAGEMENT SUPPORT NEVADA MUSEUM PROJECT
City National Bank and RBCWealth Management has announced that they have provided the Nevada Museum of Art with $50,000 in support of artist Trevor Paglen's Orbital Reflector project, which is scheduled to launch in October. This is the second major event in Northern Nevada that City National and RBC Wealth Management have done together since the two companies merged two and a half years ago.
Paglen, the American artist behind Orbital Reflector, is a 2017 MacArthur Fellow. His work deliberately blurs lines between science, contemporary art, journalism and other disciplines to construct unfamiliar, yet meticulously researched, ways to see and interpret the world. He is best known for his documentation and critique of surveillance in the 21st century. Paglen's work is included in the collections of the Metropolitan Museum of Art; the San Francisco Museum of Modern Art; the Smithsonian American Art Museum; the Whitney Museum of American Art; Berkeley Art Museum; the Solomon R. Guggenheim Museum, New York; Victoria and Albert Museum, London; and the Nevada Museum of Art.
Paglen's Orbital Reflector, co-produced and presented by the Nevada Museum of Art, is a satellite that will have no commercial, military or scientific purpose. Instead, it will be a public sculpture, visible from the ground without a telescope — a satellite that belongs to everyone. The satellite consists of a sculpture constructed of a lightweight material similar to Mylar. It is housed in a small box-like infrastructure known as a CubeSat and launched into space aboard a rocket. Once in low Earth orbit at a distance of about 350 miles (575 kilometers) from Earth, the CubeSat opens and releases the sculpture, which self-inflates like a balloon. Sunlight reflects onto the sculpture making it visible from Earth with the naked eye — like a slowly moving artificial star as bright as a star in the Big Dipper.
Orbital Reflector is uniquely poised to bring art and design-based thinking to the forefront of STEAM Education. In the near future, the Nevada Museum of Art Orbital Reflector website will contain lesson plans aligned with National Core Arts Standards for students in grades 9-12. Through these learning opportunities, students can explore, contextualize and make meaning from this innovative and interdisciplinary project.
Global Western is an aerospace firm working with Trevor Paglen and the Nevada Museum of Art to design and manufacture Orbital Reflector. Spaceflight Industries will arrange for the launch of Orbital Reflector on board a SpaceX Falcon 9 rocket. SpaceX has recently completed successful missions in collaboration with NASA and the International Space Station.
Work began on this multiyear endeavor in 2015. An early model for Orbital Reflector hangs in the Nevada Museum of Art, Donald W. Reynolds Grand Hall. The Museum announced the Orbital Reflector project at its 2017 Art + Environment Conference, where artist Trevor Paglen was a keynote presenter. An archive-based interpretive exhibition about the project will open at the Museum in June.
MGM RESORTS GIVES $25K TO UNLV UNIVERSITY LIBRARIES LATINX VOICES
MGM Resorts International has announced that it will provide $25,000 to support the UNLV University Libraries' Latinx Voices of Southern Nevada project.
"We greatly appreciate the support of MGM Resorts in funding this important project to expand the Las Vegas and Southern Nevada historical record to include more stories highlighting our region's Latinx communities," said Maggie Farrell, dean of the UNLV University Libraries. "Approximately 29 percent of Southern Nevada residents and more than 25 percent of UNLV's student body are Latinx. Through the support of MGM Resorts, we will ensure that the contributions of these diverse communities are preserved so that future generations can learn more about their achievements, aspirations and experiences."
The MGM gift will be matched by a National Endowment for the Humanities Challenge Grant that was awarded to UNLV University Libraries in December 2017.
"MGM Resorts remains committed to our long-standing support of the Latinx communities here in Las Vegas," said Tony Gladney, vice president of National Diversity Relations. "We are glad we could be a part of this innovative story-telling project, which will help future generations learn about their heritage and the achievements of those in the Latinx community."
Latinx Voices of Southern Nevada is an oral history and community engagement project aimed at expanding the diversity of the voices that UNLV University Libraries Special Collections and Archives preserves.
"By collecting these stories, we will weave a more diverse, comprehensive tapestry about the lives and thoughts of all our residents for future study," said Michelle Light, director of Special Collections and Archives. "With the generous support of MGM Resorts, we will begin hiring and training students to collect these oral histories."
Under the direction of Claytee White, director of the Oral History Research Center and project coordinator Barbara Tabach, UNLV University Libraries will hire eight to 12 bilingual UNLV students to collect 90 oral histories for the project. The UNLV University Libraries will host three community events to encourage dialogue between generations about their experiences living and working in Southern Nevada.
For more information about contributing to the Latinx Voices of Southern Nevada project, contact Kelly McCarthy, director of development for UNLV University Libraries, at 702-895-2239 or kelly.mccarthy@unlv.edu.
WELLS FARGO CONTRIBUTES $190K AFFORDABLE LAS VEGAS HOUSING
Wells Fargo & Co. has announced a total of $190,000 in donations for three local nonprofits for affordable and transitional housing in Las Vegas.
The Wells Fargo grants are intended to support neighborhood revitalization efforts through the Wells Fargo NeighborhoodLIFT program and from the Wells Fargo Housing Foundation.
Wells Fargo NeighborhoodLIFT program local initiative grants will be awarded to the following Las Vegas nonprofits:
• Family Promise of Las Vegas will receive $50,000 to support The Bridge Home, which provides rental assistance for about 50 families committed to gaining employment and finding stable housing to avoid homelessness. The program also will provide financial management classes.
• Rebuilding Together Southern Nevada will receive $50,000 to help low-income seniors maintain their personal independence and safely stay in their homes by making necessary repairs. An additional $40,000 will be awarded through the Wells Fargo Housing Foundation Team Member Volunteer Program that will include Wells Fargo volunteers contributing to make repairs on two affordable homes. Since organizing its first volunteer activity more than 20 years ago, the Team Member Volunteer Program has worked on more than 250 projects with Rebuilding Together.
• United Way of Southern Nevada will receive $50,000 to support the Family and Child Empowerment program, which will focus on stabilizing families that are at risk of homelessness. By reducing evictions through financial support and coaching, the program aims to take families from public housing to homeownership.
The NeighborhoodLIFT program local initiative grants are part of an initiative expanded to the Las Vegas Valley in March 2017 with a $5 million commitment by Wells Fargo to boost local homeownership and revitalize neighborhoods. That event followed the successful 2012 NeighborhoodLIFT program that included a $9 million commitment for Las Vegas and North Las Vegas that created 422 homeowners. The two NeighborhoodLIFT program launches combined created more than 970 homeowners in the area by offering homebuyer education plus matching down payment assistance grants.
"Wells Fargo cares about our communities, and we are making these investments to continue efforts to strengthen the Las Vegas Valley," said Brian Formisano, Nevada Southern Region bank president for Wells Fargo. "Working together, we are committed to strengthening neighborhoods and helping make homeownership more affordable, achievable and sustainable."
TEN LOCAL HIGH SCHOOL SENIORS SHARE $35K IN COX DIVERSITY SCHOLARSHIPS
Cox Las Vegas, in partnership with local diverse organizations, presented $35,000 in diversity scholarships to 10 college-bound, local high school seniors as part of its Cox Diversity Scholarship program April 26 in the clubhouse at TPC Summerlin, 1700 Village Center Circle.
With the 2018 presentation, Cox Las Vegas has now awarded the full amount of its $175,000, five-year commitment to fund higher education diversity scholarships, with each new scholarship recipient having received a $3,500 award since 2014 in support of their post-secondary education. The current award cycle represents year five of the five-year commitment.
Partnering local diverse organizations include: Aid for AIDS of Nevada (AFAN); Asian Community Development Council; Chicanos Por La Causa; Gay & Lesbian Chamber of Commerce; Girls on the Run; Junior League of Las Vegas; Organization of Chinese Americans; Puerto Rican Association of Las Vegas, Theta Pi Lambda Foundation and the Urban Chamber of Commerce
Managed through the Public Education Foundation, the Cox Diversity Scholarships program is a competitive award that requires applicants to graduate with at least a 2.5 grade-point average, provide demonstrated leadership and community service, and submit an essay focused on a significant leader from their respective diverse communities.
LIFE TIME ATHLETIC GREEN VALLEY HOSTS FUNDRAISER
Life Time Athletic Green Valley hosted its annual cycling fundraiser, Ride for a Reason,to benefit St. Jude Children's Research Hospital and the Life Time Foundation.
A total of 100 teams, consisting of over 350 riders participated in a four-hour cycling relay ride set to high-energy, pulse-pounding music on Life Time's expansive, resort-style pool deck. Cyclists cheered on their teammates as each rider took turns pedaling through one hour of Life Time's new signature cycle formats: AMP, EDG and PWR.
Riders raised more than $57,000 to help St. Jude continue to go the distance for children battling cancer and their families, and to support the Life Time Foundation's efforts to improve children's nutrition in schools across America.
During the 10 a.m. hour, 94 balloons were released into the sky representing the 94 percent survival rate since St. Jude opened its doors. Following the release, Life Time sent off another 58 balloons honoring the victims of Oct. 1.