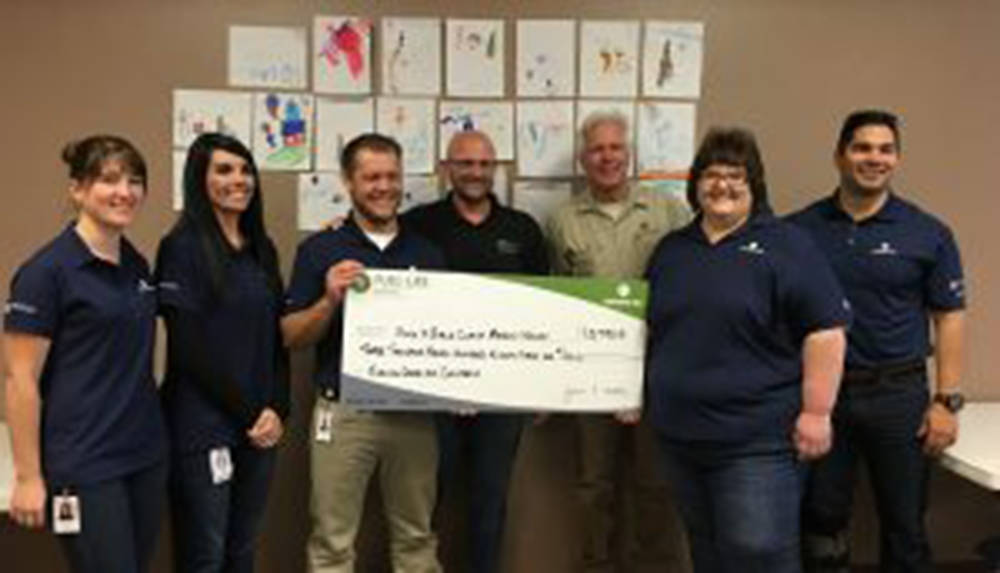 Southwest Gas presents donation to Boys & Girls Clubs of Mason Valley
As part of its employee charitable giving campaign, Fuel for Life, Southwest Gas presented a check for $3,793.51 to Travis Crowder, chief professional officer for the Boys & Girls Clubs of Mason Valley. Employees selected Boys & Girls Clubs of Mason Valley as a nonprofit of choice in Fuel for Life for the program's two-year giving cycle for 2017-2018. Stacy Woodbury, Southwest Gas administrator/public affairs, said the program's commitment to the clubs is $3,793.51 during 2017, and at the end of calendar year 2017, Southwest Gas employees will have contributed nearly $15,000 to the Club over the past five years.
The Shade Tree receives technology upgrades from local businesses
In a partnership with the city of North Las Vegas, Square Panda Inc. donated its multisensory phonics learning systems to The Shade Tree, providing children at the shelter access to the latest educational technology tool that helps build early literacy skills and reading confidence. The Shade Tree, which provides 24-hour shelter to women and children in crisis, was also upgraded with complete Wi-Fi capabilities as a result of combined efforts from iTech Las Vegas, DSK Communications and Well Equipment Inc.
The Shade Tree is Southern Nevada's only 24-hour accessible emergency shelter for women and children in crisis, providing more than 100,000 nights of shelter, supplying more than 165,000 meals every year and servicing over 6,000 women and children annually. Square Panda is an award-winning multisensory phonics learning system that combines physical smart letters with a library of engaging and age-appropriate learning games that build reading readiness skills.
Urban Seed Foundation kicks off weeklong fundraising event
In partnership with Urban Seed Inc., Green Our Planet and other community collaborators including The Engler Institute of Music, the newly launched Urban Seed Foundation kicked off a weeklong fundraising event to raise $100,000 to advance its mission to create fresh-food ecosystems, end food deserts in Las Vegas and create a sustainable model for at-risk communities. The event concluded with a community 5K2FARM Run and Fundraiser, which will fund North Las Vegas' largest school garden at Somerset Academy, Losee Campus.
Raising Cane's to provide barbecue for vets
As part of an annual Fourth of July event, MRG Marketing and Management Inc., franchise partner of Raising Cane's Chicken Fingers, donated $5,000 to throw a barbecue party for Las Vegas veterans. It's part of the MGM Marketing's Community Strong initiative.
Raising Cane's 40 volunteers will gather at the United States Veterans Initiative (U.S. VETS) Las Vegas location at 525 E. Bonanza Road for a celebratory holiday barbecue where they will prepare, decorate and serve food at the event. In addition to the BBQ, volunteers will create thank-you cards for the veterans and distribute hygiene packs.
U.S. VETS is a private nonprofit organization that provides housing, employment and counseling services to veterans.
Men's Warehouse to participate in HELP of Southern Nevada clothing drive
HELP of Southern Nevada is partnering with Men's Wearhouse to collect gently used professional attire for local individuals in need through July 30. The drive is part of Men's Wearhouse's 10th annual National Suit Drive, a monthlong initiative that collects gently used, professional clothing for Americans transitioning back into the workforce.
Beginning July 1, donations of gently used professional clothing, including men's and women's suits, ties, jackets, shirts pants, belts and shoes will be accepted at all Las Vegas area Men's Wearhouse stores. Donated items will be collected by HELP of Southern Nevada and distributed to eligible job-seekers throughout the community. As a thank you to those who donate, Men's Wearhouse will offer 50 percent off regular-priced retail items excluding shoes, clearance and exceptional value items during their next visit.
For more information, visit www.nationalsuitdrive.com.
HELP of Southern Nevada operates nine departments, consists of 108 employees and serves tens of thousands of clients each year. The services HELP provides assist low-income families, homeless teens and adults among other individuals, to become more self-sufficient through direct services, trainings and referrals. Programs available include Shannon West Homeless Youth Center, Emergency Resources Services, Framing Hope Warehouse, Weatherization, Work Opportunities Readiness Center, Holiday Assistance, Homeless Outreach, Mobile Crisis Intervention Team and Behavioral Health Services. For more information, call HELP of Southern Nevada at 702-369-4357 or visit www.helpsonv.org.