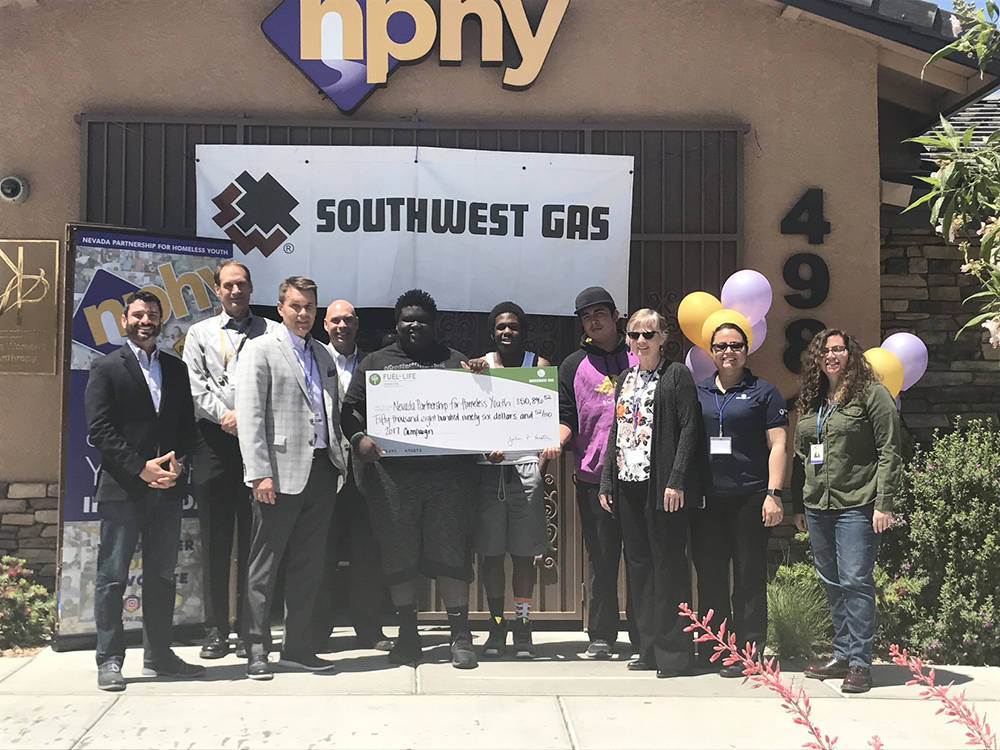 Southwest Gas Vice President-Regulation and Public Affairs Justin Brown, along with other members of the Southwest Gas team, joined Nevada Partnership for Homeless Youth representatives and youth clients at the nonprofit's Drop-In Center to present a donation of more than $50,000 to support the organization's continued battle against youth homelessness. The check represents money raised during Southwest Gas's 2016/2017 Fuel for Life campaign, which came from many different employees donating from each paycheck.
The donation will go toward NPHY programs that help stabilize the lives of homeless youth and get them onto a pathway of self-sufficiency. These direct services for homeless youth include outreach, emergency shelter, the Safe Place Mobile Crisis Intervention Program, the Independent Living Program, Operation Go Home family reunification and Drop-In Center services such as food, hygiene supplies, identification and birth certificates, bus passes, employment and education assistance, case management from licensed social workers, counseling and legal aid.
Local team prepares to honor lost loves ones with 545-mile ride
A team of Southern Nevadans left their desks for San Francisco to embark on a seven-day, 545-mile bike ride to Los Angeles to raise awareness and funds to end AIDS. Bank of America represents one of the largest corporate teams in the annual ride. This year, with 40 employees coast to coast joining the Las Vegas contingent, the team hopes to surpass the $1 million mark in funds raised in its fourth year riding as a team.
The AIDS/Lifecycle Ride to End AIDS kicks off June 4 and will conclude June 10. Before they left the starting line, this group of Bank of America employees were joined by their friends May 20 for practice at The Ride cycle studio, with all class proceeds going toward the charity event.
Smith's raises funds for St. Rose Dominican Children's Unit
Smith's Food &Drug stores launched its sixth annual fundraising campaign in May to benefit the St. Rose Dominican Health Foundation Charity Care Program and its Children's Miracle Network Hospital's pediatric unit at the Siena campus. Customers were invited to join store associates in fundraising efforts throughout Southern Nevada, making a donation at the check stands. The contributions will be used to assist families struggling to pay their child's medical costs after trauma or serious illness.
Since 2002, Smith's associates, suppliers and customers have contributed more than $14.5 million for children's charity care throughout Smith's seven Western states of operation.
Patients and families unite to raise funds and awareness for cures
Local patients suffering from Crohn's disease and ulcerative colitis and their families and friends raised nearly $40,000 at the recent Take Steps Community Walk for the Las Vegas chapter of the nonprofit Crohn's &Colitis Foundation at the Mountain's Edge's Exploration Park. In addition, 17-year-old Avery Link was recognized as the 2017 Take Steps Honored Hero for her continuous effort to generate awareness and educate others about inflammatory bowel diseases and where to get help by sharing her personal experience battling Crohn's disease.
Funds raised by the Crohn's &Colitis Foundation are dedicated to critical research efforts, educational resources for patients and their families, medical professionals and the public, and supportive services to improve the quality of life for afflicted children and adults.
The Smith Center receives grant from foundation
The Smith Center for the Performing Arts has received a $100,000 grant from the national William Randolph Hearst Foundation that will fund an expansion of its Southern Nevada Wolf Trap Early Learning Through the Arts program in the 2017-2018 school year. This is the first grant awarded by the Hearst Foundation to a performing arts program in Nevada.
The funding will provide professional development for 75 Southern Nevada preschool teachers through 50 in-classroom residencies. Each residency will focus on developing arts-integrated teaching strategies that will enhance the education of 1,500 preschool students from low-income households.
The Smith Center partnered in 2008 with the Wolf Trap Institute for Early Learning Through the Arts to provide the regional SNWT program, making Las Vegas one of 16 cities nationwide selected as a host city for the initiative.
Pinot's Palette partnering with shelter for drive
Pinot's Palette is partnering with The Shade Tree Women &Children's Shelter to participate in a paper icon sales campaign from June 1 to July 1, collecting monetary donations starting at $1 to benefit the shelter. Guests who make a donation of $5 or more will receive a $10 gift card to any Pinot's Palette sip-and-paint studio. Shade Tree paper icons can be purchased at any of the Pinot's Palette locations as a direct donation to the charity. Purchases are not necessary for a donation.
For more than 25 years, The Shade Tree has been dedicated to improving the lives of women, children and their pets affected by domestic violence. As the only 24-hour accessible shelter of its kind in Nevada, The Shade Tree provides help to more than 6,000 women, children and their pets each year. One hundred percent of all donation proceeds will go directly to support The Shade Tree Women &Children's shelter.
Program helps impaired youth through donation
Local blind and visually impaired students received a boost in free educational and adapted recreational programs and services thanks to the Henderson Chamber of Commerce Foundation's Leadership Henderson program, which selected the Nevada Blind Children's Foundation as the beneficiary of more than $12,000 raised during its annual Biddin' for Bottles event. Free programs and services that will be supported by the donation include one-on-one tutoring, spring break and summer day camps, Girl and Boy Scout troops and a literacy program called Booktime Buddies. Money was raised for the donation through a silent auction, a live auction, wine sponsorships, basket bids and ticket sales. Additional funds raised went toward the continual running of Leadership Henderson, a program under the nonprofit Henderson Chamber of Commerce Foundation. The Nevada Blind Children's Foundation applied to become the Leadership Henderson program's Biddin' for Bottles nonprofit partner at the encouragement of Biddin' for Bottles co-chair Lisa Drake, who has been involved with the organization for quite some time. The nonprofit was ultimately chosen by a committee. The foundation presented a check to the Blind Children's Foundation on May 24.
Firefighters of Southern Nevada Burn Foundation to host auction
Firefighters of Southern Nevada Burn Foundation will host its 17th annual Firefighter Bachelor Auction June 9 at The Foundry at SLS Las Vegas. Firefighter bachelors will be auctioned off to members of the community, paired with prize packages including premier hotel stays, a trip to Cabo San Lucas and Las Vegas show tickets. All proceeds from the auction will benefit individuals in the community through the Burn Survivor Initiative, a program that provides medical and emotional assistance to local burn survivors. For more information, visit theburnfoundation.org.
Businesses raise funds for Nevada Partnership for Homeless Youth
Community superheroes raised more than $34,000 to help the nonprofit Nevada Partnership for Homeless Youth in the battle against youth homelessness during the eight annual Homeless Youth in the Alley Bowling Tournament. The superhero-themed event's 350 participants enjoyed a raffle, photo booth and award presentations. Huntington &Ellis, A Real Estate Agency was presented with the life-size championship traveling trophy. Sletten Construction placed second, and Tropicana Las Vegas came in third.
Event proceeds allow NPHY to continue providing lifesaving services for the more than 14,000 homeless youth in Southern Nevada, helping teens get off the streets and meeting their most basic needs while fostering their transition to long-term self-sufficiency and success.
Brady donates $20k to Sunrise Mountain High School
Brady, a janitorial supply, equipment and food service distributor, announced its new charitable giving campaign, "Brady Shines," as part of its 70th anniversary celebration. President and CEO Travis Brady, awarded the first donation to Sunrise Mountain High School in April. Accepting on its behalf was Principal Julia Llapur. Sunrise Mountain High School will use the $20,000 donation to support its Aviation and Robotics Clubs, as well as the after-school bus program.
An internal committee at Brady is being formed to review future donation opportunities while a formal application process is in development to launch in summer 2017.