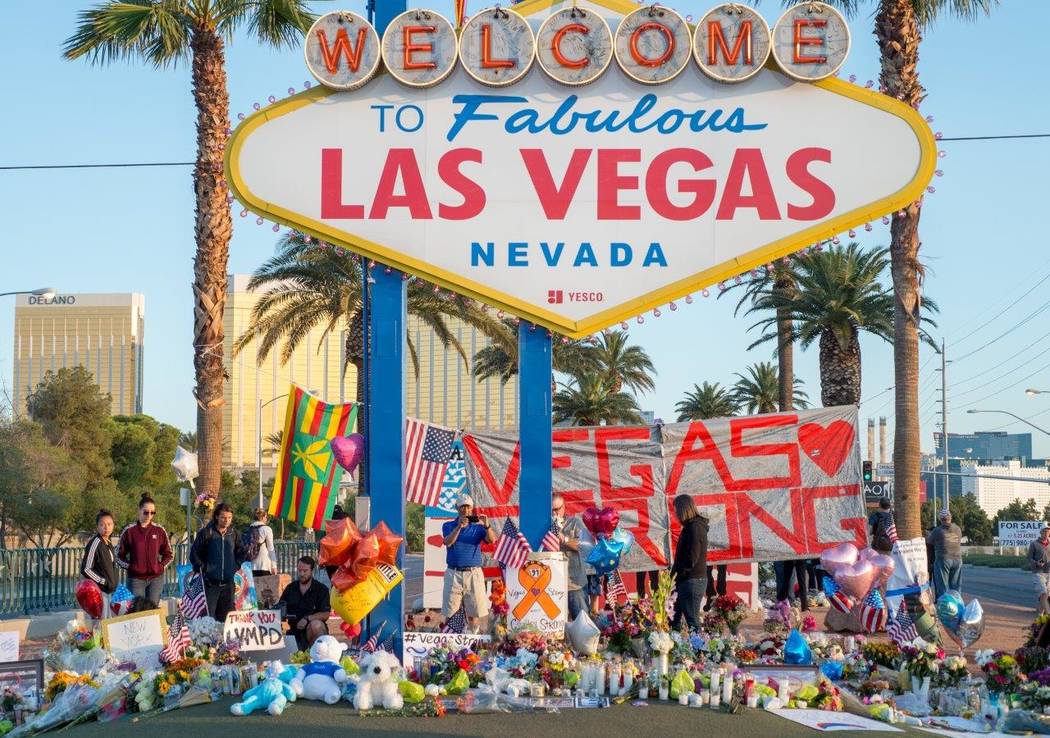 A number of Las Vegas businesses are donating money to help those affected by the Oct. 1 Las Vegas mass shooting. Others are holding fundraisers. For the next few weeks, the Giving Back feature of the Las Vegas Business Press will focus on these efforts.
• Celebrity chef Robert Irvine from the Food Network is making his new Public House restaurant at the Tropicana headquarters an Oct. 11 event paying tribute and raising funds for the victims of the Rt 91 Harvest festival gunshot massacre. Urban Seed Foundation is collaborating with MiChef Network to produce LOVE | Las Vegas Relief Fundraiser from 6:30 p.m. – 9:30 p.m.
Currently, 10 chefs have confirmed to serve and organizers say that number will grow considerably. Ken Henderson from Best Agency and Craig Nyman from Life Is Beautiful are working with local performers for the entertainment portion of the night.
The current chef lineup is: Trang Tran, Johnny Church, Todd Harrington, Sean Green, Gary LaMorte, Nicole Brisson, Emily Brubaker, Akira Back, Dan Krohmer and the DW Bistro.
• Cirque du Soleil has announced a $1 million contribution consisting of $500,000 to the shooting victims fund and 5,000 tickets to the eight Cirque shows in Las Vegas for first responders. Cirque also will take part in the upcoming Vegas Cares benefit concert.
• The Southern Nevada Home Builders Association contributed $10,000 to the Las Vegas Victims' Fund at GoFundMe.com, a fund established by Clark County Commission Chairman Steve Sisolak and Sheriff Joe Lombardo to provide relief and support for the victims of the mass shooting on the Las Vegas Strip.
"The association joins with the Las Vegas community to support the needs of those impacted by this horrific event," said SNHBA Executive Director Nat Hodgson. "Our thoughts and prayers remain with all those affected by the shooting. We hope it's a comfort knowing that thousands of people in our community care about them."
Proceeds from the association's Oktoberfest Membership Networking Mixer, hosted by the Landwell Co., the evening of Oct. 19 at the Cadence master-planned community, will be allocated for the community relief effort, Hodgson said.
"We have heard from our members who want to know what they can do to help and how they can get involved. We believe the Las Vegas Victims' Fund
• The Cosmopolitan of Las Vegas has pledged $250,000 to the Las Vegas Victims' Fund, a crowdsourcing campaign launched on GoFundMe, to help provide humanitarian aid to victims, their families and first responders.
• Dr. Lawrence Drake and the team at Abbey Dental are offering free dental services to the victims involved in the Las Vegas shooting.
"As our Las Vegas residents and our valued tourists, you did not deserve this. When you are ready to see us, we will treat any of your dental injuries free of charge. Out of respect for our great country, you will never see a bill from us here at Abbey Dental. God bless America," Drake said.
• The Las Vegas Philharmonic has altered its music selections for the Oct. 14 performance at The Smith Center in light of the city's tragedy. The organization invites all first responders from the city's police, fire and emergency medical services and hospitals, as well as the victims and their families or anyone who seeks the refuge and solace of music, to attend the concert at no charge.
Our greatest musical citizen of the world, Leonard Bernstein, once said, 'This will be our reply to violence: to make music more intensely, more beautifully, more devotedly than ever before."
"Music heals, and in response to the tragic events of Oct. 1, we are changing the program for our upcoming concert to honor and reflect upon what makes us stronger when we face the future together," said Donato Cabrera, music director. "We will now perform a program of works by Barber, Beethoven and Mozart that pays tribute to our citizens and their resilience."
The evening's musical selections now include Barber's Adagio for Strings, Beethoven's Coriolan Overture, Mozart's Clarinet Concerto and will conclude with Beethoven's Symphony No. 5. The Adagio for Strings has been performed on many public occasions around the world, especially during times of mourning. Beethoven's Fifth, and the four-note opening in particular, are known worldwide, appearing often in music, film and television. Since the Second World War, the piece has sometimes been referred to as the "Victory Symphony" and during WWII the BBC prefaced its broadcasts to Europe with those four notes.
These tickets are available on a first-come, first-served basis and supplies are limited. Tickets can be reserved at the Box Office, online or by calling 702-749-2000 and using the redemption code LVPHPM. Limit four tickets per person.
• The Southern Nevada Bluegrass Music Society has announced that the inaugural Viva Las VeGrass — Green Initiative Bluegrass Festival will donate all gate ticket sales to the Las Vegas Victims' Fund GoFundMe to benefit the victims and families of the Strip shooting that occurred on Oct. 1. The festival will take place Oct. 13-15 from 9 a.m. -9 p.m. at Craig Ranch Regional Park.
"We are devastated by the recent tragic events that occurred on the Strip, and our hearts go out to the victims and their families," said Brian Burns, president of the Southern Nevada Bluegrass Music Society. "We want to show our support for those affected by the senseless violence while also giving folks a reason to go back outside and use music to combat fear."
• Las Vegas-based Diamond Resorts International, a global leader in the hospitality and vacation ownership industries, announced that the company will match all new donations made in 2017 to the Diamond Resorts International Foundation, a recognized 501(c)(3) organization, up to $1 million. Funds raised will provide assistance to those affected by the recent violence in Las Vegas, and to team members and communities impacted by hurricanes Irma and Maria.
Donations can be made via check and sent to the attention of Keri Serrano at the Diamond Resorts International Foundation at 10600 W. Charleston Blvd., Las Vegas, Nevada 89135. If desired, donors can identify which relief effort they would like funds to be designated to in the memo section of the check. Diamond Resorts team members in the U.S. can also choose to donate via a one-time or reoccurring payroll deduction.
Diamond Resorts International Foundation is a 501(c)(3) exempt public charity. The Foundation has raised more than $2.3 million for Florida Hospital for Children since 2013, with help from the company's signature golf tournament, the Diamond Resorts Invitational. In 2014, the Foundation was also able to provide disaster relief to distressed employees in the Los Cabos, Mexico, area following widespread destruction caused by Hurricane Odile, and more recently to those affected along the east coast of Florida by Hurricane Matthew in 2016.
• Escape Reality, which holds live games, is donating $1 for every guest who enjoys one of the seven escape rooms. Funds will benefit the Las Vegas Victims Fund. Also, as a thank you to first responders for their heroism, during the months of October and November, they and up to five guests may play for Free (must show badge/ID on day of visit). Go escapereality.com/lasvegas and use discount code: LVHEROES
• Escape Adventures is offering free nature walk tours in Red Rock National Conservation Area throughout October. Call the Escape Adventures free nature walk hotline at 702-596-2953.
• In response to the recent tragedies in our family and community, Vegas PBS has created a webpage offering free resources for parents and children coping with crisis. Kid-friendly videos, hands-on activities, family resources and advice for parents on how to prepare for emergencies or respond to crises are freely available and feature favorite characters from Arthur, Daniel Tiger and Sesame Street. Visit our Resources to Help Families Cope page to access all resources.