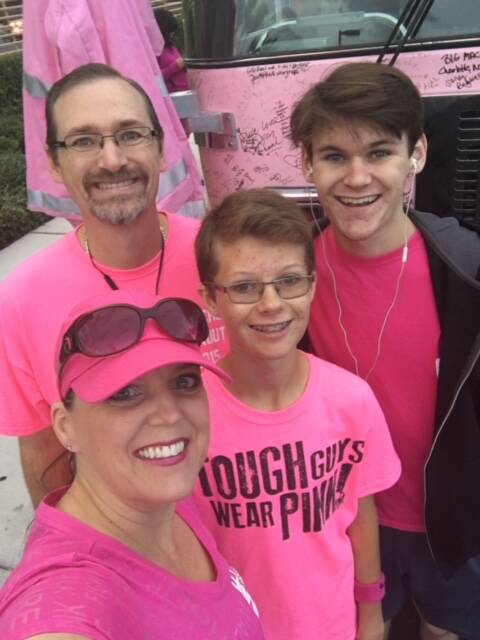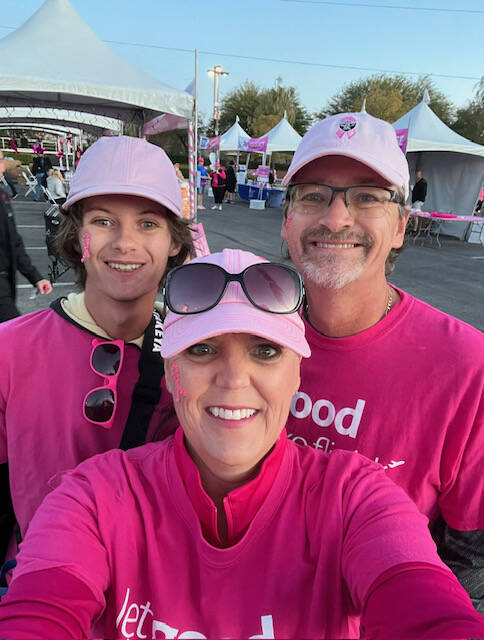 The streets of Summerlin once again will turn into a sea of brightly colored pink tutus, feather boas, glittery tights and sneakers. The vibrant display represents hope during the annual Making Strides Against Breast Cancer walk.
Anticipating more than 15,000 participants, the American Cancer Society's annual event returns on Oct. 22 at Red Rock Resort, marking 24 years in Nevada. The event serves as the culmination of October Breast Cancer Awareness Month. Throughout October, numerous community events raised awareness about fighting cancer throughout the region.
"I think the Making Strides walk is more than a 5K walk," said Cindi Kay Morehead, American Cancer Society senior development manager. "The walk is the celebration of the individuals, teams and sponsors that have come together and raised awareness and money toward the much-needed services and research to fight this terrible disease."
Making Strides is the organization's largest annual fundraiser. Morehead hopes to raise $422,000, a slight increase over last year's $409,000. She is slowly achieving her goal of returning the event to pre-COVID levels. In 2019, more than 40,000 people participated, raising over $900,000.
"Our event was slated to be a million-dollar event," Morehouse said. "We're working our way back there. Last year was wonderful as we saw more teams come out. They were glad to be out and doing something together. It was nice to see."
Individuals and teams will walk a designated 3-mile loop, starting at the corner of Charleston Boulevard and the I-215 Beltway in the northwest parking lot of Red Rock Resort. The event welcomes runners, walkers, strollers and wheelchairs along the paved route. Check-in begins at 7 a.m. with an 8:30 a.m. start time. Participants can register online or on the day of the event.
"This year, no pets are allowed; only service dogs are welcome," Morehouse said. "This is for the safety of the pets and our participants."
Steph MacKenzie of 97.1 The Point and meteorologist Chloe Koast of KSNV-TV News 3 will return to emcee the opening ceremony, followed by a short warm-up routine led by the Vegas Golden Gals and Elvis of Vegas.
Corporate teams across the Las Vegas Valley began fundraising for Making Strides after the American Cancer Society kickoff at the end of August. The American Airlines Saving the TaTa's, led by Carrie Scott, expanded its efforts this year. The group hosted several events to raise its goal of $7,500.
"In the past, we just raised funds at work," Scott said. "But this year, I've expanded it completely because we want to raise more money, and people can only do so much out of their pocket."
On Sept. 23, Scott hosted a pickleball tournament at The Plaza Hotel, raising over $3,600. Additionally, she raised funds by selling popcorn online and hosting a breakfast for all American Airlines employees.
Scott, who's participated every year since the event's inception, walks to honor her mom, Diana, a two-time breast cancer survivor.
"The first time she was diagnosed with breast cancer had a huge impact on me," Scott said. "Fortunately, they caught it early, so she didn't have to undergo chemo or radiation. It was discovered on the other side 10 years later, caught early again. She's been cancer-free since."
Serving as the team captain for 10 years, Scott estimates more than 50 participants will walk together this year as part of the American Airlines team.
"We get the whole Las Vegas station involved," Scott said. "We want it to be all-inclusive and invite employees, family members and friends. We make it a fun event."
For the first time, Scott's mother will walk beside her. They will be joined by Scott's husband, Brad, and two sons, Brody and Dalton.
The event features more than the walk. Striders can take photos with North Las Vegas Fire Department's Pearl the Pink Fire Engine, LV Metro PK McGruff, American Cancer Society's giant pink chair, or this year's newest addition, a Giant Pink Gorilla. The PINKtober photo booth is available to capture team photos.
The Tribute Garden display returns this year. It showcases an impressive pink pinwheel display honoring those battling breast cancer. Participants can purchase a pinwheel for $10 in advance or on the event day and provide space to capture a special message to someone touched by the disease.
Breast cancer survivors and one guest are invited to the Survivor VIP Experience at the survivor's tent. They receive a special gift and activities from the event's national survivor sponsor, Zeta Tau Alpha (ZTA) Sorority. The Red Rock Resort provides breakfast. New this year, is the Survivor/Thriver Celebratory Bell Ringing station.
American Cancer Society offers a virtual Making Strides' "On the Go" event for those walkers who can't attend the larger event. On the Go starts Oct. 28 at 11 a.m. EST. It is a 30- to 45-minute live interactive program that allows people to support the cause wherever they are.
Other ways to give include through the American Cancer Society website or donating cash on the day of the event.
One hundred percent of the day's net revenue supports breast cancer research and initiatives for patients and caregivers, such as Reach to Recovery. Reach to Recovery connects patients with an experienced volunteer to help them on their cancer journey. It further funds lodging assistance, a toll-free helpline — 1-800-227-234# — and live chat at cancer.org.
Annual cancer screenings help with early detection. Breast cancer touches a high percentage of men and women. In Nevada, it is estimated that 2,640 women will be diagnosed with breast cancer in 2023. Nationwide, 2,800 men, which is about 1 in 833.
For more information about the upcoming Making Strides Las Vegas event, or call toll-free 1-800-227-2345.