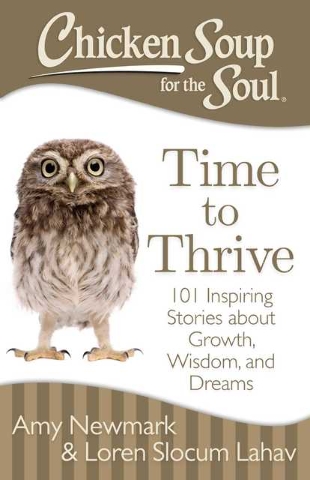 Chicken Soup for the Soul, a long-running brand of motivational storytelling books, has added several Las Vegans to its cast of writers.
Publisher, editor-in-chief and author Amy Newmark has collaborated with Las Vegas resident Loren Slocum Lahav to co-author the newest book in the publisher's collection, "Chicken Soup for the Soul: Time to Thrive."
Slocum Lahav, an international personal development speaker, seminar leader, coach and author, worked with Newmark to curate 101 empowering stories that that speak to finding balance and meaning in life. The book also features pieces from other locals including Baskow &Associates founder Jaki Baskow and Sam Georges, the former CEO/president of Tony Robbins' organization.
"I am thrilled to represent Las Vegas in such a motivating and transformational book," Slocum Lahav said in a statement. "We have collaborated with some amazing individuals who have conquered their fears, embraced adventure and found the path to a more fulfilling lifestyle.
"Chicken Soup for the Soul: Time to Thrive" covers everything from minor adjustments to complete overhauls. Whether a life needs a little tweak or a major change, these stories will show readers how to thrive."
Real estate firm rebrands
EasyStreet Realty, a Las Vegas real estate brokerage, is rebranding itself as Highgarden Real Estate.
The rebranding, which follows an expansion for the business, will include new websites using the company's new visual identity. The company's look is part of a transformation to increase awareness, appeal to new markets and broaden company reach.
Partner Steve Robbins said Easy-Street opened in Indianapolis in 2000, with a niche focus in real estate.
"As the concept gained traction in Indianapolis and the business grew, we opened up a sister location out in Las Vegas," co-founder Brian Holle said in a statement. "We created a powerful business model by combining the honesty and integrity of our Midwestern roots with the high level of customer service that one expects in the Mecca of VIP treatment."
"As we have grown over time and across the country, our business has evolved," Robbins said in a statement. "In 2012, we opened our office in Phoenix under a new brand, Highgarden Real Estate. This brand better represented the evolution of our company and of our clientele."
Highgarden Real Estate, headquartered in Indiana, was founded in 2000 by Robbins, Chris Kukelhan and Holle. For more on the company, visit www.highgarden.com.
Website? What website?
A survey conducted by research firm Clutch showed that more than 25 percent of small businesses don't have a website and 10 percent say they're unlikely to have one in the future.
According to the survey, of the small businesses that have a website, only 56 percent have a responsive design website that is mobile friendly. However, the survey also showed 23 percent of respondents plan to increase website spending in 2015.
Clutch's research also found that many small businesses aren't using existing digital marketing strategies. Only 53 percent of small businesses reported that they actively work on social media, 45 percent on search engine optimization, and 25 percent on online advertising.
"Having a strong online presence is kind of as important as having a professional looking business card," Andrew Ruditser, co-founder of Web design firm Maxburst, said in a statement. "In my opinion, you cannot effectively compete or market yourself without a website; you must have one."
To view the survey, visit: https://clutch.co/web-design/web-2015-small-business-survey.