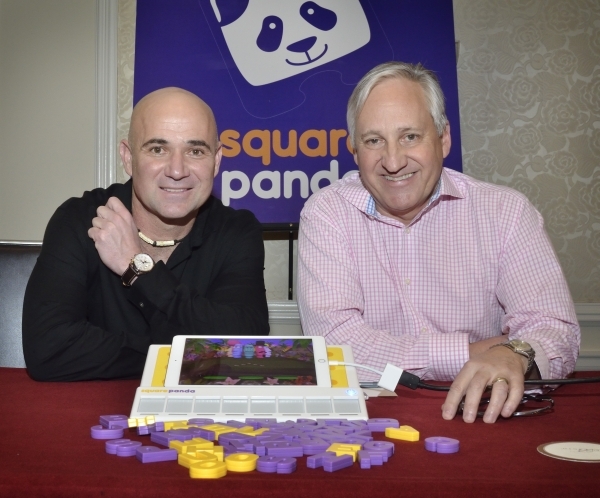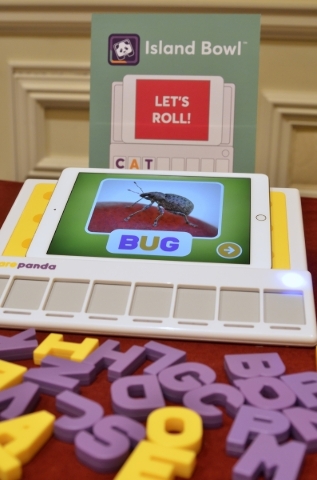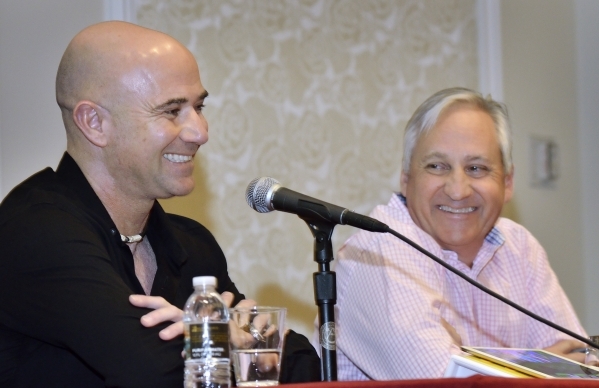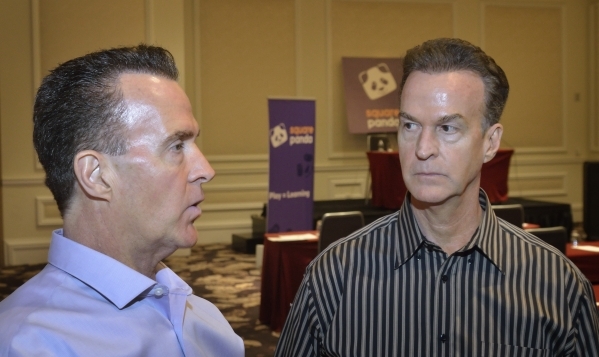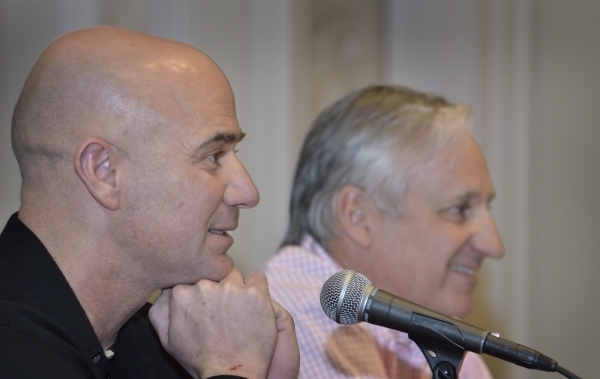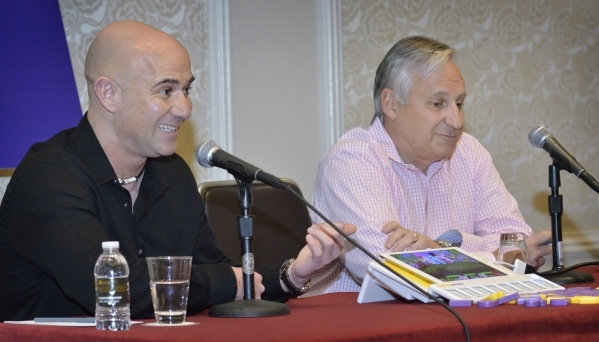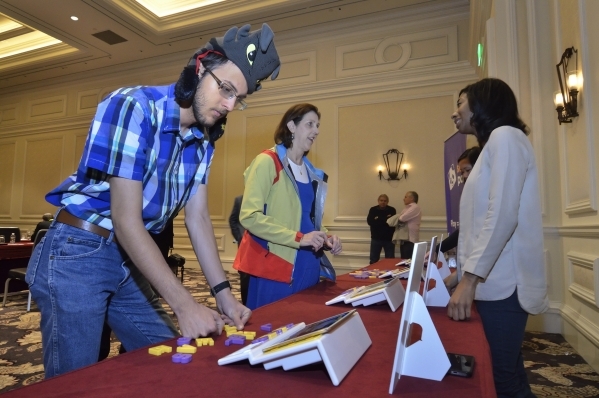 For Andre Agassi, giving back to the community and educating children is as much of a passion today as tennis was when he was winning championships 20 and 30 years ago.
In 1994, he created the Andre Agassi Charitable Foundation, which provides at-risk children in Southern Nevada with educational opportunities and recreational activities. The foundation raised the $175 million needed to start the Andre Agassi College Preparatory School, which opened its doors in West Las Vegas in 2001.
But that was just the beginning.
He has led a national effort that's launched a flood of charter schools in an effort to scale his vision.
And on Jan. 4, Agassi appeared at a press event at Bellagio for the announcement of Square Panda, a new educational learning tool in which he has personally invested and sits on the Board of Directors.
Square Panda works on an iPad and is designed to teach, engage, and entertain early learners (ages three and up). The phonics-based playset uses letter toys and multi-sensory apps to explore early reading skills. The basic unit is $99 and comes with three free apps. Other apps are available by subscription.
"It is one thing to put up money and another thing to put up the entire brand that I have spent my life protecting and building, which is me and what I stand for what I want to be and what I have given my life to. I am not going to put that on the chopping block for any reason. However, the Square Panda is a scalable teaching tool that has a direct barometer of the results and that is why I have agreed to become a part of this product," said Agassi.
Back story
Agassi was born in 1970 in Las Vegas. He first picked up a tennis racket when he was a toddler at the insistence of his father, an immigrant from Iran and a former Olympic boxer.
A big part of Agassi's passion for education is personal. In his mid-teens, Agassi abandoned his education to train full time. He moved to Florida where he went to the Nick Bollettieri Tennis Academy. Agassi proved to be one of the top junior players in the sport, winning several U.S. Tennis Association national titles.
At the age of 16, Agassi decided it was time to compete in the big leagues and turned professional in 1986. Agassi became the number one player in the world and dominated the game from the early 1990s to the mid-2000s, winning eight grand slam titles.
"I'm not an educator; I'm not an operator, but I am a facilitator, and education is very important to me. I had a lack of it but was lucky enough to be decent at a sport," Agassi said Jan. 4 in announcing his newest venture.
According to Agassi, for the children that do not receive a proper education and that aren't lucky enough to succeed in a particular sport, they are left with a future that is already determined for them. "Gangs, prison systems, the whole deal. It costs society much more on the back end to incarcerate somebody than it does to educate a child," he said.
"I am proud to say that I get the chance to give back to 1,300 kids on an annual basis. But, the frustrating thing for me through this experience is recognizing that there is no scalability in my impact."
Agassi has spent a lot of years trying to figure out how to scale his mission in the charitable space. "I recognized that it's not a software issue, it's a hardware issue," he explained.
Scalability
In his search for an answer, he formed the Turner-Agassi Charter School Facility Fund, a partnership with real estate executive Bobby Turner. Through this fund, Agassi has gone to the for-profit private sector and raised approximately $550 million through charitable events across the country.
As of last August, Turner-Agassi had opened 53 charter schools with plans to open an additional 12 schools by next August. Agassi expects to invest over $1.5 billion over the next four to five years to build an additional 120 schools across the country.
Meanwhile, the business of raising money for any charitable cause has become more difficult since the recession. His annual Grand Slam Charity events used to raise an additional $8 million to $15 million in auction proceeds on top of the $18 million in ticket sales. "During the last event, I raised $18 million and made an executive decision to pull the auction. I wasn't going to ask people who paid their money to come there to now pony up and buy more things and exhaust them further," said Agassi.
Charter schools
The good news is that he has worked through the learning curve. The $175 million that built 1,300 seats in Las Vegas will build 17,000 seats in the future. In addition, the interest in charter schools is growing thanks to an increase in charter school-friendly laws that are being passed throughout the country.
"We have a broken education system. Speaking for myself, I am tired of waiting for the government to solve issues. I am tired of waiting for philanthropy to figure out a way to be scaled. We have to come to the table on multiple fronts and figure out solutions to real daunting societal issues," said Agassi.
And Agassi works very hard at attaining his goals. "The discipline of sport has taught me that no matter how high the mountain there is to climb, it is achievable one step at a time. When you look at winning a grand slam or being ranked number 1 in the world, it is a series of a thousand great decisions over and over again, and all of a sudden you look at the scoreboard and you have won.
"So when I look at what it has taken to get this off the ground, to be sitting here today, it has been a thousand commitments, and the result is benefiting a lot of people's lives, a lot of caring parents' lives, and a lot of students' lives."
Hometown feel
Despite Agassi's quest to build schools across the country, he remains loyal to Las Vegas.
"This city has been so good to me — the entire state of Nevada has been good to me. I spent my whole life growing up here, was raised here, raised my kids here. I traveled the world for a period of time in-between when I turned professional, but my heart is here — we have the ability to live anywhere in the world, and we choose here," said Agassi.