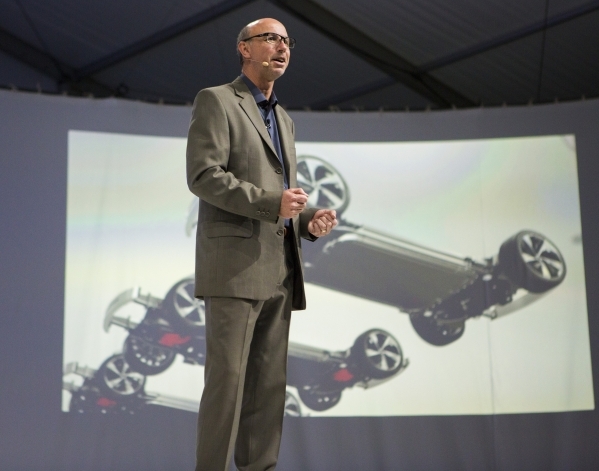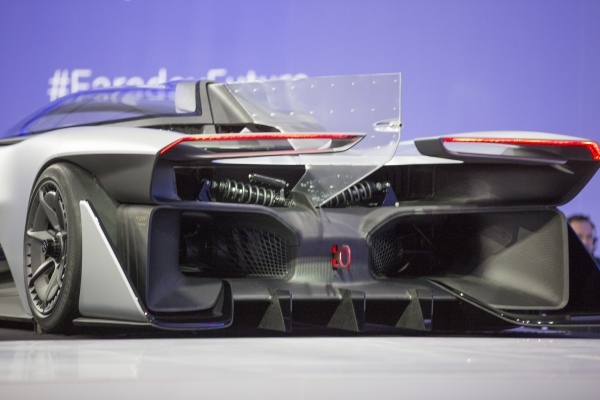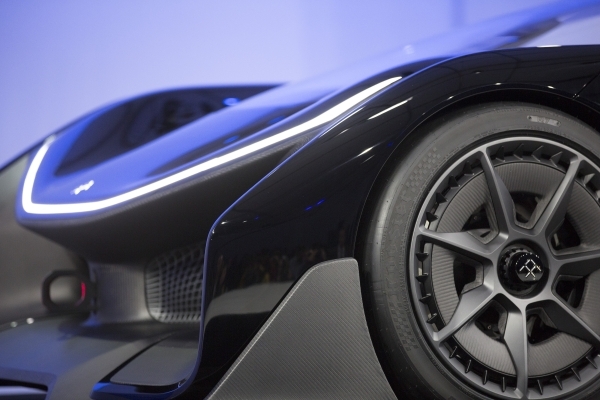 Faraday Future's concept car, unveiled Jan. 4 ahead of the opening of CES, goes far beyond the average sedan or truck model on the market. It's FFZero1 all-electric concept car — a single-seated design that can travel at speeds up to 200 mph— touts four quad-core motors with an output of more than 1,000 horsepower.
"It's not so much a concept car but more of a car of concepts — an extreme test bed of future ideas we're working on," said Richard Kim, head of global design at Faraday Future.
Those concepts include a lot of connectivity — electronic and human. With a docking station in the steering wheel, a driver can "access information, control secondary functions, and view live images, all without having to learn a new language," said Kim.
The concept car has the most recent technology in internet connectivity. Faraday's billionaire owner Jia Yueting stays constantly connected to his brand LeTV — commonly referred to as the Netflix of China.
But the company could take the market to the next level of car design.
The electric car designer is also touting the possibility of a self-driving model. "They come pre-equipped for increasing levels of autonomous driving," Kim said.
It wouldn't seem too far off for a team that's already designed a NASA-inspired "zero gravity" seat. The chair is set at a 45-degree angle to optimize comfort and maximize circulation.
The concept car also features what Kim called the Halo Safety System that supports a driver's head and neck along with a helmet with an oxygen and water supply.
It's not just the seat that's specially designed for usefulness.
"We've created a drive-by-wire, asymmetric instrument panel built around the features the driver utilizes the most," said Kim.
The designs might not be anything like the actual vehicle that won't hit the market for another two years.
Over the next several months, Faraday will gear up and work on its designs for a platform of endless possibilities and its blueprints for its planned billion-dollar factory at the Apex industrial park in North Las Vegas. Faraday announced that it would break ground in the next few weeks on the plant that will employ 4,500 people directly and 9,000 indirectly. The deal was sealed last month after Nevada offered over $300 million in incentives to the electric car maker.
Nevada could get what it paid for, both with the economic impact of the plant and the added lift it gives that state's new image as a player in the world of high-tech manufacturing.
"To achieve a diverse range of smart, fully-connected electric vehicles, Faraday Future engineers have developed a new Variable Platform Architecture," said Nick Sampson, senior vice president of product research and development at Faraday Future.
The designers touted the capability of that platform to be molded into almost any design. A race car was the example but using this technology, Faraday Future could put any body type on top including a truck, SUV or family sedan.
Some of the possibilities with the VPA design include adding and subtracting what Sampson described as battery "strings." The arrangement of these strings leads to various range and power capabilities and to other types of models.
Being so far from production, there was little word on range capabilities of the high-speed, Batmobile-styled car on the stage or the potential range of other future models.
But Sampson did speak on the battery configuration underneath the driver—what the engineers referred to as "strings."
"One of the unique things about our VPA is that our battery configuration works in a way like a set of Christmas tree lights — if one goes out, the rest continue to function. It makes it much easier and much more cost-effective to replace and swap out parts," he said.
The designs also have other potentials.
With the capability of so much manipulation, Faraday designers said they are able to design two-wheel and all-wheel drive options.
An array of options also exists in the number of motors that can go into a vehicle. Sampson said there are motor configurations with one to three motors. There are four-motor-layout capabilities with special configurations.
The VPN platform also has other plusses. With the location of the battery pack in the design, the designers are able to attain higher levels of dynamic control and safety, Faraday officials said.