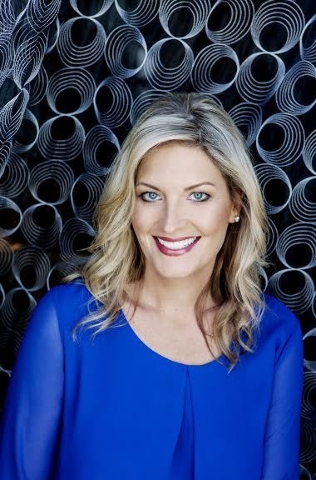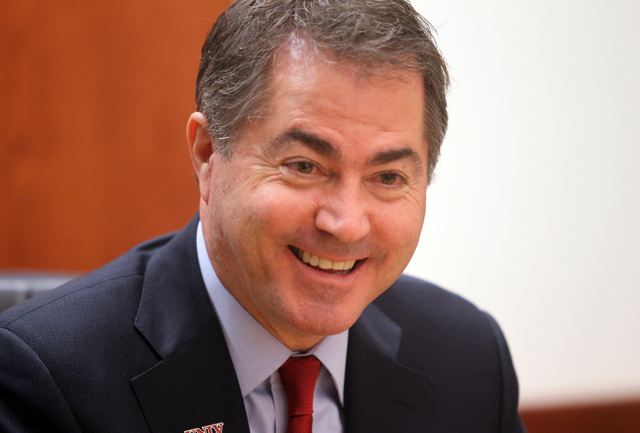 Roche Constructors Inc.
honored for The Crossing
Roche Constructors Inc. has been recognized by the Associated Builders and Contractors for its work on The Crossing, a Christian church auditorium expansion project. The company received the Eagle award in the Institutional — $5 million to $10 million category of ABC's Excellence in Construction Awards. Representatives from the company received the award during the 25th annual Excellence in Construction Awards celebration in Ft. Lauderdale, Fla. Roche reduced project costs without compromising on quality, as well as overcoming an aggressive schedule to complete this 2,300-seat auditorium and 632-space parking lot on budget and with no injuries. The Excellence in Construction awards program is the industry's leading competition, developed to honor innovative and high-quality merit shop construction projects.
Cosmopolitan executive
honored by association
Colleen Birch, vice president of revenue optimization with the Cosmopolitan, was honored as one of the Hospitality Sales and Marketing Association International's Revenue Management Professionals of the Year. Birch received the single/multi-unit Professional of the Year award. In addition to hotel revenue management, Birch oversees optimization for food and beverage operations, ancillary outlets and gaming for the resort.
UNLV's Jessup joins
Metro Chamber board
University of Nevada, Las Vegas President Len Jessup has been elected to the Las Vegas Metro Chamber of Commerce's Board of Trustees. Jessup joined UNLV as its 10th president in January. "Community engagement is crucial; for UNLV to become the top tier university the region needs to maintain a vibrant and sustainable economy," said Jessup. "To get there, we must engage with business to understand their challenges and workforce demands so we can build relevant research and academic programs, and educate our students to be competitive in the evolving job market." Prior to UNLV, Jessup served as dean of Eller College of Management, where he led the school to become a self-sustaining college with higher national rankings that robustly contributes to the state's economic development.
City of Las Vegas wins
parking innovation award
The International Parking Institute honored the City of Last Vegas' Parking Services with its Parking Innovation award for converting streets into parking lots, reversing traffic flow to speed up load-in and load-out rates, and directing traffic. New programs have replaced city meters, created online RV parking permits after years of controversy and complaints, and facilitated food truck vending through advance scheduling and real-time space occupancy using parking-meter data and a custom mobile app. Integrated software controls meters, parking and revenue control systems, citation issuance, license-plate recognition, billing, collections, DMV interfaces with three states, and accounting. The division also maintains a comprehensive database of parking facilities and data on all downtown spaces and lots' owners, uses, rates, public availability, and contact information, all of which is available on a GIS map for developers, real estate brokers, and the public. TThe International Parking Institute is the largest trade association in the world, representing parking professionals and the parking industry.
American Cancer Society
selects seven for board
Seven Las Vegas leaders have been selected to serve on the local board of the American Cancer Society: Rick Campbell, director of marketing, NOVA Group; Dr. Souzan El-Eid, director, the Breast Center at Summerlin Hospital and adjunct professor, Touro University and Comprehensive Cancer Center of Nevada Breast Surgical Oncology; Charles Gianelloni, attorney, Snell & Wilmer LLP; Stacey Martini, vice president branch manager, City National Bank; Katie Ryan, director, communications and public policy, Dignity Health-St. Rose Dominican; Bill Bokelmann, foundation manager, Henderson Chamber of Commerce; and Jennifer Bradley, public relations consultant, Vegas PBS. More members are being recruited. The goal for the American Cancer Society is to have 15 members by the end of the year.
Communities In Schools
selects new directors
Communities In Schools of Nevada has added four new members to its board of directors: Tracy A. DiFillippo, Tom Edington, Leslie Maple and Jennifer Oswald. DiFillippo is a commercial litigator with Armstrong Teasdale; Edington, the former president of the Southern Nevada Estate Planning Council, is chief financial officer of Nevada State Bank; Maple is manager of communications and corporate affairs for Barrick Gold Corp.; and Oswald is vice president of human resources and corporate services for NV Energy. To find out more about Communities In Schools of Nevada, visit cisnevada.org.
Leavitt Group honors
insurance agency
Leavitt Group recently honored its Las Vegas office with the agency excellence award. Both the Leavitt Insurance Agency and its benefits division, Leavitt Group Benefits Services, were honored. Wade Leavitt and Dave Johnson, co-owners of the agency, accepted the award during Leavitt Group's annual conference in Scottsdale, Ariz. Wade Leavitt was also recognized for his 30 years of service with the company. Leavitt Group noted the agency's exceptional growth, profitability, and customer service when presenting the award.