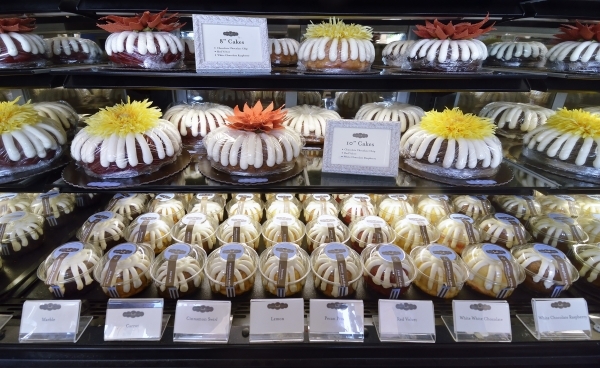 Friends Dena Tripp and Debbie Shwetz got together almost every weekend with their families.
At one of the gatherings, Tripp's decision to bring over a Bundt cake changed the duo's destiny.
"We spent a lot of time together and realized we'd love to work together, so we had to figure out some type of business," Tripp said. "I brought over a chocolate, chocolate chip Bundt cake with no frosting, just powdered sugar, and Debbie had a great frosting recipe, so our business idea evolved from there."
Tripp and Shwetz did some research and wrote a business plan while making Bundt cakes out of their kitchens for their friends and family to try. They never envisioned the national feeding frenzy that would develop.
"We spent a year doing trial and error before we tried different forms of marketing," Shwetz said. "At first, we thought we'd start with weddings but we quickly learned that, that wasn't the way to go because it's a tough market to break into. We then started talking to businesses because we could do employee birthdays, holidays and client thank you's while also exposing the employees to our cake too."
Nothing Bundt Cakes officially launched in 1997 with its first storefront on Sahara Avenue. It offers an array of sizes, from single serving bundtlets to 10-inch and tiered cakes. Cream cheese frosting envelops the nearly 10 signature flavors, including Red Velvet, Lemon, Cinnamon Swirl and seasonal flavors such as Pumpkin Spice. Gluten-free products are also available at select bakeries. Prices range from $4-$65.
"We knew Las Vegas really well, who our guest was and where we wanted to place ourselves," Tripp said. "We wanted to be on a busy street that was centrally located to our demographic."
After the store opened, Tripp and Shwetz set a goal of selling at least 10 cakes a day.
"Thinking about it today, it was a really small number, but that's what we thought of at the time," Tripp said.
In 2002, they opened another Las Vegas location, at 9711 S. Eastern Ave., and a year later they started receiving requests from guests about franchising.
"That wasn't the direction we were going because we were focused on growing at the corporate level," Tripp said. "After expanding to Arizona, we realized that was a difficult task to take on because we were inexperienced at managing a remote location so we thought maybe we should figure out and learn about franchising."
Tripp and Shwetz jumped into the franchising industry by attending conferences and hiring a franchise consultant as well as an attorney to walk them through the necessary steps.
They opened their first franchise in San Diego nearly 10 years ago.
"Dena and I have always felt the responsibility of our franchisee's investments because many of these people use their retirement funds and life savings so, that's a huge responsibility," Shwetz said. "We're not in the business to just sell them, we wanted to sell them to the right people and have them love it as much as we do."
Nothing Bundt Cakes boasts 140 locations in 25 states.
"I personally enjoy changing people's lives; it's humbling and exciting to see the excitement they have toward our brand," Tripp said. "We're still offer the same homemade product even though we're much bigger."
According to Tripp, the company is on track to hit $1.8 million in sales this year and has no plans to slow down.
They expect to open two more locations in Las Vegas as well as continuing to explore franchise options nationwide.
"We're getting inquiries from all over the country, and we want to make sure we're careful about when we make the decision to expand so we can support our franchisees," Tripp said. "We're also looking at whether we can go into smaller markets versus highly populated areas. As we grow, we're definitely learning."
Shwetz added that Nothing Bundt cakes is constantly exploring new revenue streams for its franchisees.
"We're looking at the possibility of kiosks and food trucks; anything and everything that would provide an opportunity for growth," she said. "Dena and I started this, but we haven't done it on our down. It takes a village and we have a great village."