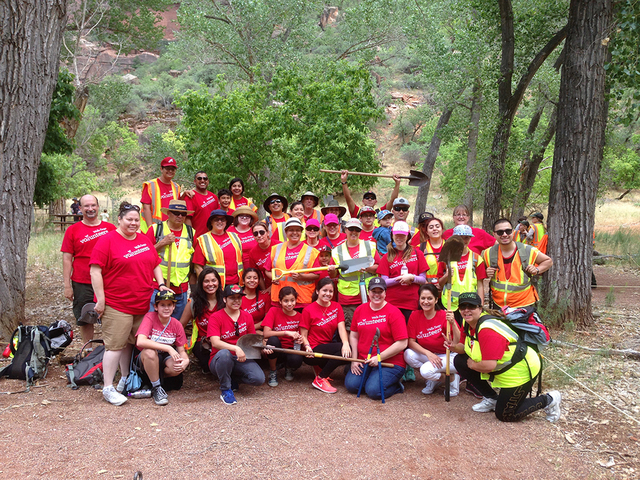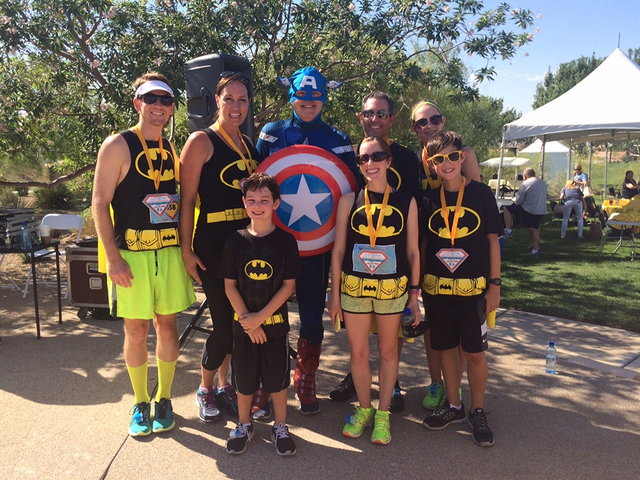 Berkshire Hathaway HomeServices Nevada Properties donated 44,000 bottles of water to the Las Vegas Rescue Mission during its fourth annual water drive to benefit the charity.
The Mission gives water to its homeless clients during the hottest summer months. Berkshire Hathaway HomeServices Nevada Properties worked with partners Red Carpet Movers and Office Depot for this year's drive.
Red Carpet Movers picked up and delivered water donations. Office Depot provided special pricing on water and also made deliveries. Berkshire's Sahara office donated the most bottles of any branch — 22,000.
Foundation to raise money for
special needs children
Foundation for Positively Kids celebrates the 16th annual Las Vegas Lucky Duck Family Festival from 10 a.m. to 4 p.m. Sept. 10 at Town Square.
The SpecQuackular event is open to the public. Adopt a duck or a whole flock to support medically fragile and special needs children in Southern Nevada. All ducks come with a chance for prizes. Attendees can adopt a duck for $5, or a Quack Pack of six ducks for $25.
It is planned that 5,000 rubber ducks will float in the pond at Town Square.
To adopt a duck, visit any MoneyTree location (there or 24 in the valley) or call 702-262-0037. Foundation for Positively Kids provides pediatric health-care services for medically fragile and medically dependent children.
Programs offered by Positively Kids strive to embrace each child's unique needs while providing services essential to their well-being.
City National to support
Shriners tournament
City National, Nevada will support Shriners Hospitals for Children Open Golf Tournament with a $6,500 Champions Club Sponsorship.
The tournament runs Oct. 31 through Nov. 6; proceeds will benefit Shriners Hospitals for Children.
One hundred thirty-two PGA professionals, including last year's champion Smylie Kaufman, will compete in the tournament at TPC Summerlin, a par-71, 7,223-yard course designed by Bobby Weed and player consultant Fuzzy Zoeller.
Catholic Charities receives
program grant
Catholic Charities of Southern Nevada has received a $2,500 grant from Meals on Wheels America to help fund its pet support program for clients. The money will be used to provide food, supplies and care for the pets of Meals on Wheels clients, many of whom are seniors whose only source of companionship are their animals. Meals on Wheels America has granted $300,000 to 162 local programs this year through the Meals on Wheels Loves Pets initiative.
Rescue Mission sponsors walk
to benefit homeless
The fifth annual Walk a Mile in My Shoes event, sponsored by the Las Vegas Rescue Mission to benefit those struggling to survive on the streets of Las Vegas, will be from 8 a.m. to noon, Oct. 1. The one-mile walk will start at the Las Vegas Review-Journal, 1111 W. Bonanza Road, continue to the Las Vegas Rescue Mission and then back to the Las Vegas Review-Journal for refreshments and awards.
The Las Vegas Rescue Mission works to provide hope and change to the homeless, addicted and others in need. Registration begins at 8 a.m., the walk starts at 9 a.m. $30 adult, $20 for teens 15 and younger.
Registration fee includes an event T-shirt. For more information, call Bob David at 702-382-1766.
University encourages adult
education with scholarships
As kids and young adults are returning to the classroom, many adult students are thinking about going back to school as well. To help busy adults take the leap, Western Governors University Nevada is offering scholarships for Nevada residents worth up to $2,000 each for at least five new students who are accepted to WGU Nevada by the end of the year.
To be considered, prospective students must have previously completed at least 20 college credits, be admitted to WGU Nevada, and submit a scholarship application by Dec. 31.
Applicants must also complete an essay explaining their motivation for returning to college and participate in an interview with a scholarship counselor. To learn more or to apply, visit http://nevada.wgu.edu/bts.
MGM Resorts International named a boutique annual sponsor
Dress for Success Southern Nevada celebrates its partnership with MGM Resorts International, which has been named a boutique annual sponsor for 2016.
The company donated $10,000 to Dress for Success Southern Nevada to help maintain and expand the nonprofit's boutique to serve more women in Southern Nevada. Dress for Success provides professional clothing, career assistance, counseling and a network of support to women.
Through referrals from more than 80 partnering agencies, Dress for Success works closely with job-ready women and offers programs to help them find and retain employment. The programs have served over 3,500 women since the inception of the affiliate in 2009.
Bank of Nevada collecting school supplies for at-risk students
Bank of Nevada invites the public to join its employees and customers in helping provide school supplies to at-risk students who attend schools in Las Vegas, Henderson and Mesquite. The Bank of Nevada Back-to-School Drive is collecting school supplies through Aug. 26 on behalf of students whose families cannot purchase items needed by their children.
Donated supplies will be split among five area Title 1 schools, where the majority of students qualify for free or reduced-price lunches, based on their family's income. The public can drop off new school supplies, such as notebooks, paper, pens and pencils, rulers, backpacks, erasers and scissors, at any Bank of Nevada branch.
Nevada Donor Network sponsors clothing drive for students
Nevada Donor Network kicked off National Minority Donor Awareness Week in August with a clothing drive to benefit under-served students. This national awareness campaign was created to honor multicultural donor heroes and their families, and to highlight the urgent need for those of multicultural descent to register as organ, eye and tissue donors.
Nevada Donor Network is collecting new and gently used clothing of all sizes for children in grades K–12. Items needed include pants, shirts, tennis shoes, sweaters, jackets, new underwear and new socks. After all items have been collected, the organization will host a shopping event at a local partner school, inviting parents to choose items for their children.
The event also serves as a health fair, featuring vendors with general health and wellness information. Attendees can register to become organ, eye and tissue donors, and learn more about the critical need for more multicultural donor registrations. Businesses across the valley are serving as drop-off locations for donated items. A complete list of locations is available at nvdonor.org.
Organization sponsoring
cancer walk/run
The sixth annual This One's for the Boys and Girls 2-mile walk and 3-mile run, a race against prostate and ovarian cancer, will begin at 8:30 a.m. Sept. 10 at Myron Partridge Track Stadium, UNLV campus, 4505 S. Maryland Parkway.
The event is sponsored by 21st Century C.A.R.E., a foundation for cancer assistance, research and education, that was founded in 1996 with a mission to provide financial assistance to cancer patients and cancer education to patients and cancer care providers.
Eighty-five percent of funds raised will remain in Southern Nevada with 21st Century C.A.R.E. for prostate and ovarian cancer education, treatment programs and financial assistance; 15 percent will go to Cancer Train for education, financial assistance and awareness. For event schedule and fees, visit tinyurl.com/zg3ok5l.
Candlelighters to hold Superhero 5K
The local nonprofit Candlelighters Childhood Cancer Foundation of Nevada will hold its Superhero 5K with Chet Buchanan fundraiser Sept. 10 at Exploration Park in Mountain's Edge.
Friends, neighbors, co-workers and family can form fundraising teams for the event. Run the 5K or do the 1-mile walk, make a superhero costume to wear or come to the event and cheer on all the racers, walkers and cancer survivors.
Other activities will include a kids' area with a bounce house and games, bone marrow drive hosted by Be The Match, awards ceremony for timed runners, food, refreshments and raffle prizes.
Event day registration begins at 6:30 a.m.; the race starts at 8 a.m. with the walk at 8:15 a.m. Festivities continue until 11 a.m.
Visit candlelighersnv.org or call 702-737-1919 for more information, registration, and volunteer and participation opportunities.