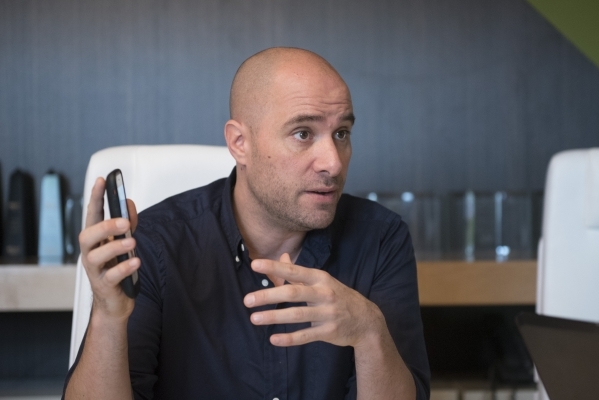 After spending five years in the social media management industry, Las Vegas resident David Leibner decided to take what he learned and try something new.
"I spent five years listening and engaging in social media conversations, so I thought about how to take those conversations one step further and engage with people in real time while generating revenue transparently," he said.
According to Leibner, Facebook sends thousands of birthday alerts a day and hordes of people travel to Las Vegas each weekend to celebrate milestones. He began looking to the gift card model for his next business idea.
"The gift card industry is backwards," he said. "The fact that restaurants only sell them to people who come in the restaurant or have people order them online and ship it to them, which can take a long time, is insanity. The whole world has smartphones, so why not sell them to people on the outside?"
Leibner's business, ItsOnMe, launched a little more than two years ago in Las Vegas and San Diego and allows consumers to give local goods and services without being local.
"I'm able to give consumers the ability to gift thoughtful gifts and support the businesses that define our community," he said. "People who can't celebrate a special occasion with their friend or family member can now be present without being present."
ItsOnMe not only allows users to send gift cards in dollar amounts to certain businesses, it also offers gift cards for specialty items.
"I'm trying to replace the dollar amount with something from the brand so local businesses can feature their signature dishes, cocktails and events," he said. "We're also creating opportunities for brands to collaborate for placement on their gifting menu, such as listing a Grey Goose Moscow Mule or a Guinness. We're pulling an ecosystem together through gifting."
A gift through ItsOnMe can be given through social media, email or text. Once the user visits the business, they enter their check number on their receipt into the app, which communicates with the business's point of sale system and automatically deducts the gift card amount.
Businesses that sign up for ItsOnMe receive placement on the company's app, a gift button on their website and press from an affiliate network of bloggers and media outlets. The business also controls what is on its gifting list.
Sonny Ahuja, owner of O Face Doughnuts and Bin 702, signed up for ItsOnMe for both of his downtown Las Vegas businesses.
"I like the idea that someone can give a gift to someone who they know will be going out or turn them onto a place to give them an experience they might never have had," he said.
Ahuja said ItsOnMe is another tool for small businesses to reach customers.
"As a small business you have to be at your customer's fingertips, and being downtown we try to make ourselves approachable because we don't have the marketing dollars that big corporations have," he said. "Anytime we can expose ourselves to new customers or bring repeat customers back is a good thing. It's a win-win for us."
Leibner said business can choose between two pricing tiers; $100 a month, which comes with a guarantee of $100 in gift card sales during that month or $1,200 for the year, which guarantees $200 a month in gift cards.
ItsOnMe sends a photographer to the business to capture photos for its app and website as well as has an engineer install a gifting widget on the business's website.
Bryce Krausman, owner of DW Bistro on South Fort Apache Road, said his restaurant was one of the first businesses to sign up for the service following a beta test run.
"I'm hoping to get more exposure for us and for other small businesses," he said. "This is the lifeblood of what we do and this app and others out there help with the convenience and messaging we so desperately need."
Nearly 300,000 gifts were given through ItsOnMe last year, Leibner said, and he expects that number to grow as the company rolls out in New York City and San Francisco.
"We're adding dozens of locations a month in those cities right now," he said. "We have the ability to drive tens of millions of dollars into these communities and we think we can do that."
For more information, visit www.itson.me.