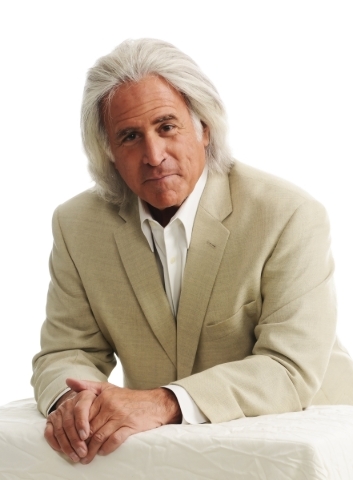 Henderson attorney Bob Massi is no stranger to the media.
Since 1985, he's been featured on local television networks and has been a legal analyst for Fox News for the past 19 years, covering well-known trials such as Conrad Murray, the doctor found guilty of involuntary manslaughter in Michael Jackson's death, and Ted Kaczynski, also known as the "Unabomber."
On July 11, Massi debuted his television show, "Bob Massi Is the Property Man," on Fox News. The show airs every Sunday until mid-September with a second season to come.
"The day it broadcasted I received over 1,000 emails from people with their own stories and from real estate brokers wanting to be part of the show," he said. "Everyone's been very gracious and supportive of what I'm doing."
According to Massi, it's not your typical real estate show.
"My show is unique because I explore personal stories and feature parts of Las Vegas including Downtown Container Park and Zappos," he said. "I end with 'Massi Memos,' which are tips and things you need to know by using my background to educate people about the law."
Although Massi enjoys having a television show, he said his law practice, which is at 105 N. Pecos Road, Suite 100, in Henderson, comes first.
"My media career has never impacted my law practice because most of the time I'm on very early or late in the afternoon so my full business day is dedicated to law," he said.
Massi has practiced business law, real estate law and personal injury, wills, trusts and probate, for more than 30 years.
"I love helping people with their businesses and real estate," he said. "However, there's been a misconception that I'm a celebrity and people can't afford my services, and that perception is not reality. I'm affordable and easily accessible."
"Bob Massi Is the Property Man" was just signed for a second season, Massi said, and will be filmed in Florida in Tampa, Miami and Orlando.
"It was the second place that was hit badly," he said. "We'll always have shows on Vegas including follow-ups to continue stories that I covered. I learned a lot from the first show about what people like and dislike."
Although the real estate industry in Las Vegas is bouncing back, there's still a long way to go, according to Massi.
"We're doing a lot better but we need the banks to finish foreclosing on homes. And we need to be careful not make the same mistake and overbuild and have lenders make it too loose so people end up buying homes they shouldn't," he said. "We're not off the ventilator.
"In the long run I think we'll be fine but homeowners can no longer say they don't understand because today, more than ever before, they know and understand loan modifications, short sales, foreclosures, auctions and bankruptcies because it's been all over the TV and on the radio."
Because he understands how television works, he doesn't have any expectations for "Bob Massi Is the Property Man" in the future, he said.
"I'm so honored that they allowed me to do this and if they called me tomorrow and said we can't do this anymore, I'd still be as happy as I am now," he said. "My law practice is my foundation, and though this is a wonderful opportunity, I don't put all my eggs in one basket. My clients and what I do are what's important."