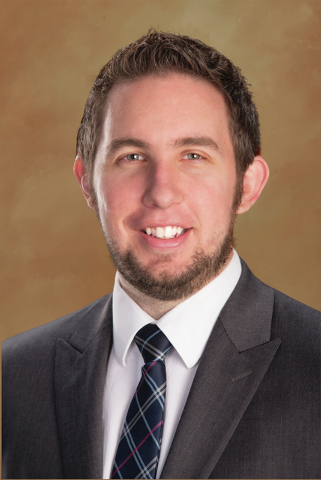 BANKING
Bank of America named Lee Jenkins consumer area executive for Nevada and Northern California. He will lead 141 financial centers in nine markets including Las Vegas, Reno, and Northern California, the Central Valley and Monterey Bay to meet customers' personal banking needs and connecting them to mortgage, investment and small business specialists. Lee joined Bank of America in 2000 as a personal banker.
LAW
Brandon J. Trout joined Hutchison &Steffen as an associate attorney. Trout is a member of the firm's commercial litigation group. He is a recent graduate of Vanderbilt Law School, where he served as the senior technology editor for the Vanderbilt Journal of Entertainment and Technology Law. Trout also holds a Bachelor of Science degree in business management with an emphasis in finance.
MARKETING
ToeShark Visual Communication named Nikki Koval associate creative director. Koval is a lifelong Nevadan with years of public outreach experience. This addition comes shortly after the opening of offices at 10120 S. Eastern Ave., Suite 200.
Rob Gaedtke has been named CEO of KPS3. Stephanie Kruse, the company's founder, will remain president and chairwoman of the board. Gaedtke will manage the company's day-to-day business and its 30-person team. He joined KPS3 as a designer in 2004 before joining One To One Interactive (previously Twelve Horses) in 2007, where he served as account director leading the travel and tourism practice, One to One Travel.
MEDICAL
Comprehensive Cancer Centers of Nevada promoted MaryBeth Sherwin to practice administrator. She will continue to oversee southeast Henderson and central valley sites and work with the center's executive director, James Kilber, on special projects. She joined the center in 1999 as a scheduler and was promoted to an office supervisor in 2000. In 2005, Sherwin was promoted to office manager of CCCN's Central Valley clinic and in 2008, began overseeing both the southeast Henderson and central valley sites as the center's practice manager.
Matt Smith Physical Therapy hired physical therapist Rhea Agbayani, who will work at the company's clinic at 1525 E. Windmill Lane, Suite 202. Agbayani has been a practicing physical therapist for more than 14 years in the Philippines and United States. Agbayani worked at the Wesleyan Health and Rehabilitation Center in Marion, Ind., for four years. She is a member of the American Physical Therapy Association and is licensed to practice in Nevada and Indiana.
Aliante Integrated Physical Medicine named Andrea Garyson its new front-office team leader. Her responsibilities include customer service, management, financial and reception components. Garyson moved to Las Vegas 12 years ago. She has worked as an emergency medical technician, medical assistant, caregiver, durable medical equipment customer service representative and in medical billing.
NONPROFIT
Valley Electric Association named Thomas Moore marketing and media relations representative and Cassandra Selbach community relations representative. As community relations representative, Selbach maintains and develops relationships with cooperative members, ambassadors and key accounts. She also helps plan and execute the company's ambassador program and its committees.
Make-A-WishSouthern Nevada named two new members to its board of directors: Joseph Lombardo, newly elected Clark County Sheriff; and Gigi Shaukat, former marketing executive at Procter and Gamble and community philanthropist. Lombardo began his term as sheriff in January after a career in law enforcement that spans more than 27 years. Shaukat is a marketing and branding expert.