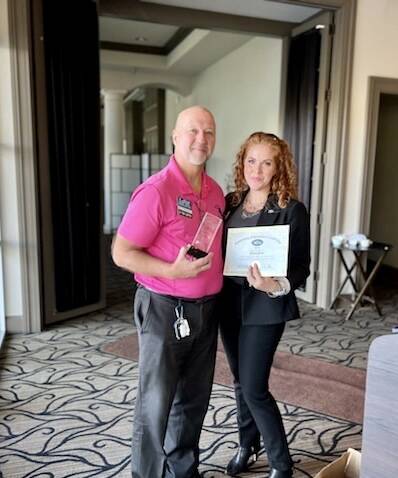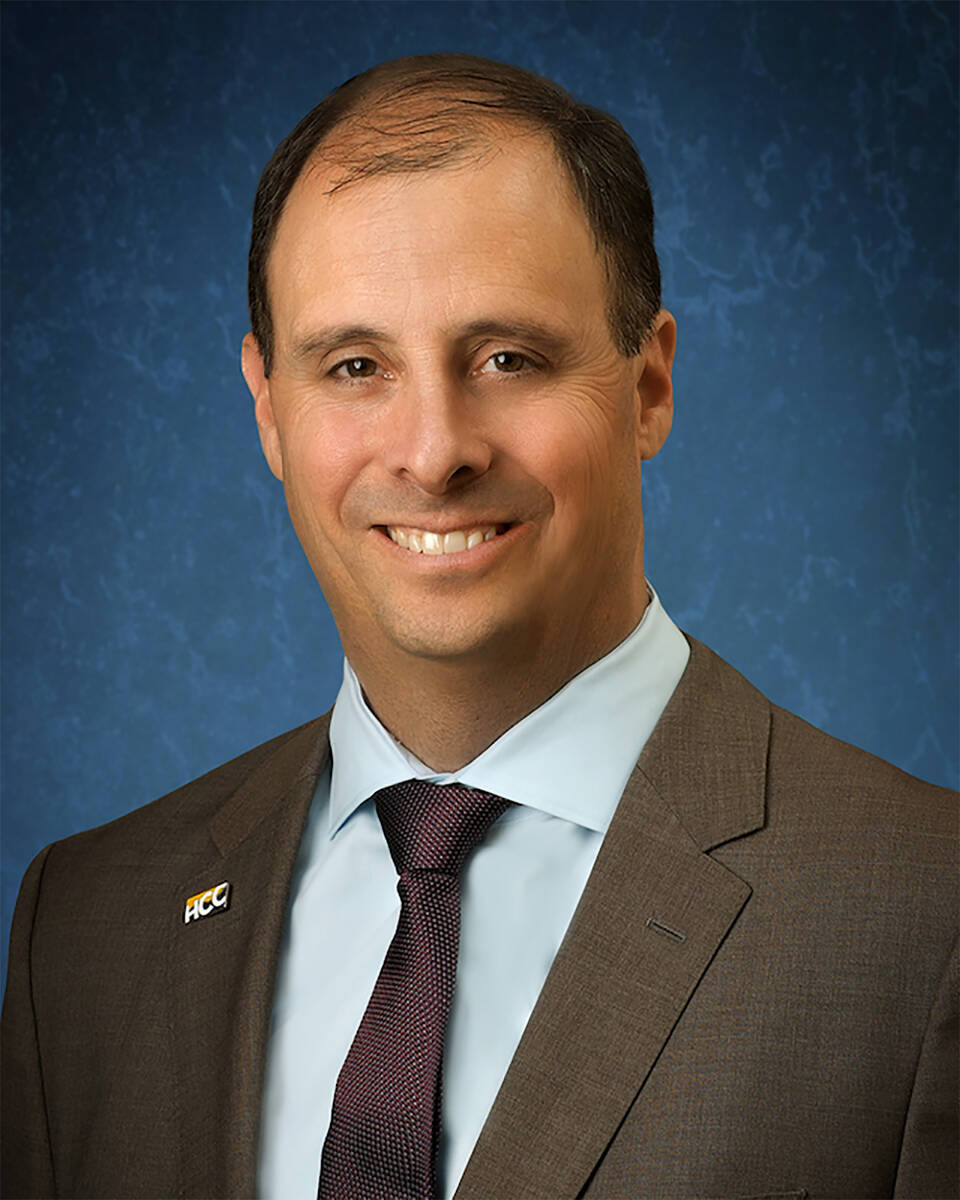 FINANCE
• Jim Friedel, a 16-year veteran of the banking industry, recently was promoted at Nevada State Bank to vice president, corporate relationship manager. Friedel previously was a commercial banking portfolio risk officer at NSB, a position he held for 10 years.
"Jim is a longtime NSB colleague who consistently goes above and beyond for clients. He graduated from the bank's management training program, and is a valued contributor to the Corporate Banking division," said Shannon Petersen, executive vice president and corporate banking manager for Nevada State Bank.
As corporate banking relationship manager, Friedel helps clients with solutions and services designed to help them grow their businesses, increase efficiency and work toward their goals. He holds an MBA from Mississippi State University and a bachelor of science degree from Brigham Young University. In addition, Friedel is a board member with the Risk Management Association and volunteers his time to several Las Vegas area nonprofits, including Junior Achievement of Southern Nevada, The Shade Tree, and the Youth Offenders Court.
• Blackmon Home Loans, a family-owned-and-operated home mortgage business with locations in Las Vegas and Reno, and NV Capital Corp., a Las Vegas-based full-service private lending company, announced that Laine Blackmon has been hired as loan officer. Blackmon brings three years of experience to her position.
As loan officer, Blackmon is responsible for taking loan applications and putting together offer packages. Prior to becoming a loan officer at Blackmon Home Loans and NV Capital Corp., Blackmon was a mortgage loan originator at Figure.
Blackmon earned a bachelor's degree in business administration from the University of Nevada in Reno and has a passion for helping her clients achieve their financial goals through real estate.
INSURANCE
• Local insurance professional Mark Peko is celebrating his accomplishments as a local business owner after being named the 2021 Member of the Year by LeTip International Inc., the world's largest privately owned professional business referral networking organization.
Peko, a member of his local chapter LeTip of Las Vegas, was selected based on the mentorship and support he's provided to fellow business owners, as well as his commitment to business ethics, and contributions to both the Las Vegas community and the LeTip organization in 2021.
The awards program recognizes LeTip's best-performing members in the following categories: President of the Year, Chapter of the Year, Top Tipper of the Year and Mentor of the Year. Winners were announced at LeTip's May board of directors training seminar and in the May issue of Communicare, LeTip's member newsletter. LeTip of Las Vegas is open to those working in virtually every industry, including home services and real estate, banking and finance, health and medicine, insurance, travel, fitness, business services, legal, public relations, event planning, creative services and technology. New member applications are being accepted now, visit letip.com to learn more.
NONPROFIT
• Continuing its history of fostering internal talent, the Henderson Chamber of Commerce has promoted Lindsey Bengtson to events manager. Since joining the chamber in the spring of 2021 as events coordinator, Bengtson has managed and facilitated the organization's signature events.
"We could not be more proud of all the hard work and passion Lindsey has contributed to our organization," said Scott Muelrath, president and CEO of the Henderson Chamber of Commerce. "Lindsey's keen eye for detail and execution of our events has continued to provide value and connectivity for our members, and we look forward to continued growth in her new role."
As events manager, Bengtson manages the events portfolio for the organization to include monthly networking functions, Henderson Development Association events, golf tournaments and galas. Additionally, she will continue to facilitate the Henderson Chamber of Commerce Foundation Community Cares events that are held throughout the year and allows the Henderson Chamber boards, sponsors and members opportunities to engage with the nonprofit community.
Henderson Chamber of Commerce President and CEO Wins U.S. Small Business Administration Award Recognition
• The Henderson Chamber of Commerce announced that Scott Muelrath, president and CEO of the Chamber, was awarded the 2022 Urban Entrepreneurial Spirit Award of the Year by the Nevada District office of the U.S. Small Business Administration during the May 5, award ceremony.
"I'm honored to receive this award and for the opportunity for the Henderson Chamber to be recognized for our ongoing efforts to contribute to our community and continuously support innovation and job growth," Muelrath said.
• United Way of Southern Nevada (UWSN) iwelcomes Jason Williams as the organization's new director of donor relationships. At UWSN, he will oversee the organization's annual fundraising initiatives, Young Philanthropists Society, events and major gifts program.
"Through Jason's philanthropic spirit and extensive background in fundraising for our community, he will ensure our organization and our community partners can continue to support people across the valley," said Julian High, president and CEO of UWSN. "With his expertise and lasting community partnerships, we look forward to engaging the next generation of philanthropists in Southern Nevada and celebrating all who have contributed to our organization for the past 65 years and for many more to come."
Williams brings 13 years of experience in corporate fundraising and business development in the nonprofit and private sector to his new role. Prior to joining UWSN, Williams served as the director of development for the Las Vegas Metro Police Department Foundation (LVMPDF), where he worked closely with the organization's executive team to launch a capital campaign for a Reality Based Training Center, managed corporate partnerships and annual support programs, grew fundraising efforts, and oversaw the foundation's annual events.
Preceding his time at the Las Vegas Metro Police Department Foundation, he worked as the development director for Dignity Health – St. Rose Dominican Hospital in Henderson, where he oversaw fundraising for the hospital's pediatric and neonatal services, led a capital campaign for the St. Rose Dominican Siena Tower, and was instrumental in growing annual funding revenue. In his professional fundraising career, Williams has raised more than $15 million in corporate partnerships.
He earned his bachelor's degree from the University of Nevada, Las Vegas, and is an advisory board member for the UNLV Customer Experience Program and a member of the Las Vegas Metro Chamber of Commerce President's Club.
REAL ESTATE
• Neil Burning has rejoined NAHB as vice president, construction codes and standards, a position he previously held from 2012 to 2017. Burning has extensive experience in the development, implementation and advocacy of residential building codes.
After departing NAHB in 2017 from his original stint, Burning served as the vice president of technical resources, government relations at the International Code Council (ICC), the governing body for building codes in the U.S. Prior to joining NAHB in 2012, he was a manager in the Building Plans Examination office of the Clark County Building Department. Burning began his career by serving for nearly two decades as a building official in Arizona. Burning holds a degree in construction management from Arizona State University and has numerous certifications through ICC and other authorities, including Certified Building Official, Building Plans Examiner and Commercial Electrical Inspector.
• Matter Real Estate Group has announced industry veteran Mike Wethington as general manager of UnCommons, a $400 million, 40-acre mixed-use community opening in southwest Las Vegas this year. With decades of senior management experience, Wethington will manage all day-to-day operations at UnCommons, oversee new tenant development, prepare annual budget and management plans.
"Mike is stepping into this crucial role at a time of significant growth for UnCommons and we're thrilled to welcome him to the team," said Matter Real Estate Group partner Jim Stuart. "His expertise in the mixed-use sector is unmatched and we're confident that he will further strengthen our community's goal of redefining the way we live and work."
With an undeniably successful career in real estate spanning over 25 years, Wethington has worked and managed the development, construction and marketing of significant shopping and multiple mixed-used lifestyle centers; Galleria at Sunset, then the two grand openings of Victoria Gardens and Town Square. Wethington's responsibilities included overseeing all operations, asset management, financial forecasting, tenant coordination of construction and relations and relationships with local authorities while also assisting the two transitions of ownership of property.